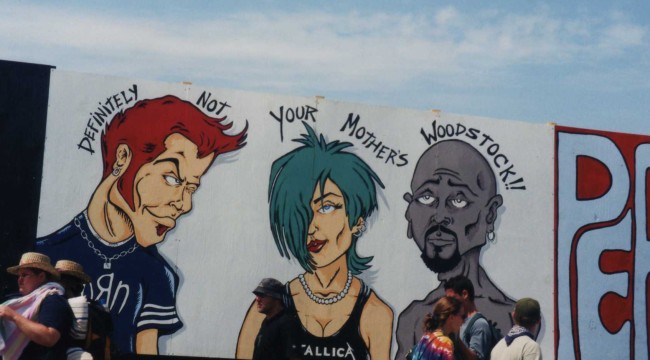 On this day 20 years ago, I was at the 3-day festival known as Woodstock '99. It ended up becoming "a lot of things" but despite all the negatives, it really was an amazing weekend for music.
I recently found the notebook I used to take notes that weekend. It's not super detailed on band sets (except for Metallica of course!!), but there were enough details about the environment of the fest and weekend in general that helped me to write my massive review of  the weekend all those many years ago. (some of the pages are shown below.)
A lot has happened since 1999 in general, so it's wild to read some of the retelling. I wish I had taken more than 8 rolls of film with me that weekend (yes, pre-digital camera days), but what I did manage to capture is pretty cool. All photos were originally added to an old school scrapbook and I somehow managed to keep the festival program in tact that entire weekend.
Click on a photo below to view larger size.
Some of you may have read my account of the weekend before, maybe not. Below are links as shown in my Concert Schedule '99 of the entire travel to and from Rome, New York along with the actual weekend itself.
WOODSTOCK '99: DAY 1 AND 2 OF TRIP
WOODSTOCK '99: DAY 4 AND 5 OF TRIP