I was in Detroit recently and stumbled across an amazing array of mural art in an area known as the Eastern Market District. It all started when I noticed art on buildings on the right side of the road and my husband noticed St. Joseph Oratory on the left side of the road.
We drove over to the church to get a closer look and to take a few pics. I also tried to get a good shot of what looked like a skeleton and a jukebox across the road, but it wasn't the best angle. As we drove away, I noticed more art on the side of a building near the church. See video snippet below. Art by Meggs + Taylor White + Lauren YS.
As we drove to the other side of the road so I could get a better shot of the jukebox, we quickly discovered a ton of art all over many buildings. Luckily there was very little traffic and we were able to take our time going up and down the streets to view all the amazing pieces.
I should add, for a long time I have been fascinated with graffiti style art and mural pieces are even more astounding to me. I mean, getting the proportions correct on such a large canvas takes a lot of talent.
Of all the murals I came across that day, the photo below shows the one that immediately stood out to me. I ended up passing it three different times due to all the driving around and each and every time it had such a huge impact. This takes up one side of a portion of a building. Mural by Brandan "BMike" Odums and Rick Williams.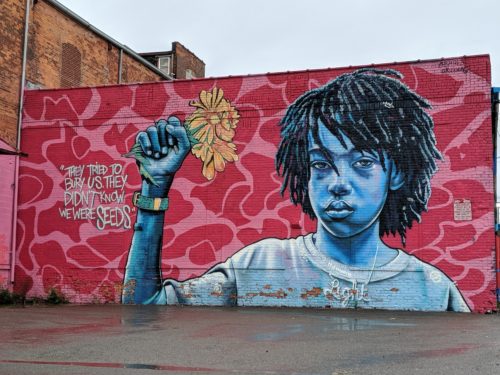 It was getting darker so we were driving around trying to take pics of as many pieces as we could. Well, it wasn't until we were ready to leave that I noticed the detail in one of the photos I took. My second fave piece is in the photo below. It shows a woman pulling records off of a shelf and again, this piece is the full side of a building. Mural by Richard Wilson.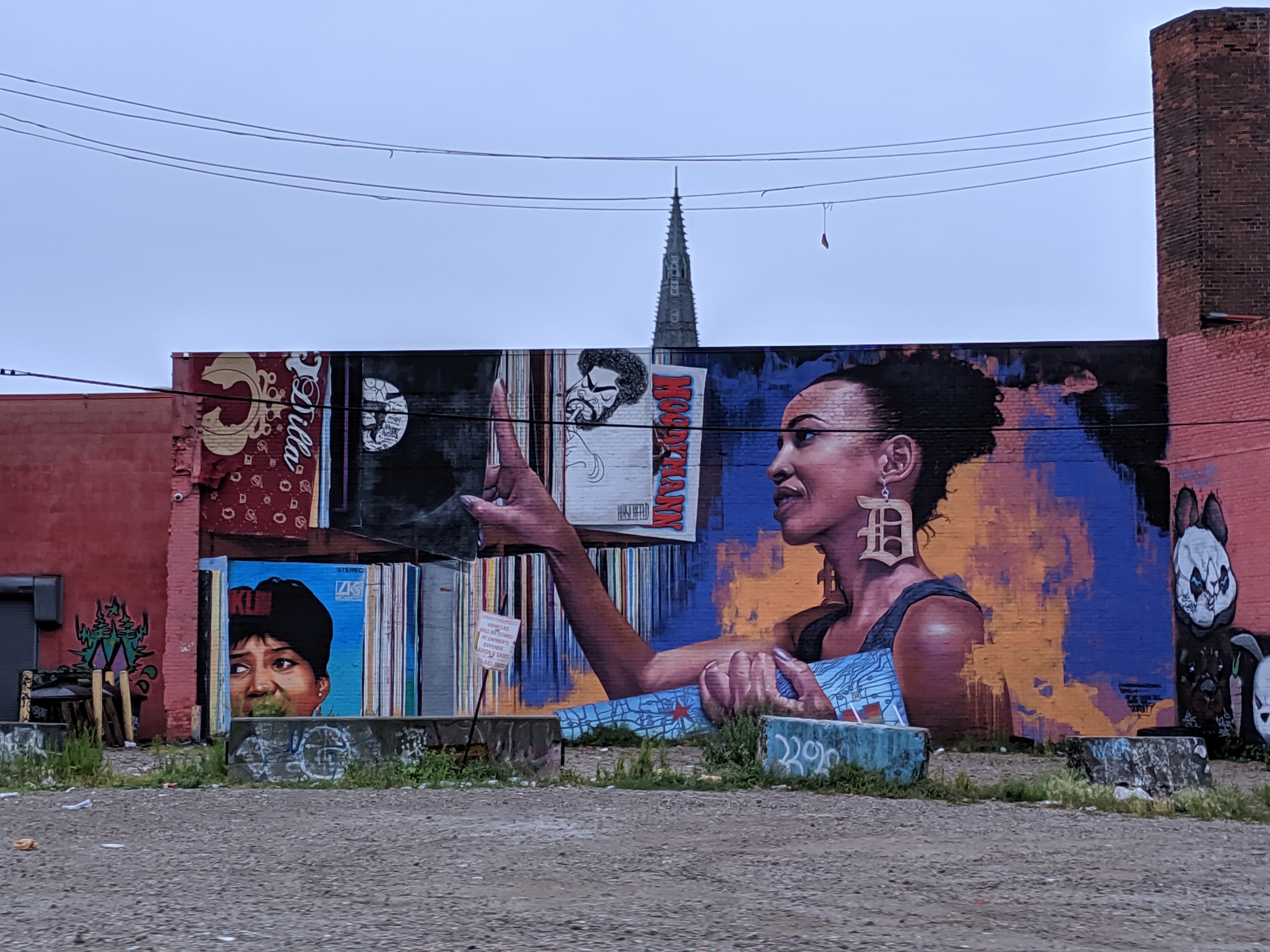 I took a lot of photos, which you can see below, but I know there are more that we missed. Artist names added if I could find them. (Click on a photo to see larger version.) Also included is a mural near the original Buddy's Pizza on Conant Street in Detroit.
Once back home, I tried to find out more about this area and discovered the 5th annual Murals In The Market is taking place mid-September. How cool. So glad I was able to locate the artist names for a lot of the pieces since it is cool to put a name and face with a piece of art. I also discovered some of the pieces are as old as the first year of the event. I also took photos of a couple pieces that were not part of the website, so I'm not sure on the artists. You can check out all the artist pieces over the years here.
Art discovery is awesome!