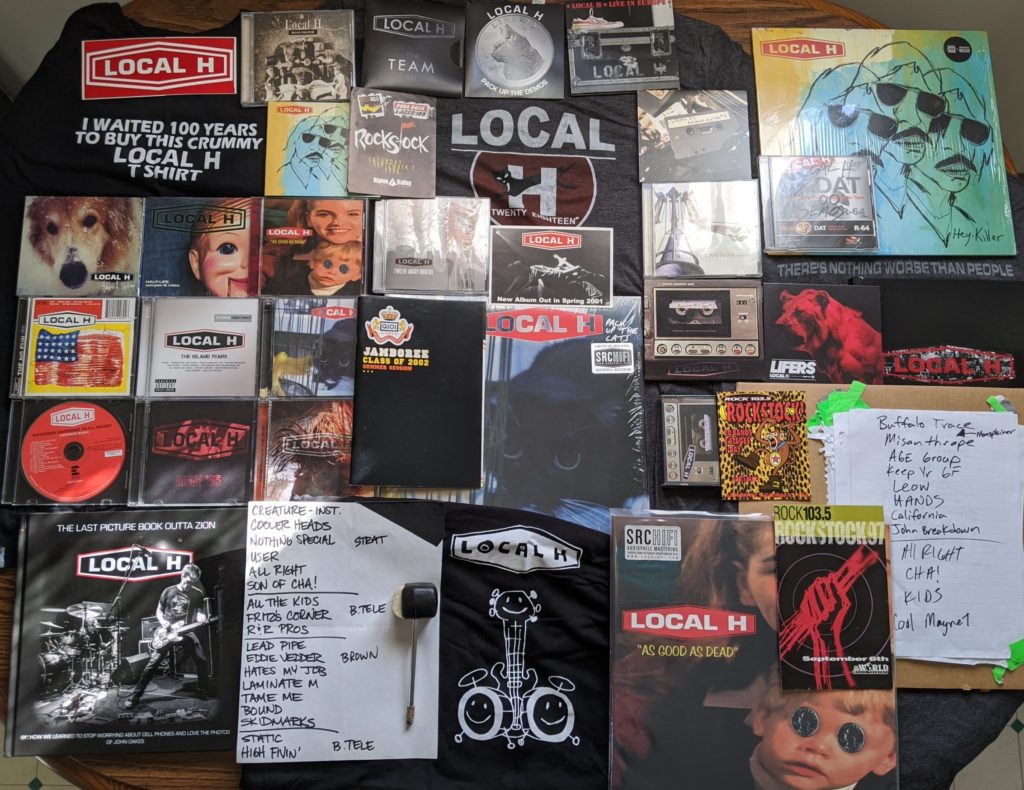 April 20, 1990.
That is the date of the first official Local H performance.
30 YEARS AGO! 30 FREAKIN' YEARS AGO! All-Right (Oh, Yeah)
Back In The Day
I became a fan of Local H around the release of As Good As Dead (April 1996) and I saw them live for the first time Dec 12, 1996 opening for Stone Temple Pilots at Rosemont Horizon in Rosemont, IL. Hard to believe I've been a fan for roughly 24 years!! Because 30 years is a pretty big deal, I decided to put together some words and photos related to my interaction over the years with Local H:  their music, their members, the live shows and some of my memorabilia.
Rock & Roll Professionals
I have seen Local H with all three drummers (Joe Daniels, Brian St. Clair and Ryan Harding) and Local H are in my Top Five Bands I've Seen the Most Live (35+ times). I have seen the band play bars, clubs, halls, arenas, outdoor sheds, a baseball stadium, a football stadium and at a radio station. I have seen them mostly as a headliner but also at a few festivals. I have been front row, in the back, off to the side, in the balcony and only a handful of times did I ever have a seat, which is not a complaint. Well, except for that time I got kicked in the head by a crowd surfer.
All The Kids Are Right
Regardless, there are countless memories of SO many great live performances. Not to mention all the times I heard a song live for the first time or my fave songs for the 20th time. (LOVE those varied set lists!) There are so many great songs in their catalog and certain ones always trigger something in my brain that turns my happiness factor up to 500,000! There is nothing better than letting the music take over and fully enjoying the show, rocking out in my car or jumping around my house.
That's What They All Say
Considering the guitar is my favorite instrument, watching Scott Lucas play live has always been a treat. It's amazing to hear, and see (SO MANY PEDALS!!) all the cool and trippy sounds he has come up with (both in studio and live) with his special set up. Of course, as the years have rolled on, it didn't take me long to notice the common thread between all three drummers; they are all BEASTS behind the kit! And, while the two-man magic has varied over the years, the additional sidemen input has for sure been a key part in the live Local H legacy.
Everyone Alive
During a lot of those shows in the 90's and even into the 2000's, I wasn't able to get a camera (film P&S camera, mind you) into a venue so my early pics are extremely limited. For me, there wasn't a lot of interaction with the band back then either, like there is today. First time meetings were: Gabe Nov 2000, Scott Dec 2002, I never met Brian, and I didn't meet Joe and Ryan until Apr 2016. Below are pics from Nov 2000 (most likely the oldest photos I have of the band) and I'm pretty sure I have some live photos from a 2006 show somewhere, but I need to find them.
Hands On The Bible
I don't claim to have every release, but my collection is decent and spans across CDs, vinyl and a couple DVD/Blu-ray live shows. I own Twenty-Five Years of Skin In the Game (where I have a photo credit, this also includes the digital audio download) and The Last Picture Book Outta Zion (where I can be seen in a photo).
Fave Album: Pack Up The Cats
Fave Song: "Cha!" Said The Kitty AND That's What They All Say
Fave Cover: Wolf Like Me (TV On The Radio)
Fine and Good
Earlier this year, I was going through a box of old band memorabilia and found some old festival programs, flyers, stickers, a newspaper article, buttons, etc. I have stuff in multiple boxes, so this isn't everything, but I tried to stick with older stuff I have. But then I got on a roll and just started adding random photos of a bunch of stuff.
Here Come Ol' Laptop
I was lucky enough to cover two Local H milestone shows for Moments In Sound: The band's 25th anniversary show at Metro and the band's 20th annv celebration of As Good As Dead with the return of Joe Daniels on drums.
AGAD Night 1
Top Note Acoustic Set
AGAD Night 2
I also had the opportunity to interview Scott shortly after the AGAD shows.
After I reviewed the 4/26/16 Liar's Club show, I was super excited to find the article shared by 101 WKQX; always huge Local H supporters.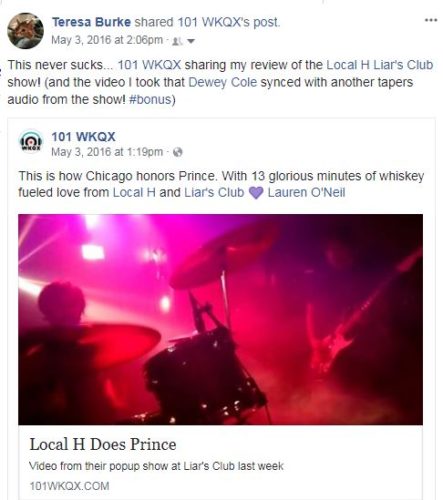 Cold Manor
Like most bands these days, there are fan groups. Finding the Cold Manor FB group a while ago has been nothing but awesome. It's really cool to read about everyone's experiences at shows (both the ones I was at and the ones that took place in other cities) and to hear old stories. Basically, discuss all things H and beyond, including the occasional meet up and shows.
Hold That Thought
If you made it to the bottom…thank you for taking a trip down my memory lane with Local H. 30 FREAKIN YEARS. WOW. It still blows my mind. But you know what? This band has survived a lot of ups and downs, even now dealing with a DAMN VIRUS when they should be out touring and promoting their new album, LIFERS. On the flip side, they can be proud of 30 years of music released, relish in all of the positive experiences they've had from touring (HELLO, opening for Metallica? 😀 ) and ALL of the fans they have made along the way; those who are the LIFERS and those who are just now discovering them. Bottom line, Local H is still in the game, with plenty more to give.
Thank you to all past and present members of Local H, and anyone else that has had input/played with the band, for giving me so many awesome memories!
My Local H Shows
Local H 12/12/96 opened for Stone Temple Pilots at Rosemont Horizon – Rosemont, IL
Local H 9/6/97 103.5 Rockstock '97 at New World Music Theatre – Tinley Park, IL
Local H 9/12/98 103.5 Rockstock '98 at New World Music Theatre – Tinley Park, IL
Local H 3/20/99 The Rave – Milwaukee, WI
Local H 10/21/99 The Rave – Milwaukee, WI
Local H 4/22/00 The Rave – Milwaukee, WI
Local H 11/25/00 Penny Road Pub – Barrington, IL
Local H 2/23/02 Martyrs – Chicago, IL
Local H 5/18/02 Q101's Jamboree at Tweeter Center – Tinley Park, IL
Local H 12/12/02 The Rave – Milwaukee, WI
Local H 11/4/06 Austin's – Libertyville, IL
Local H 9/14/08 Q101 Block Party at Western and Roscoe (DeVry Institute) – Chicago, IL
Local H 10/11/13 H.O.M.E. – Arlington Heights, IL (Brian's St. Clair's last show)
Local H 4/19/15 Local H Celebrate 25 Years at Metro – Chicago, IL
Local H 4/15/16 AGAD 20th annv show Night 1 at Metro – Chicago, IL
Local H 4/16/16 AGAD 20th annv Acoustic Set at Top Note Theater (4th floor of Metro) – Chicago, IL
Local H 4/16/16 AGAD 20th annv Night 2 at Metro – Chicago, IL
Local H 4/26/16 Liar's Club – Chicago, IL
Local H 5/8/16 AGAD 20th annv at The Accord – Champaign, IL
Local H 5/12/17 Durty Nellies – Palatine, IL
Local H 5/13/17 Q Bar – Darien, IL
Local H 6/4/17 opened for Metallica at Busch Stadium – St. Louis, MO
Local H 6/18/17 opened for Metallica at Soldier Field – Chicago, IL
Local H 11/22/17 Q Bar – Glendale Heights, IL
Local H 11/25/17 Tailgaters – Bolingbrook, IL
Local H 12/15/17 H.O.M.E. – Arlington Heights, IL
Local H 12/16/17 115 Bourbon Street – Merrionette Park, IL
Local H 12/29/17 Shank Hall – Milwaukee, WI
Local H 12/30/17 NYE Night 1 "Heaven" at Subterranean – Chicago, IL
Local H 12/31/17 NYE Night 2 "Hell" at Subterranean – Chicago, IL
Local H 9/16/18 Pack Up The Cats 20th Annv Tour at Empty Bottle – Chicago, IL
Local H 11/2/18 Pack Up The Cats 20th Annv Tour at Shank Hall – Milwaukee, WI
Local H 11/18/18 Pack Up The Cats 20th Annv Tour at Lincoln Hall – Chicago, IL
Local H 4/12/19 Studio East performance at 95.1 WIIL Rock – Pleasant Prairie, WI
Local H 4/12/19 1175 Sports Park & Eatery – Kansasville, WI
Local H 4/13/19 Quarry Pub and Grill – Lemont, IL
Local H 6/13/19 Shank Hall – Milwaukee, WI
Local H 6/14/19 Durty Nellies – Palatine, IL
Local H 11/23/19 LIFERS Record Wrap Party at Liar's Club – Chicago, IL
Local H 6/26/2020 Harvest Moon Drive-In – Gibson City, IL (my 40th Local H show)
LocalH.com for more info on Local H and their new album LIFERS