The second band on my "Top Three Fave Bands" list is The Black Crowes. (and really, they are more like 1B.) I have been a fan since their very first album and I have seen them live 38 times. (updated 7-8-22) Prior to 2010, Chris Robinson was the last person on my list of "people I really, really want to meet before I die." Never say never, right?!
On March 20, 2003 I had the chance to see Hookah Brown, Rich Robinson's solo band at the time. They played an amazing set and I was able to meet the band afterwards. You can read all about that here.
I did get to talk to Chris, for the very first time, after the 12-18-10 Black Crowes Fillmore show in San Francisco, but it didn't quite go down like I had it planned out in my head. On December 18 and 19, 2010, I was also able to talk with most members of The Black Crowes after the Fillmore shows in San Francisco, CA.
On 7-26-11 My Dream FINALLY Came True! I truly met Chris Robinson after a Chris Robinson Brotherhood show in Milwaukee and it was THE best experience.
Random Tidbits
Fave Band Member: Chris Robinson
Fave Album: The Southern Harmony and Musical Companion
Fave Song: "My Morning Song"
Fave pieces of Memorabilia:
1. "Shake Your Money Maker" on vinyl,
2. "Who Killed That Bird Out On Your Window Sill" VHS,
3. Southern Harmony promotional hymn book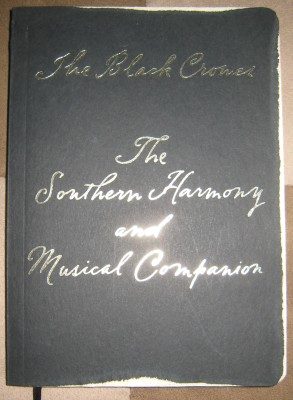 4. 30″ dia. poster,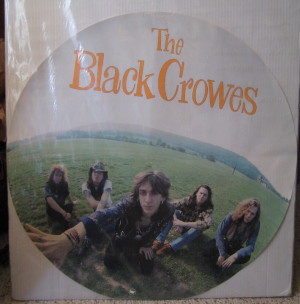 5. $5 Hard Rock Hotel casino chip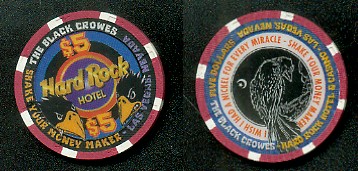 Fave Photo I've Taken: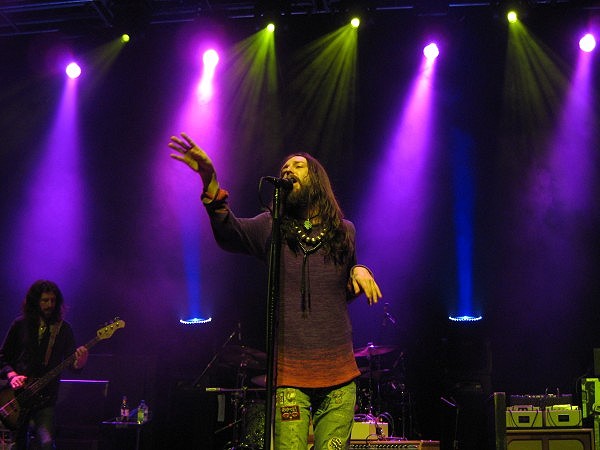 Concerts
3/10/95 Aragon Ballroom – Chicago, IL
10/5/96 Aragon Ballroom – Chicago, IL
9/12/98 New World Music Theatre – Tinley Park, IL
2/11/99 Eagles Ballroom – Milwaukee, WI
6/29/00 Marcus Amphitheater – Milwaukee, WI
10/13/01 Eagles Ballroom – Milwaukee, WI
7/1/05 Marcus Amphitheater – Milwaukee, WI
7/15/05 Tweeter Center – Tinley Park, IL
10/29/05 Eagles Ballroom – Milwaukee, WI
10/30/05 Riviera Theater – Chicago, IL
10/31/05 Riviera Theater – Chicago, IL
6/23/06 UMB Bank Pavilion – Maryland Heights, MO
6/24/06 Charter One Pavilion at Northerly Island – Chicago, IL
7/26/06 DTE Energy Music Center – Clarkston, MI
10/31/06 Riviera Theater – Chicago, IL
7/4/07 Summerfest – Milwaukee, WI
7/6/07 Taste of Chicago – Chicago, IL
10/18/07 Riviera Theater – Chicago, IL
3/7/08 Park West – Chicago, IL
12/5/08 Riviera Theater – Chicago, IL
12/7/08 The Rave – Milwaukee, WI
7/17/09 Waukesha County Fair – Waukesha, WI
11/6/09 Riviera Theater – Chicago, IL
11/7/09 Riverside Theater – Milwaukee, WI
8/13/10 Riverside Theater – Milwaukee, WI
8/21/10 Chicago Theater – Chicago, IL
12/17/10 The Fillmore – San Francisco, CA
12/18/10 The Fillmore – San Francisco, CA
12/19/10 The Fillmore – San Francisco, CA
4/16/13 Vic Theater – Chicago, IL
4/17/13 Vic Theater – Chicago, IL
4/20/13 Ryman Auditorium – Nashville, TN
4/21/13 Ryman Auditorium – Nashville, TN
8/14/13 FirstMerit Bank Pavilion @ Northerly Island – Chicago, IL
11/1/13 Riviera Theater – Chicago, IL
11/2/13 Riviera Theater – Chicago, IL
11/8/13 Riverside Theater – Milwaukee, WI
7/8/2022 Summerfest – Milwaukee, WI
Best Concert
Small Venue – 3/10/1995, 2/11/199, 10/30/2005, 3/7/2008, 12/19/2010, 4/21/2013
Large Venue – 6/29/2000 & 6/24/2006
Solo Efforts
New Earth Mud/Chris Robinson
2/13/03 Park West – Chicago, IL
10/25/03 Vic Theatre – Chicago, IL
5/9/04 Park West – Chicago, IL
7/16/04 The Rave Bar – Milwaukee, WI (show canceled day of)
Chris Robinson Brotherhood
7/26/11 Turner Hall – Milwaukee, WI
7/28/11 Lincoln Hall – Chicago, IL
6/14/12 Turner Hall – Milwaukee, WI
6/16/12 Taste of Randolph Street – Chicago, IL
9/6/12 Lincoln Hall – Chicago, IL
6/18/14 Turner Hall – Milwaukee, WI
2/5/15 Turner Hall – Milwaukee, WI
Hookah Brown (Rich Robinson)
3/20/03 Double Door – Chicago, IL
Rich Robinson
10/4/04 Shank Hall – Milwaukee, WI
10/19/11 Double Door – Chicago, IL
3/9/12 Schubas – Chicago, IL
12/9/14 City Winery – Chicago, IL
6/18/15 City Winery – Chicago, IL
7/21/16 Turner Hall – Milwaukee, WI
Blue Floyd (Marc Ford)
2/21/00 House of Blues – Chicago, IL
Marc Ford
7/26/07 Double Door – Chicago, IL
7/29 & 7/30/07 (w/ Eric Dover) Oneida Casino – Green Bay, WI
2/20/10 (The Steepwater Band as his backing band) House of Blues Back Porch – Chicago, IL
10/15/14 Double Door – Chicago, IL
The Magpie Salute (Rich Robinson/Marc Ford)
7/28/17 Metro – Chicago, IL
7/29/17 Metro – Chicago, IL
1/26/19 Metro – Chicago, IL
Farthest Distance Traveled for a live show
By car: from IL to Clarkston, MI
By plane: from IL to San Francisco, CA