Woodstock '99 – 30th Anniversary Concert
Griffiss Park – Rome, NY
July 23, 24 & 25, 1999

Days 4 and 5 of trip. 
Day 4: Sunday, July 25. Up at 9am.
The plan on Sunday was to pack up all of our stuff and walk it back to the car so that we wouldn't have to do it that night in the dark. We got up and followed the same routine to the bathroom area then back to the tent to get dressed before we started taking down the tent and packing.
Needless to say…it seemed like EVERYONE ELSE had the same idea. We walked between the line of cars getting in/out and the Mural Wall. It looked like a chain gang. We walked the HOUR back to the car and we actually FOUND it. We were only off by one row. Due to seeing a lot of open parking spaces, we decided to move the car closer to the entrance. After searching, we found a spot about halfway closer, but by the time we parked and walked the rest of the way, it had been another hour. We remembered our parking spot by what was painted on the Mural Wall and headed back to the main gate. We passed a section of the wall that had Walkstock painted on it. Boy wasn't THAT the truth. I noticed people had signed the wall so I added mine too. Once at the main gate, our bags were searched again.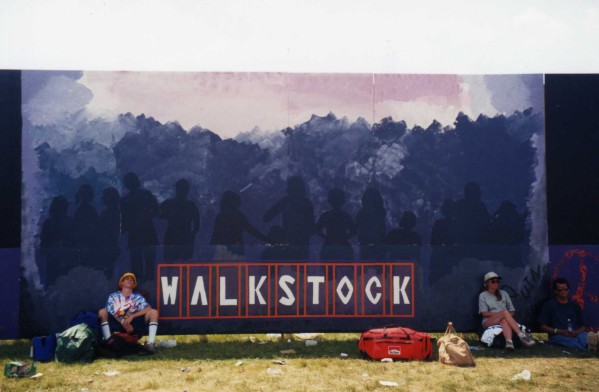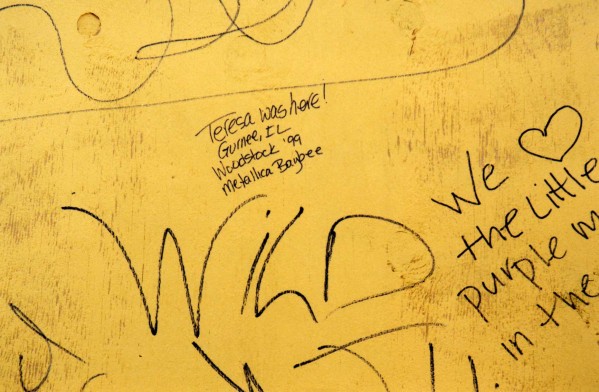 We headed over to the East stage, food in hand, and caught the end of Willie Nelson's set. While we were sitting there I saw someone carrying a piece of wood that looked like a piece of the Mural Wall. I asked the guy where he got it and he told me that they were tearing down the wall "over there." We picked up our stuff and walked over there. Well, the workers were not tearing down the wall at all, PEOPLE WERE! They were hanging on the metal support beams and just kicking and kicking until the pieces would fall down. At some point we saw people leaving with full panels on top of their car. Safe to say, people should not have been doing this. If I remember correctly, I think they had planned to auction off the panels for charity. Well, my cousin and I both have small pieces of the wall, BUT we found them on the ground. We DID NOT tear them down.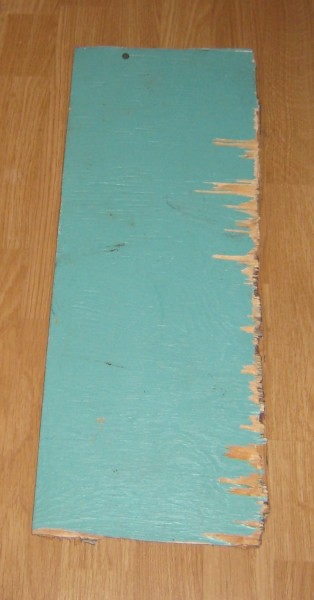 We stopped at the bathrooms, which were pretty smelly by now, and then back to the field for Brian Setzer Orchestra. They were awesome of course. There was also a Swing pit (instead of a mosh pit). There was one couple who were totally into the whole swing thing. He was swinging her legs up into the air, twirling her, etc. It was wild to watch.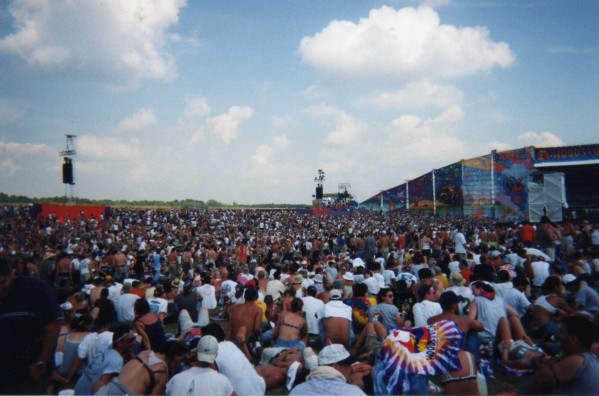 After that set we headed over to the West stage. While walking over there I noticed someone had taken a lot of full black garbage bags and made a circle. Inside that circle was a peace sign and the words "on earth" made out of pizza boxes. I wanted to stop and take a picture but my cousin had us rushing to see Our Lady Peace. We caught the end of their set, then got food and waited for Rusted Root to come on. There was a completely naked mud couple close to us sitting there eating food as if there was nothing abnormal about it. haha They were totally covered in mud except for their hands!
Another storm was coming. By the time Sevendust hit the stage it had started to rain. Again, we got barely any but a couple nearby decided they would take cover under some boxes. Once again, another major storm missed us. We also saw someone start a fire in a garbage can and someone else put it out.
While Sevendust were playing "Bitch" I noticed a rainbow in the sky. Very faint, but still there. Well, Lajon (the lead singer) noticed too. During the song he said, "Look at that fucking rainbow ya'll. Everyone look at the rainbow!" I thought it was pretty damn cool that he noticed it since it was way off in the distance. Lajon also ventured out into the crowd.
Next band was Collective Soul. We watched two songs and then started towards the East stage. I ended up hearing 2 more songs while we were walking. One of them was a cover of Crazy Train. When we walked past the Peace on Earth sign again, it had blown away. Darn! No photo for me. Oh well…
On Saturday I noticed SO many people that looked like they had some MAJOR sunburns on their bodies. By Sunday they looked worse! Also on Saturday and Sunday people were sleeping everywhere. Under semi trailers, in the fields, out in the open on the concrete, anywhere they wanted.
At the West stage one of the food vendors was selling half watermelon and cantaloupe. It was the wildest thing to see a field full of those rinds!
Oh and on one of the nights we took a different route back to the tents via the runway. A huge section of the ground was covered in dark, unfilled balloons. What the?? It was the strangest thing.
At one point we overheard a guy speaking about the lack of flies/bees, etc. because the whole place had been sprayed with pesticides. I saw maybe two flies the WHOLE time. And believe me, between the bathrooms smelling and ALL the garbage, there should have been TONS of bugs!
We also saw A LOT of people walking around with cardboard signs with names of people they were looking for. The announcer even mentioned names of people who had been missing from their group for 2 and 3 days.
I previously mentioned walking barefoot for practically the whole weekend and had been very careful to pay attention to where I was walking. Well I ended up stepping on a piece of glass on our way to the main stage to see Creed. OUCH! I put a band aid on it, put my shoes back on and carefully walked to the stage just as Creed was into their first song. I then proceeded to get the glass out of my foot with my aunt's tweezers. No stitches needed! haha
Creed was awesome. With only 3 songs left to their set, Scott said, "We have a special guest. He refused to play the first Woodstock, but we got him to come out for this one. Robby Krieger from the Doors!!" They played Roadhouse Blues and Riders on the Storm! It was awesome!!! Robby also stayed and played for Creed's last song, What's This Life For.
Another cool thing during the weekend, a lot of the bands covered various Hendrix or Janis Joplin songs.
At some point I noticed workers were walking around with bags asking people to volunteer to pick up garbage and people were actually helping.
The last band of the night were Red Hot Chili Peppers. All hell broke loose during their set. Before they came out we saw a lot of people with lit candles. (Someone had been handing them out.) We all thought, "This is not a good thing." At some point, the announcer confirmed 250,000 people in this field. That is a hell of a lot of people. When the Chili Peppers came out Anthony was NAKED! However, he left the stage and came back out with clothes on. Flea on the other hand was NAKED the whole show! He is insane!
I noticed one of the tent buildings way in the back of the field had people on top of it. Again I thought, this was not a good thing. These people were jumping up and down on the roof and then would slide down. As the band payed on, I noticed that more and more people had finally gotten off. Well when I looked again, a piece of the roof was missing. Yikes!
Half way through RHCP's set the speaker tower behind us was blazing. People were tearing down the wall around it and putting it in the fire and throwing misc bottles and other garbage into the fire. Some people also climbed to the top of the tower. It was insane. Towards the end of RHCP's set I counted over 10 fires on the field. All around us chaos was happening. When we saw the first fire we gathered our stuff in case there was a stampede of people trying to get away from it all but there never was.
The Chili Peppers left the stage and the announcer came out and said, "We have a problem." No, ya think? He told us, "The delay tower was on fire and needed to be put out and to please cooperate and let the fire trucks in and don't worry the Chili Peppers would be coming back out and there would also be a Hendrix tribute." We looked at the crowd of people and thought, "There is no way to get a fire truck in here." Well not more than 5 minutes later, one of the video screens went out and then the Chili Peppers came back out. There were no fire trucks to be seen or heard. Anthony said, "This looks like Apocalypse Now." They played one or two more songs and then were done. We thought the Jimi Hendrix tribute was not going to happen and started walking away but then we saw lasers and ran back to the field. They played a video recording of Jimi playing the Star Spangled Banner from the original Woodstock. I tell you, having watched video screens ALL weekend, it was as if he was really there. When that was over a laser angel rose up into the air. It was very cool.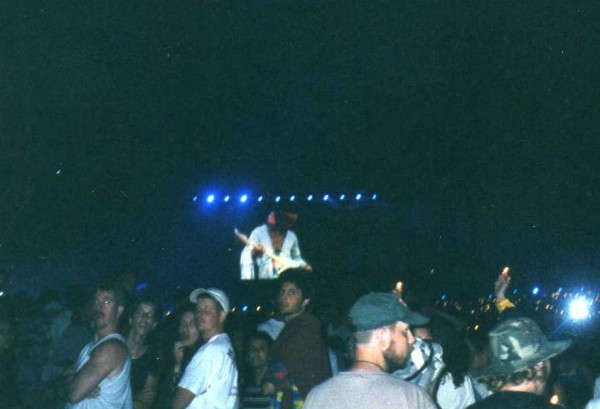 Okay, the show was over, "Thank you and goodnight."
I still had to get a shirt for hubby, so we walked around the mud pit field, over to the vendors, got the shirt and walked back past the row of semi trailers people had been sitting on earlier and out to the parking lot. Well, guess what? All of the mural walls where we parked had been torn down! How were we going to find the car NOW?!?!? AAAHHH!! Luckily my cousin remembered we were pretty even with where the main stage was set up. We started looking and were only 5 rows off before we found the car. We then joined a HUGE traffic jam.
In the 2 hours and 15 minutes it took us to get off the base we heard 8 explosions coming from the same semi trailers we had walked past not all that long ago. Later on I found out CO2/propane tanks were exploding from the fire. While waiting, we saw one of the speaker towers knocked down, not to mention ALL the fires still burning all over the field. I could not believe what I was looking at. I could not believe it was real. It was more like something you would see in a movie, not experience in real life.
The picture below was taken while in the car waiting to get out of the parking lot. The vertical poles were the supports for the mural wall that was now missing. Off in the distance was a blazing fire. The closer red light in the picture is a tail light from a car.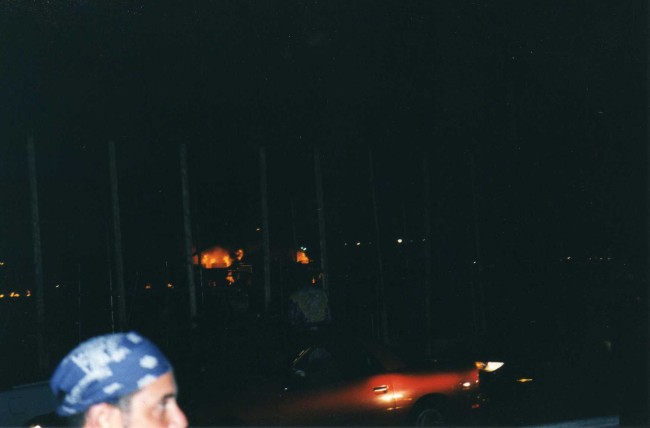 As we were driving out there were people with signs looking for a ride home! Can you believe that? There was even a couple with a BABY trying to hitch a ride to NYC. Someone picked them up. Insane!
We had to drive 100 miles away before we found a hotel that had a vacancy. I had THE hardest time trying to stay awake. My aunt was so tired and needed me to stay awake to help her stay awake. At one point I did fall asleep and my head was resting against the window. Somehow I heard my aunt make a comment and I lifted my head up really fast and blurted out, "I'm not sleeping!" hahaha (of course I was!) By 3 a.m. we found a hotel but had to be out by 11 a.m. I was too tired to take a shower and I fell into the bed.
Day 5: Monday, July 26. Up at 10am.
It never felt so good to take a shower. We headed for home at 11 a.m. but decided to stop by Niagara Falls. Well we accidentally ended up on the CANADIAN side instead of the American side. It was still cool to see the Falls. We also spotted people from Woodstock at Niagara Falls and EVERY stop we made on our trip back. I eventually arrived at home at 1:30 a.m. and had to be at work the next day.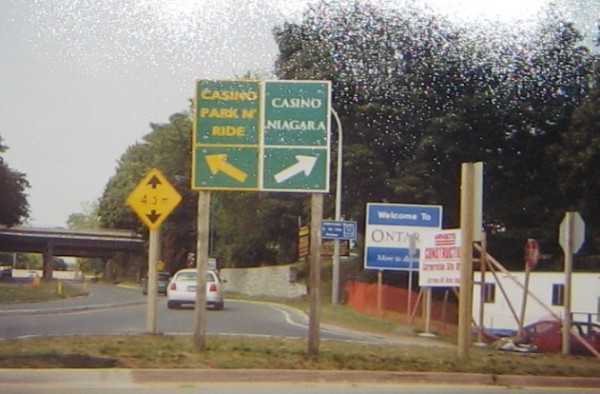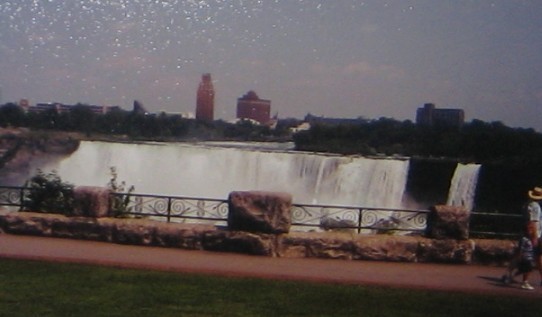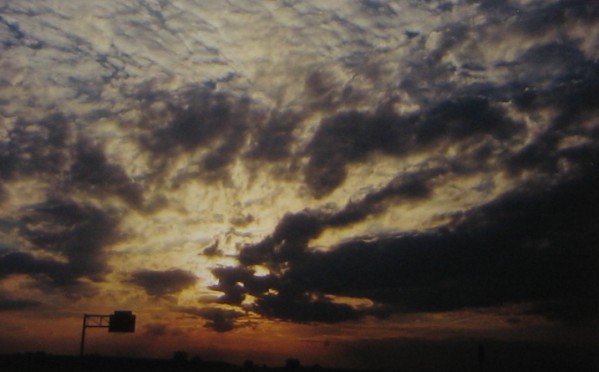 You know, I'm sure I forgot some other things (you are probably thinking, "What? No way!" haha) but this is what I DID remember. (Thanks to my trusty note pad and my aunt and cousin. Oh and the pictures, all the many pictures.)
In closing, I had a total blast. Not one thing went wrong for us. Well nothing that is scarring me for life. Well, the only thing that affected me, since I had so much water over those 3 days (Fri, Sat and Sun), I could not bare to drink any water for three days after I was home!
Many people asked me if I would I do it again? My answer…Yes!
Let's just see if they DARE to have another one!
Rock N Roll Ain't Dead Case You Don't Know!