Woodstock '99 – 30th Anniversary Concert
Griffiss Park – Rome, NY
July 23, 24 & 25, 1999

When I found out about Woodstock, I really wanted to go but I didn't think I would be able to find anyone to go with me. I mean, who would I find to shell out a huge amount of money, $150 for the ticket alone, not to mention money for traveling, food, souvenirs, etc., not to mention, driving many, many hours to get there?
Well, about a month before the date, my aunt asked me what I thought about going. I couldn't believe it. Within a week we bought our tickets and I prepared for one of the best musical experiences I have ever had.
What you are about to read is my attempt at describing my days at Woodstock. I also took 8 rolls of pics. A lot of those pictures you will see on the following pages. Enjoy!
~~~~~~~~~~~~~~~~~~~~~~~~~~
First and foremost, I HAD A FREAKIN' BLAST!! We saw 26 bands in 3 days!!
Headed to New York: Thursday, July 22. My aunt, cousin and I left at 3:08 a.m. for Rome, NY. Man was it a LONG trip.
My aunt and cousin drove over the border from WI to IL to pick me up. We then proceeded to drive through IN, OH, and PA before arriving in NY. I even made a mix tape to listen to on the ride there. We had no problems with the drive. It was kind of funny as we got closer to Rome, NY because we kept trying to guess who in the cars around us were also going. Quite a few people had also painted "Woodstock or Bust" on their vehicles.
We arrived at our parking spot on Griffiss Air Force Base at 7:30 p.m. (now remember, there was a one hour time difference and we stopped for one hour to eat.) Like I said…it was a LONG trip.
Once parked, we unloaded our stuff. My stuff consisted of one backpack and a sleeping bag. It's funny how little one can survive with for a few days. We memorized where the car was parked and started our TREK with all the other people. It took one freakin' hour of walking on concrete, then through grass, before we even got to the front gate!!!!
At least we had a Mural Wall to look at. All sorts of art was painted on the outside of the Woodstock Wall.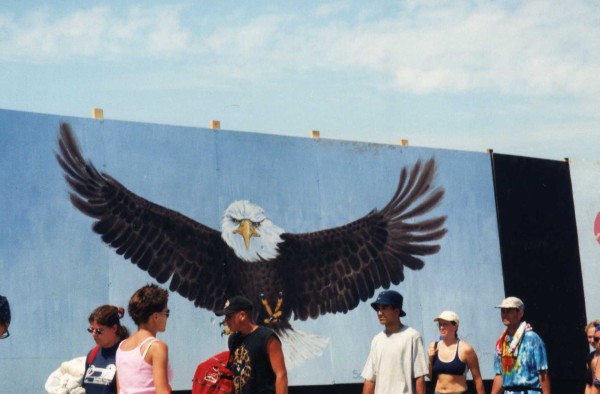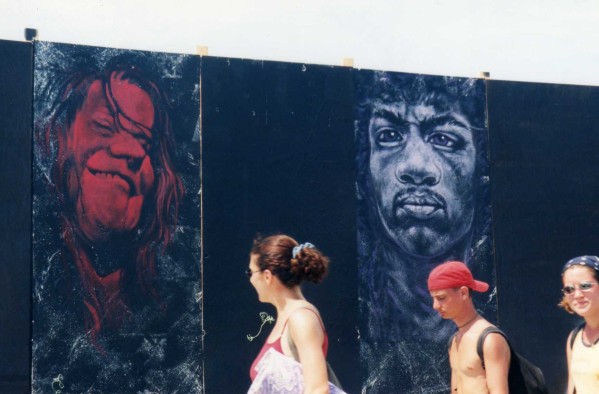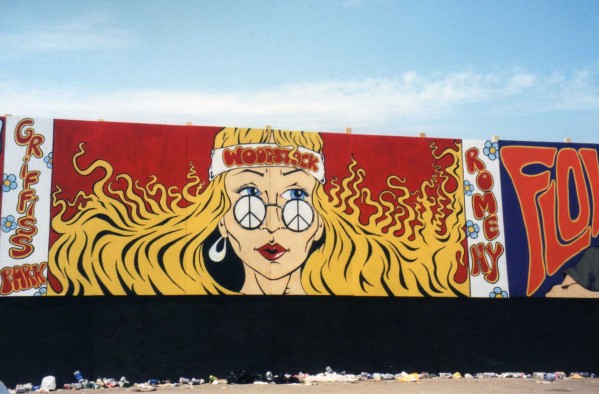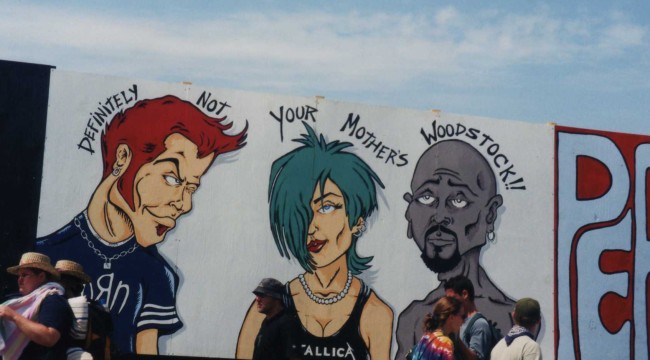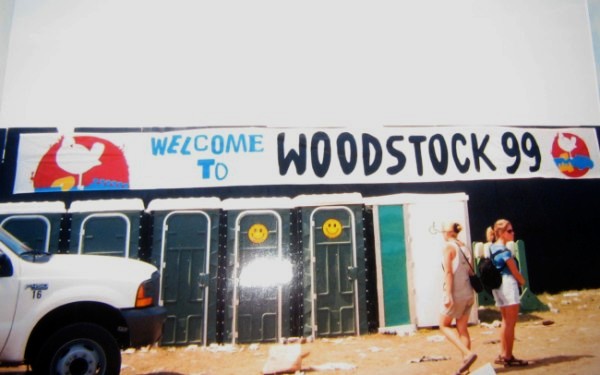 We finally arrived at the main gate and the workers were using hand held metal detectors and they were going through EVERYONE's bags. We all made it through with no problems. We gave our tickets to different workers and received a bright green wristband that we had to wear all weekend.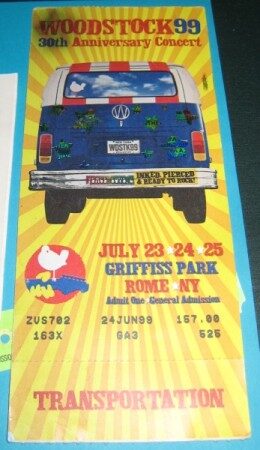 We asked where the best spot to camp was located since there were a few areas designated for camping. We were told over by the trees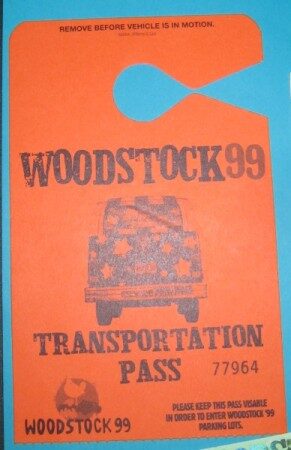 because there were lighted walkways and showers. We proceeded to walk and walk and walk some more. We turned down a "road" (it was actually a runway) and walked and walked and walked and walked then stopped. It was sooo hot and our stuff was getting really heavy. We turned down another "road" made of dirt and rocks before we came to another "road" made of woodchips.
There were tents everywhere and we didn't see any open spots for us to put up our tent so we started walking down the "woodchip road." (I have to point out, since my aunt had a small wheelie cart, not only was she pulling their stuff, she was also dragging rocks and woodchips under the wheels!)
The whole time we were looking for a place to put up the tent, the coolest thing was happening. I don't know any other way to describe it other than a "yelling wave." Off and on you would hear the sound of people yelling in the distance then it would get closer and then it would be around us, and we would yell, and then it would continue on and fade out. It was the coolest thing.
We walked for a while before we finally stopped. My aunt walked off the "woodchip road" to look for a place to set up the tent. Again, there were tents EVERYWHERE. All of them were practically on top of each other too instead of being lined up in nice rows.
She found a spot near some small tree stumps but we didn't care and set up the tent. After walking to find this spot and setting up the tent, another hour had passed. It was now 9:30 p.m. and we were off to check out the 1,200 acres that was Woodstock.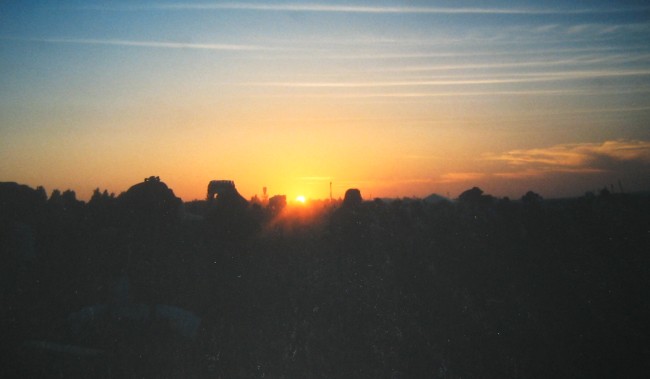 As we left the tent and walked back onto our "woodchip road" our first thought was, "Forget about trying to remember where the car was, we needed to remember how to get back to the tent!" We looked for any kind of landmark that would not move. Our tent was between the 3 skinny trees and a light pole, in a little bit and next to a tree. If we passed the green striped tent off the "woodchip road," we went too far. We also tied a bandana to the tent. As we headed out, I prayed we would be able to find our tent later.
Side note: Before we started our trip to NY, I swore that I was not going to leave anything but my sleeping bag in the tent for fear someone would take my stuff. Well after all that walking I was NOT going to carry my clothes with me every day. If someone wanted to steal them out of the tent I would wear the same ones all weekend! haha
We walked to the end of our road and noticed it had a name. We now lived on Country Road. The main road off of that was called Cross Roads. (FYI, all roads lead to Cross Roads.) We started walking back the way we had originally come when we first walked through the gates. Tons and tons of people were still coming in. I was so glad we had found a spot and had set up before it was dark. We walked for what felt like forever before arriving at a different gate where we had to have our bags checked again. Once on the other side, we were INSIDE the Woodstock area.
We saw the action lounge which had ramps, etc, for bikes, roller blades, skateboards and there was a dirt track for bikes, and a rock wall for climbing. We bought food, ate and walked around some more. George Clinton was playing on The Emerging Artist stage. We listened to a couple of songs about "skunk" and "booty" then looked at some of the vendor merchandise: clothes, jewelry, etc.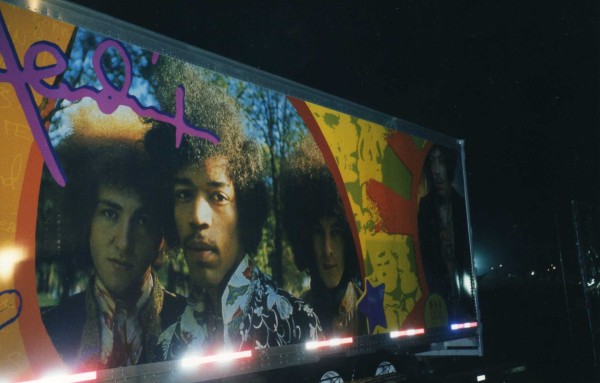 We waited in line to call home at the pay phones since I could not use my brand new cell phone due to lack of cell service. The phone lines were always long but the ATM lines were longer! We walked back to the tent and I couldn't believe we actually FOUND it. We were asleep by 1:00 a.m. We did use the Port A Johns a few times at this point but they were still clean!
I woke up at some point during the night and I thought I was going to freeze. When I woke up in the morning I thought I was going to burn up! The ground was also very hard.
Woodstock Day 1: Friday, July 23. Up by 9:00am.
We took our toothbrushes, etc. and proceeded to the bathroom "area" via the "woodchip road." Boy were we shocked to find TONS of tents ON OUR ROAD!!! We weaved our way through them to get to the bathrooms. Once we got there, it was the funniest thing to see everyone standing around these make shift metal sinks brushing their teeth, etc. I swear there were more guys than girls too. With that done we walked back to the tent and got dressed. We also decided that we would always stay together. Whether it was to see a band, get something to eat, or go to the bathroom and this plan worked quite well for us all weekend. We looked through the program to decide which bands we planned to see at each of the two stages that day.  After that we were off to the West Stage to see the first band, Oleander.
It took us a half an hour to walk to the West stage straight from our tent. There were tons of people everywhere and some were looking for places to set up their tents. It was insane! Again, our bags were checked at the inner entrance to this side of the 1,200 acres. However, this was the last time because no one was ever at the inner entrance point again. As we were walking, I was amazed at how many people were at Woodstock. During the entire time we were there, I spent a lot of it watching the people!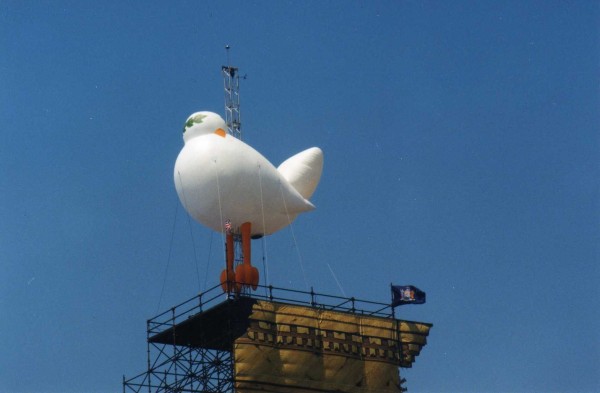 Oleander was very good. After they finished we proceeded to walk to the East stage (the main stage) to see Jamiroquai. This took us another half an hour. We stopped to use the bathroom and get water. The bathrooms were still clean.
We stopped here and there to check out the various vendors. My cousin decided to get a henna tattoo. If I remember correctly, she got the word "Metallica."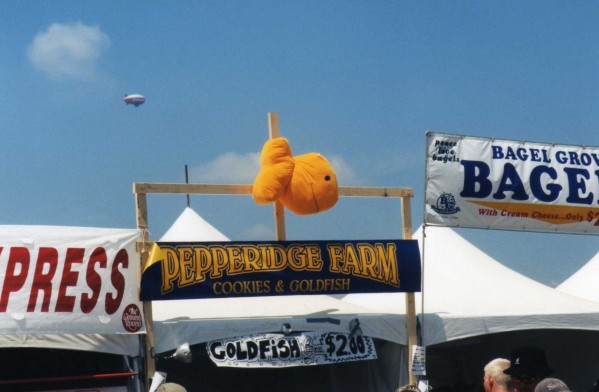 Various food choices and prices:
Fries $6
Grilled Cheese $3
Box of Fruit/Salad $5
Water/Pop $4
Bagel with Cream Cheese $3
Goldfish Crackers $2 – $7
12″ Pizza $12
Hamburger/Chicken Sandwich $5
Chinese Food $8
Sub $6
Nachos $4
Pancakes $5
Hot Dog $3
Lemonade $5
Soft Pretzel $5
Ice Cream Cone $5
BBQ Pork $5
Freeze Pops $2
Hemp nachos and cookies
Half watermleon/cantaloupe
Breakfast Bagel
Frozen Lemonade
Veggie Wraps
Dove Bar Ice Cream
Frozen Candy Bars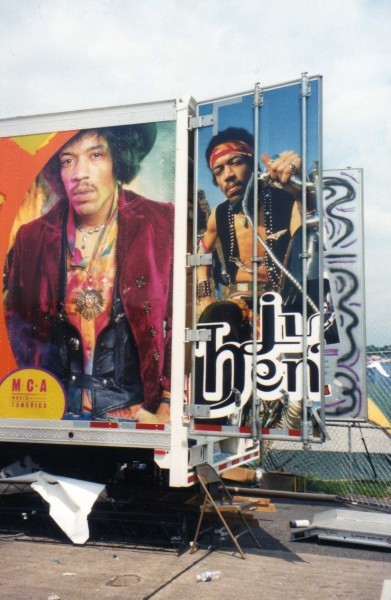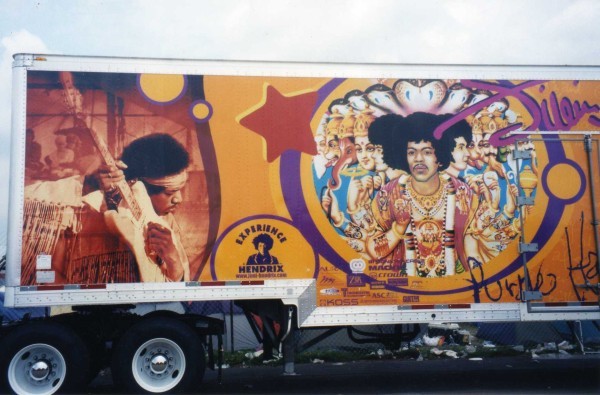 As we got closer to the Main Stage, I realized this field was WAY BIGGER than the one at the West Stage. It looked more like a small valley, instead of flat like the other field. We sat on the hill to the right of the stage, pretty far back but we had video screens to watch. We also decided trying to get anywhere near the stage would not be a good idea. This also worked out well for us.
Again I couldn't help but look at all the weird and crazy people. There were naked people, lots of naked people. Mostly naked guys too, if you can believe that! We saw a little bit of G. Love and Special Sauce's set. After we saw Jamiroquai and Live (They played my FAVE song, "I Alone," so I was happy!) we went to get food. We got back to the same spot at the end of DMX. Sometime after this, people started throwing mud so we moved to the far left hill and were safe there.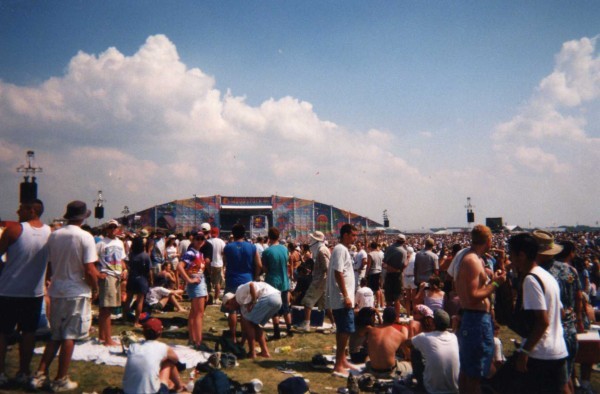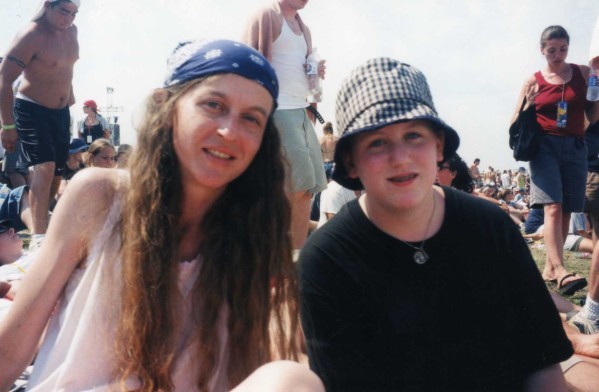 The Offspring were the next band. I had never seen them live before and they were awesome! They had the "Backstreet Boys" as special guests. Dexter then proceeded to knock all their heads off with a baseball bat! Too funny! A Backstreet Boys song was playing while he did this too! haha THEY ALSO HAD THE FLY GUY THERE!! It was a GREAT show! (Also, since we were watching the video screens we noticed during a song Dexter had a look of panic on his face. After the song was finished he told the crowd (the guys) that just because girls were crowd surfing, that didn't give them a right to molest them. I thought that was a pretty bold statement to make (in a good way) and a lot of women cheered and clapped.
All of a sudden, out of no where, the mud people emerged. There were tons of people throwing mud in the field. A HUGE MUD PIT had been created due to what appeared to be leaky sinks next to the bathrooms. After a while a huge crowd of mud people headed towards the front of the field to try and get up front.
Everyone parted like the Red Sea. It was awesome!
Due to all the people watching, it was hard not to notice that there were TONS of people doing drugs, selling drugs, singing and dancing and carrying flags/banners. Based on the particular band, people were also crowd surfing or moshing. There were people with weird hats, with colored hair and with crazy shirts. There were tons and tons of people. There were also half naked chics with and without painted breasts, naked guys, and a naked guy that had a Jester painted on his stomach/pelvic area and his you know what was the NOSE!
At one point we were told by the announcer there were 100,000 people at this stage. In between bands they would announce the lost people, lost children, lost wallets, people who were looking for other people who had their "medicine." Also, the announcer guy said, "If you are going to throw shoes, don't throw your own." There were TONS of shoes, socks and underwear everywhere on the ground.
Halfway through the day on Friday I was walking barefoot and wearing no bra. It was so hot. I hardly wore shoes the whole weekend.
Some special guests (over the 3 days) were Andy Dick from News Radio, some guy from Fraiser, some guy from SNL (Note: In my notebook I wrote James Fallon, but I didn't know who he was at the time like I would in the future) who did Woodstock parody songs that were very funny, Verne Troyer (Mini Me from Austin Powers 2), one of the guys responsible for Woodstock (Michael Lang), the Mayor of Rome, Wavy Gravy and the guy who was responsible for the banners hanging on the main stage (Peter Max).
Towards the end of the night Korn performed. You know, I'm more a fan of Whirled Peas (World Peace). haha Just kidding. I tell you what, it was totally wild to see 100,000 people all jumping up and down on the massive field. I'm sure I will never see something like that again. Bush was the last band to play. While I'm not a huge fan, they put on a good show. Gavin was also brave enough to venture into the crowd.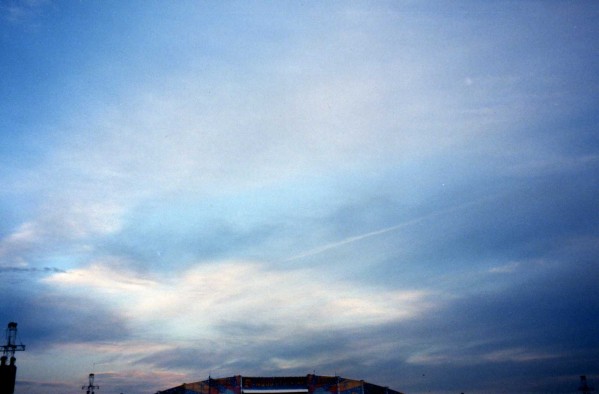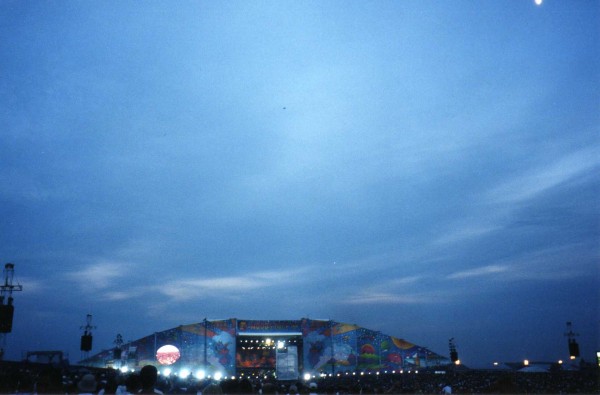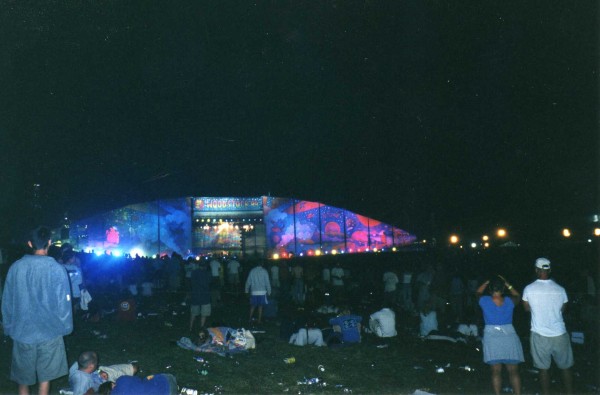 After Bush's set we walked around and ended up walking past a Rave. Moby was playing that night. There were all sorts of people with their light sticks. As we walked back to the tent, TONS of people were walking towards the Rave which went until 6 a.m. While walking back to the tent, even though we knew what our landmarks were, with all the tents in the road, we had some how lost where the tent was located. To make things creepier, someone had hung (duct taped it to the branch) a fake head upside down near our tent. Talk about freaking someone out. After about 10 minutes of searching, we found the tent. We were asleep by 1 a.m. I didn't freeze that night but I woke up all hot and gross! (ewwww)