After attending every Rock on the Range since 2007, I never thought the day would come. Don't get me wrong, there were many years, especially while at ROTR and we were waiting for the next band to take the stage, where my friends and I would talk about how cool it would be if Metallica were to play this festival, but let's be realistic, it was unheard of. They were too big of a band, they cost too much money, there was scheduling to consider, etc.
Well, the Rock 'n' Roll planets have finally aligned and Metallica ARE playing Rock on the Range in 2017! I'm guessing maybe having a brand new album, Hardwired…To Self-Destruct, and the fact that Rock on the Range is one of the biggest festivals in the U.S., had a hand in it happening as well. Who knows. Who cares.
METALLICA IS FINALLY PLAYING ROCK ON THE RANGE!
Shout out to my friend Kim who had the discussion with me on buying the Early Bird tickets before the lineup was ever announced. In years past, we would always buy our tickets during the pre-sale, after the line up had been announced. This year however, ROTR changed things. The $99.50 Stadium GA ticket (which has been the same price since the 2nd year) was now part of an Early Bird pre-lineup price and once that level sold out, it would jump up $50.
Now, I'm not one to spend more money than I have to and neither is Kim. We tried to think if there was any scenario where we wouldn't attend. We couldn't think of one. I mean, I've gone EVERY YEAR since 2007 and she's only missed 2 years due to work travel! What kind of lineup could possibly keep us from going? Based on ROTR history, there wasn't one. Plus, she was having a strong feeling that Metallica would be part of the 2017 lineup. Her gut feelings are usually right on. It was decided, we would buy the Early Bird ticket price on Nov 21. I hoped and prayed that I wouldn't be let down. I booked the hotel the weekend before tix went on sale too, but that wasn't anything new as I always book the hotel that far in advance.
Rumors on who might play were flying all over the ROTR Facebook page. Normally, the band that has the new album plays ROTR. There were lots of options plus other bands that don't normally tour had been hinting at tour dates in 2017. Yes, MANY hoped for Metallica and just as many bashed the idea. They're too big, they're too much money. Side note: in general, ROTR ticket prices increased for 2017. Was that to cover "a bigger band?" 😀
Fast forward to Thanksgiving week and ROTR started their countdown. Once again, they were going to announce the lineup on Cyber Monday at 5pm EST/4pm CST. SWEET! Just one more reason to make the Monday after a holiday drag on even longer! HA! However, we were all going to have to wait just a little bit longer. Unfortunately there was a shooter at OSU the morning of Nov 28, a college near Mapfre Stadium in Columbus, OH where ROTR has been held every year. Based on many comments I read on Facebook, many of those college kids volunteer to work at ROTR. Rock on the Range made an official announcement:
"From the entire Rock on the Range team, our thoughts and prayers are with the students, faculty, families, and law enforcement officials at Ohio State University right now. Out of respect for those affected by the tragic situation this morning on campus, we are postponing our 2017 lineup announcement and the start of our pre-sale until 9:00am EST tomorrow (Tuesday. November 29). We apologize for any inconvenience. Please keep everyone at OSU in your thoughts today."
It was the right thing to do.
Fast forward to Monday night and I could not sleep. I tossed and turned. I was nervous and excited. Even though ROTR stated: "Just a few more hours until we drop the BIGGEST #RockOnTheRange lineup ever," I was nervous over the lineup. The waiting is the hardest! I was excited over the fact that there could be a strong possibility of Metallica actually being part of the line up. GAH! I finally forced myself to sleep and I had THE craziest dream.
In my dream they announced the lineup. As I clicked on the button to see the list of bands, I saw it. Not Metallica, but James Hetfield and the Henchmen. I thought to myself, they could only afford ONE member of Metallica! Haha I came to realize it was a super group of sorts and the band was made up of various other artists. Don't ask me who as I don't know. However, the dream continued and somehow I was in an environment where I was talking with James. I must have had a weird look on my face too because he put his arm on my shoulder and asked me what was wrong. I explained I didn't understand this side project. (It seemed way out of the realm of possibility, especially for him.) I did not get a follow up comment. I also don't remember any other band that was part of the ROTR line up except Royal Bliss. Then my dream switched again and I was with my two ROTR road trip friends and we were somewhere else. It almost seemed like an outdoor Alice in Wonderland type environment. Everything was extra large and we were climbing on and over things. That played out until we finally arrived back at our car in a parking lot. I woke up at 5:30am. Ugh. I still had 2-1/2 hours before the announcement.
The alarm went off before 8am, but due to my restless sleep, I was exhausted. I dozed off and woke up to the alarm and my phone buzzing with text messages. I opened the Rock on the Range website and no line up. I went to the ROTR Facebook page and was scared to look. But I did and there it was. At 8:03am I replied to the ongoing group text: I just woke up…I'm not dreaming?!?! Holy hell!!!
IT HAPPENED! It FINALLY happened! METALLICA IS GOING TO PLAY ROCK ON THE RANGE!
Then I scanned the rest of the line up. For me personally, this was a SOLID line up! WOOHOO!!! Needless to say, as another friend was having issues with buying her ticket, I was SO GLAD I didn't have the stress of trying to get mine! Regardless of the issues, the ticket was purchased and I can say….the three Metalli-Musketeers are going to see Metallica at Rock on the Range!
Before getting ready for work, I watched the announcement video and it gave me the chills. Is it May yet?!
Later in the morning I read an email from another friend: "You got your wish!!!!!!!!!!!!!!!!!!!!!!!!!!!!!!!!!!!" Why yes, yes I did. She went on to add, "Not that you wouldn't have gone to see them anyway, but for it to be at a festival you guys always attend is a BONUS!"
A bonus indeed!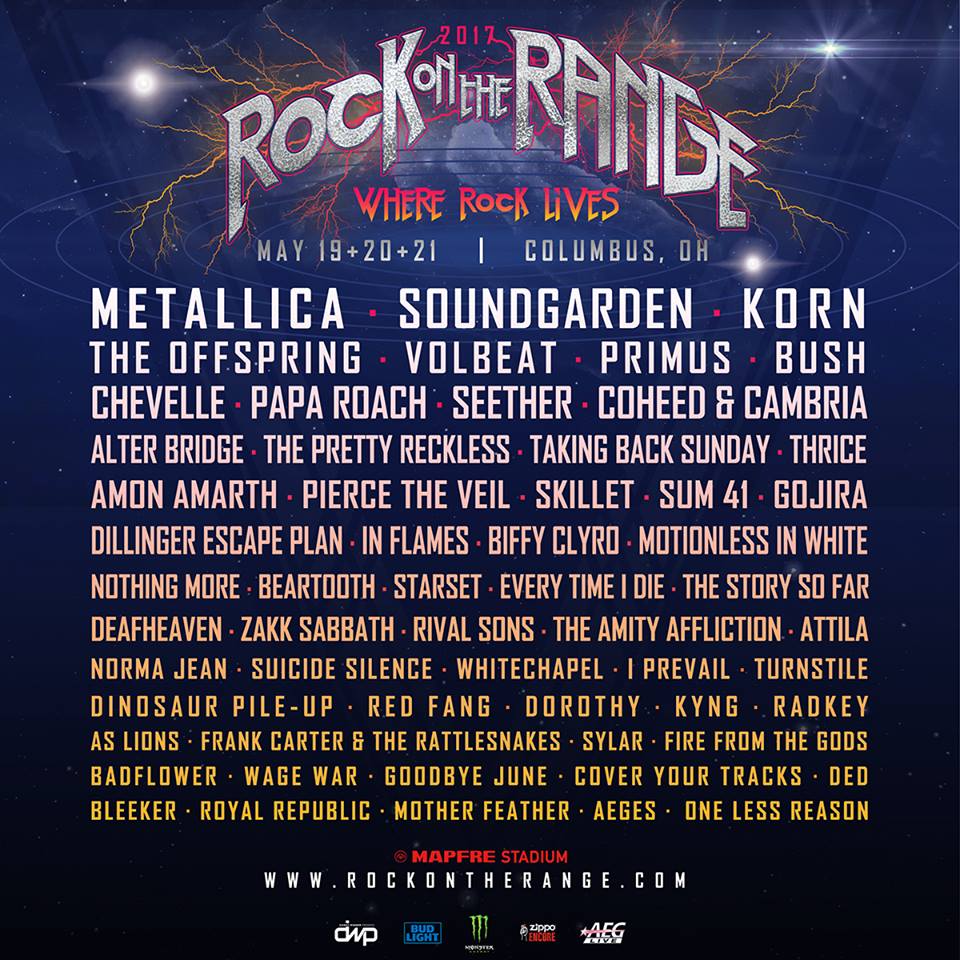 After looking over the lineup in more detail, there are def 21 of the 58 bands announced I hope to see. I have 27 on the Maybe list so I need to start listening to some music I'm not all that familiar with.
2017 may go down as the best Rock on the Range ever! I mean, come on…look at all this greatness!
Oh and I guess this technically qualifies as my first 2017 ticket purchase!!
Find all details and ticket links here.