December 16, 2016
Royal Bliss
Cavalier Theater – LaCrosse, WI
December 16, 2016 will be a day I won't ever forget. While part of the night pretty much holds the record for the most embarrassing thing to ever happen to me, it will also forever be remembered as one of the coolest things to ever happen to me.
Why is it so special? It marks the date of my 50th Royal Bliss show! Yes, there are some people out there that have seen RB more than 50 times, not to mention, the people I know that have seen other bands more than that. However, there are no other bands I have seen as many times as Royal Bliss, so for me, this was a big deal. To some degree, it also became a big deal for the band to commemorate the occasion.
Once I finalized the plans to see Royal Bliss at the Cavalier Theater in La Crosse, WI, I counted down the days. Yes, it was the weekend before Christmas, and yes, an unexpected storm was headed our way, but, I didn't let it get in the way. Snow storm be damned!! Plus, this was going to be my first Bliss-mas show which meant they would be playing in ugly Christmas sweaters. Win, win.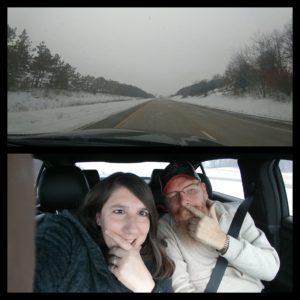 Hubby and I made the trek 4 hours North and barely stayed ahead of the storm driving there, but more so because we left an hour late. Either way, we had no issues. We made it in time for soundcheck and I heard one of my fave songs from when I was on tour with them out West back in 2015. Bonus. It was after soundcheck that Neal let the cat out of the bag. "You know you're going to be on stage." While I heard what he was saying, it wasn't fully registering. It was when he said something about singing that I replied with, "I can't sing." He commented that people sing in the shower. I was like, yes, I sing in the car and at home, but I can't sing. He also mentioned something about a group photo on stage but I was still stuck on the singing part. What in the world? I can't sing. Trust me. I can sing, I just can't sing.
Either way, hubby and I left for the hotel and Neal's comments kept running through my head. Oh God. What was I in for? The last time I was at the Cavalier Theater for their show back in February, the opening bands and people from the radio station (95.7 The Rock) were all on stage during I Was Drunk. I thought, "I can handle that. I will just stay out of the spot light and let others sing along." Boy, did I get that wrong.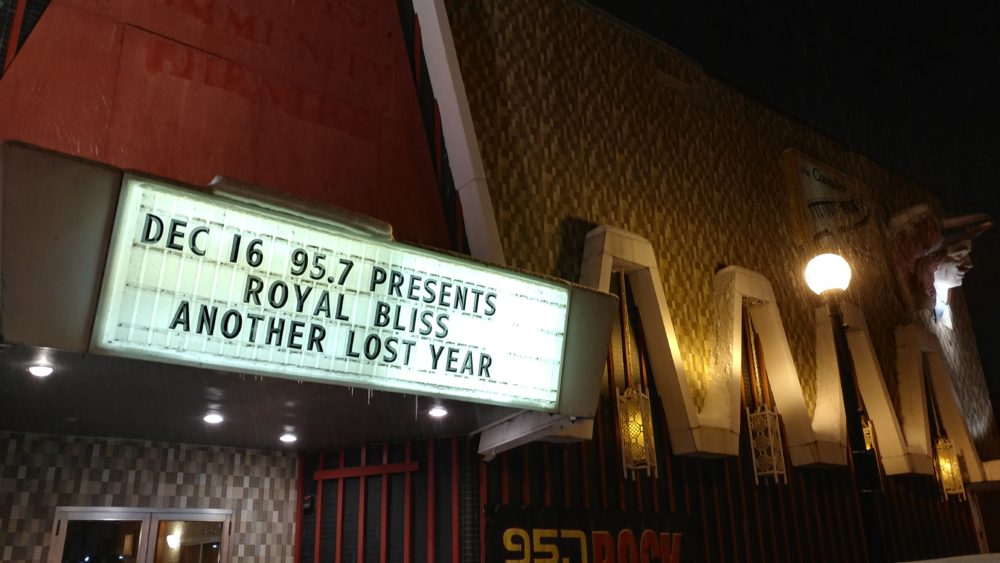 After dinner we headed to the venue. Hubby decided to take a seat in the back and I headed down front to the standing room only area, second row center and waited. Another Lost Year kicked off the night in their own ugly sweaters and played for about an hour. 45 minutes later, the lights went down and RB's intro music started. It was time. I already had someone in front of me take a picture of the set list, so I knew RSB had made the cut! WOO! There were also two brand new songs, my fave song, an older song I was surprised to see, a Christmas song and more. It was going to be a great night!
The band came out, ugly Christmas sweaters and all, and started the night off with a song that has yet to be released…Saturday Night. MAN! This is a great opening song that really gets ya moving! Next was Drown With Me, which lends itself to crowd participation, especially during the chorus. In the 3rd spot was RSB. You know, I could just listen to this song as an instrumental if I had to. The guitar has been my fave instrument for a long time and this has plenty of tasty licks not to mention slide playing! Neal asked how everybody was doing and then proceeded to talk while the band started the song. Much to my surprise, he dedicated the song to me. "This song right here is dedicated to a very special fan, friend, family member. Teresa Burke everybody. This is her 50th Royal Bliss show."
I remember smiling at Neal while I put my hand up in the air, sporting devil horns. 😀
He continued, "She drove all the way up here from Illinois, just to come and hang out with us. This is her second time at the Cavalier Theater. You're going to see her on stage later." After that last comment, I just gave him a look, like, I don't really want to but I guess I will.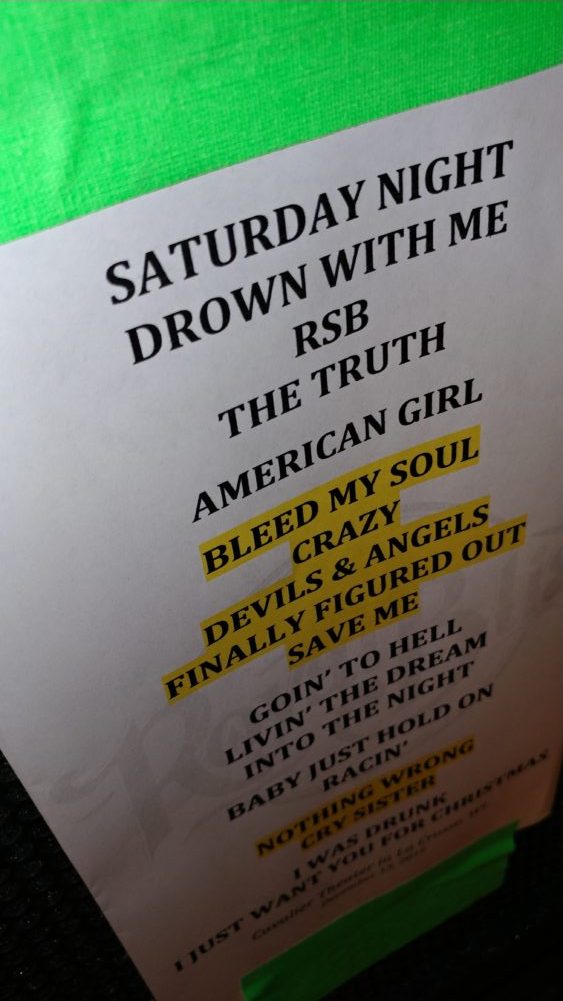 Neal started singing and I soaked it all in. Once again, a huge smile formed as I was super glad they were playing it for me at this show. If you're not familiar with this song, check out a fan recording here. Funny enough, this is from May 30, 2015 at the Intersection in Grand Rapids, MI. A show I was also at. What can I say, I get around 😉
They played The Truth from their latest self-titled EP, an awesome cover of Tom Petty's American Girl, which the crowds always love, before getting to my all time favorite RB song, Bleed My Soul. "Woah gonna bleed my soul, yeah with rock and roll." They slowed it down a bit with crowd faves Crazy and Devils and Angels before getting to another set list surprise, Finally Figured It Out, from Life In-Between. I couldn't remember the last time I heard the song live because it's been that long, but it immediately took me back to those first few shows I saw in 2009. Talk about a great flashback!
Save Me lead into Goin' To Hell (my fave from The Truth) and there were two more super catchy sing-along songs before they played another brand new one, Baby Just Hold On, which was free for those that ordered something from their recent Christmas pledge campaign. It sounded really great live too. As someone who is always looking for new music from my favorite bands, hearing some of these live for the first time just made them better than they already were. They skipped Racin' and went straight to We Did Nothing Wrong. That bass intro puts the biggest smile on my face!  Hell, the whole song has the perfect beat and rhythm that you can't help but react to. While I love the new songs, I'm glad they are still dipping into their back catalog.
Well, the time had come. Neal wanted me on stage for I Was Drunk. I pointed to the stairs to my right (which would have lead me to the back stage area and the easy way to get on stage.) He wasn't having it. He walked to the front of the stage and grabbed both my hands fulling expecting to lift me up and onto the stage. Mind you the stage was probably as high as my chest and I'm only 5′ 6″. I thought putting my foot against the flat stage wall was a good idea, but it wasn't. However, before I knew it, someone, or maybe it was two people, had pushed me up far enough that the majority of my body, because Neal was still holding my hands in a pulling motion, forced me to more or less flop onto the stage like a fish. Talk about THE most unladylike and least graceful way to get onto the stage there ever was. I remember rolling onto my side and then Neal grabbing my hands again as I got to my knees as he helped me up. Needless to say, he got the, "I'm going to kill you look." I cannot recall a more embarrassing time in my life! However, I will say, I have lost count of the number of times I start to think about how I got on stage and I just bust out laughing. Good gravy. *rolls eyes* There was a point when he hugged me that I told him I was going to kill him. haha
Anyway, the rest is kind of a blur due to being caught up in the moment and because I couldn't always hear what Neal when saying while he talking to me. Plus the fact that I forgot to record what was going on, which I could have since I have a nifty recorder app in my new phone. (Side note: That is my only regret of the night since he said a lot of nice things. Hey, if anyone was at the show and you have video, as horrified as I am to know what I looked like on stage, it would be great to see it.)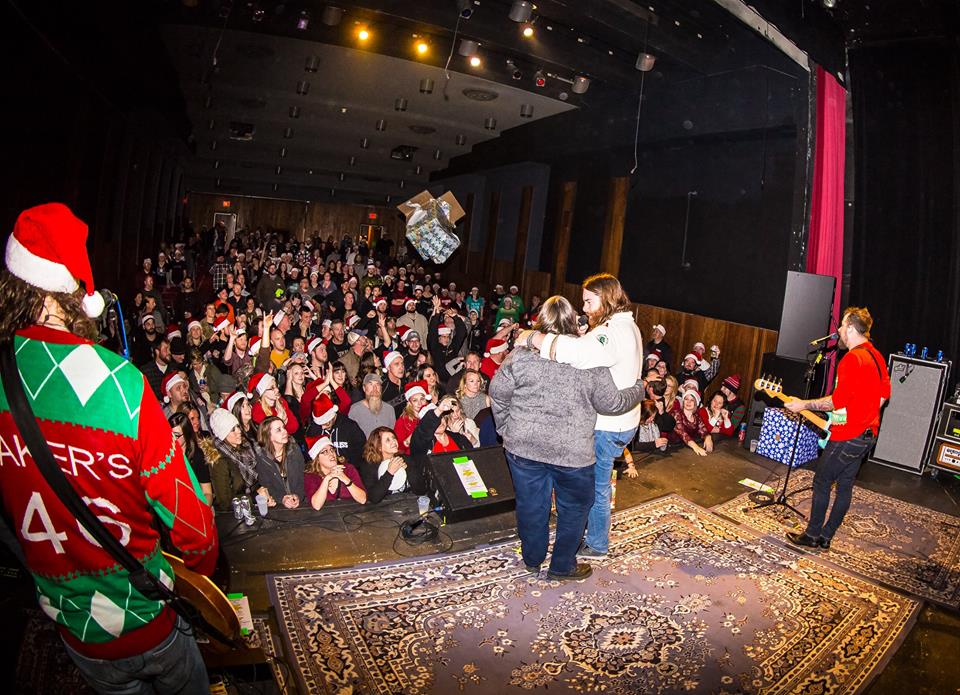 Picture if you will, Neal and I standing center stage, with his arm tightly around my shoulders as he was speaking to me. This is the jist of what I remember, even though it may be out of order. I know he mentioned that I didn't like to be in the spotlight (very true) and he talked about it being my 50th Royal Bliss show since 2009 and even mentioned I had been on tour with them. He joked that I didn't drink, even when I was on tour with them. haha He told the crowd that a lot of the photos they had probably seen of the band were taken by me. At one point he turned me so I was facing him, looked me in the eye and said he wished other photographers and similar folks that write about bands had as much passion as I do. I'm sure I looked like a deer in headlights up there on stage, especially as I would catch glimpses of the crowd looking up at us. Did I mention how hot those lights were? After the fact, my husband informed me that Neal said I was like family to them and also talked about the work I've done trying to get the word out about other bands (currently via MomentsInSound.com). I'm sure other things were said, because it felt like he was talking for a while, but I just can't remember. Regardless, it was all VERY much appreciated.
Then, he did something I was not expecting. He handed me the mic and walked to the back of the stage. I looked at him like, "What are you doing?" He said something like, "You know the words." Oh. My. God. He did not expect me to take the lead on singing. Did he forget that I told him I can't sing? At some point, the band had already started playing and I thought to myself, I don't even know when to start singing! haha Eventually he walked up to me and he started the first line, "I was drunk." Mind you, he had his arm around me again and our heads were practically touching so I wasn't going to be able to get out of this one. Oh shit, I thought, what if I forget the words? I caved and started singing. I was in his death grip for a while (HAHA) so I hoped and prayed I wouldn't space and forget the words. (I'm pretty sure I forgot some parts of the verses) To everyone at the show that night, if I sucked, I'm sorry. I was forced into it.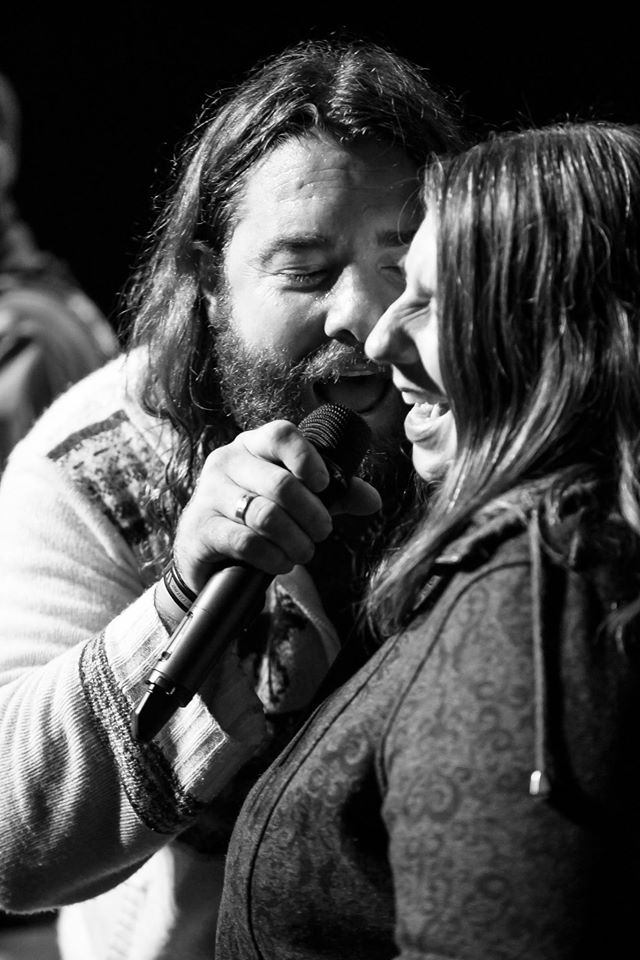 HOWEVER, thanks to Bob Good the house photographer, around 2am the morning after the show, I found a B&W photo of Neal and I singing on his FB page. Not only does it makes me look like I knew what the hell I was doing, I now have one of THE coolest photos. As a photographer who loves to capture these same type of moments on stage, I am forever grateful he took this photo.
As we sang side by side, I started to feel a little bit more comfortable. I think it was by the time we were coming to the line, "And I'll tear up that desert with you," that there was a little more space between us, because I remember it being like a light bulb going off inside my head, that I pointed to the crowd and sang, "and I'll tear up La Crosse with you." I looked at Neal and his reaction was like, "Right on!" because a lot of the time when he sings that line he will say the city or venue name instead. I have no recollection if he sang the same thing. After we sang, these next few lines…
And I'll never change
I'll stay the same
I'll live my life
My own damn way, yeah
…I threw up a left-handed devil horn and yelled "FUCK YEAH!" Who was I up there? haha At some point in the night, I remember making eye contact with both Jake and Dwayne, and them smiling back at me, but man, I felt like a fish out of water up there and was almost afraid to look at my surroundings and the other guys on stage. Almost like I had tunnel vision. Then…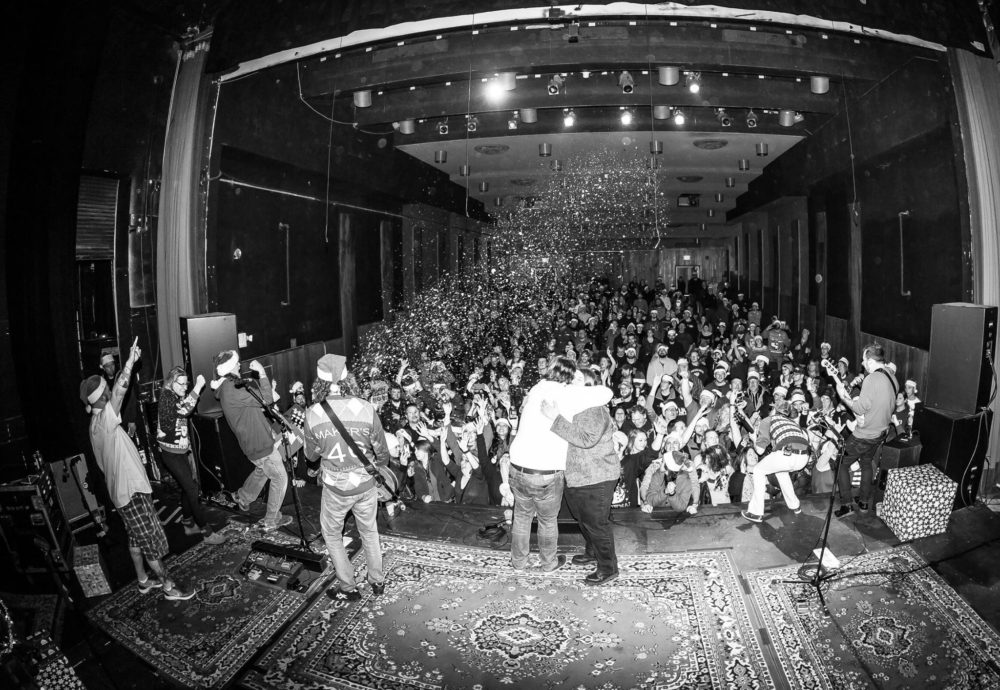 Towards the end of the song, the snow machine went off, showering the crowd with fake snow and Neal gave me THE biggest hug. I thanked him and walked to Dwayne's side of the stage while Neal finished out the song on his own. After the song was over, both Dwayne and Neal reminded me to get in the group photo. I crouched down in the middle of the band and radio people and smiled. I picked up my camera bag and as I walked off stage, the photographer and one of the guys from the radio station said I did a good job.
Another guy said he thought I was their manager since I was always at their shows. HAHA While I was still trying to wrap my head around what had just happened, the band had moved on to the last song of the night, their Christmas song, I Just Want You (For Christmas) from 2009. (Buy on iTunes). As I stood side stage and watched, I saw the present boxes that had been on stage being kicked around on stage and into the audience along with Jean, (part of the morning team at 95.7) dancing her heart out. Talk about a great song to end the night on a high note! Oh and I should also mention, by the time the night was over, Neal had changed into 3 different Xmas sweaters including one that had working lights! Well folks, that was it. Show was over. Oh what a night!
I mean, it's not every day a band plots to make your 50th show something memorable!
To Neal, Taylor, Jake, Dwayne and Sean…100 times thank you for not only making my 50th Royal Bliss show one I will never forget, but for being some of the coolest, down to earth guys out there and for always letting me be a part of capturing your moments from behind my lens. As Neal wrote on my set list…"Here's to 50 more."
All you people that I love that I never would have known
Without a guitar and a microphone
(from Home by Royal Bliss)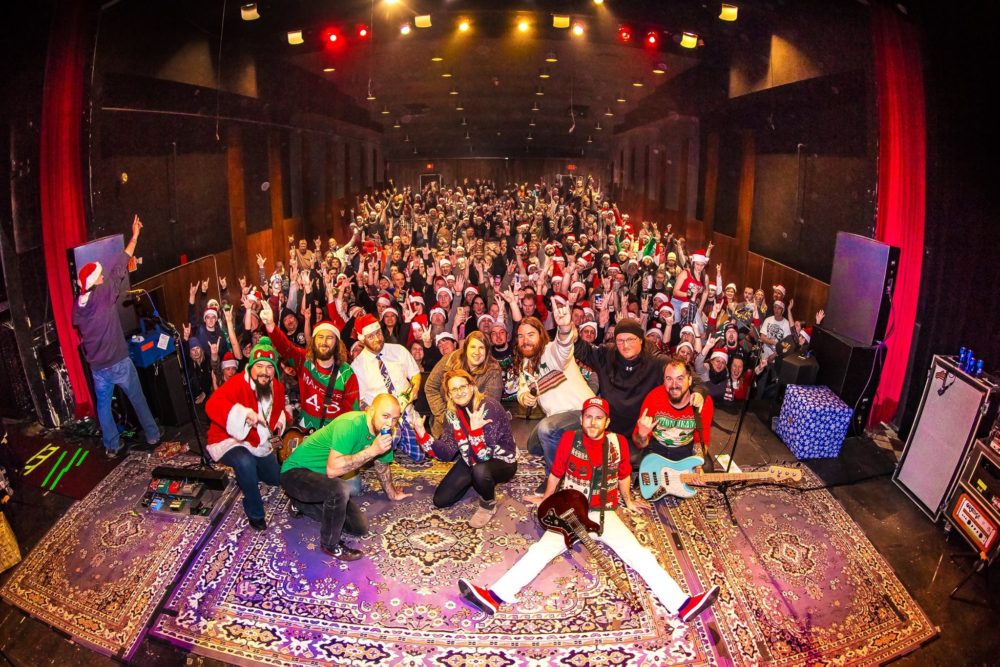 All photos of me on stage by Bob Good. MANY, MANY THANKS BOB! Check him out here.
View my photos from the show below.