Today, April 21, 2016, Prince passed away.
When I first heard it announced on the radio around lunch time, I didn't believe it. Of course I looked online for proof. Unfortunately, it was true.
What the hell. Ever since Lemmy passed away in Dec 2015, it's just been a nonstop barrage of legendary people passing away. Don't get me wrong, people pass away all the time, but there have just been too many music icons leaving the planet within a very short window.
Social media was flooded with memories. Here is mine.
1984, or maybe it was 1983, was pretty much my first introduction to Prince. I remember hearing the lyrics to 1999 and thinking, "Wow! 1999 is SO far away!" Hey, when you're 13, 15 years into the future IS a long time away. Then there was Little Red Corvette, the Purple Rain album, (When Doves Cry, Purple Rain, Let's Go Crazy, I Would Die 4 U, Darling Nikki) Raspberry Beret, Kiss, U Got the Look, Cream, Gett Off (I still have a cassette single of this song), SO MANY HITS. Plus, he was the gateway to other bands like Sheila E and Morris Day and The Time.
I pretty much discovered Prince's songs because I listened to the radio and saw his videos on TV.  Sometime in 90's I lost track of what he was up to, but every award show or any other televised event, I was glued to his performance. I mean, after all, it WAS PRINCE and the man could do no wrong. My fave Prince song is Kiss, however, my all time fave song he ever wrote is Nothing Compares 2 U performed by Sinead O'Connor.
Fast forward to 2004 and Prince announced a tour. It was a no brainer, hubby and I were going. Unfortunately the show had to be rescheduled from June 28 to July 22, but that didn't matter. What was a couple more weeks of waiting. The stage was in the round and our seats were in the second balcony of Allstate Arena in Rosemont, IL. To be honest, we weren't that far off from center stage and the seats were pretty decent. It was the Musicology tour and every person that walked through the door rec'd a copy of his new album.
I still remember how amazing the show was and how much energy was coming off the stage, not only from Prince himself, but from his entire band. I just looked for and found the set list online. I'm going to have to say this is pretty accurate as I have no other source to confirm or deny the accuracy. Take a look at these songs and you'll get a general idea of why the show was so awesome. I literally had SO MUCH fun at this show. Heck, I thought it was so awesome, I was willing to drop $200 on tickets to see him again the next day. But I didn't. That wouldn't happen again until 2012.
Prince July 22, 2004
Allstate Arena, Rosemont, IL
Musicology
Let's Go Crazy
I Would Die 4 U
When Doves Cry
Baby I'm a Star
Shhh
D.M.S.R.
A Love Bizarre (Sheila E. cover, Instrumental)
The Glamorous Life (Sheila E. cover, Instrumental)
I Feel for You
Controversy
What a Wonderful World (Louis Armstrong cover)
Sometimes It Snows in April
Solo guitar set
Little Red Corvette
Peach
Alphabet St.
I Love U in Me
Cream
Sweet Thing (Chaka Khan cover)
Adore
7
Sign 'o' the Times
The Question of U
The One (The New Power Generation cover)
Let's Work
Lopsy Lu (Stanley Clarke cover)
U Got the Look
Life 'O' the Party
(Eddie Floyd cover)Knock on Wood
Kiss
Take Me With U
Encore:
The Beautiful Ones
Nothing Compares 2 U
Purple Rain
Fast forward to 2012 and Prince was coming to town again. I couldn't resist so hubby and I got tickets again. This time he was playing a larger venue with a larger stage that took up a considerable amount of floor space. I sprung for the cheap seats ($109.50 each before fees) and we ended up in the lower level at the short end of the stadium, fairly far away from the stage. But you know what? It didn't matter, because it was PRINCE. Even though he was far away, he was still larger than life. Again, it was an amazing show and his band was phenomenal. A friend went to night 1, I was at night 2 and another friend was at night 3. Personally, I feel night 2 got the best set list.
Prince September 25, 2012
United Center – Chicago, IL
Let's Go Crazy
Delirious (with Let's Go Crazy coda)
1999
Shhh
Let's Work
U Got the Look
Sometimes It Snows in April
People Pleaser (Andy Allo cover)
She's Always in My Hair
Dreamer
I Could Never Take the Place of Your Man
Take Me With U
Raspberry Beret
Cream
Cool (The Time cover) (with Don't Stop 'Til You Get Enough interpolation)
Nothing Compares 2 U (with Jennifer Hudson)
Purple Rain
Encore:
Controversy
How Come U Don't Call Me Anymore
Sampler set
When Doves Cry
Nasty Girl (Vanity 6 cover) (instrumental)
Sign 'o' the Times
Hot Thing
Alphabet St. (instrumental)
Forever in My Life
Darling Nikki
Mr. Goodnight
I Would Die 4 U
Kiss
Encore 2:
Little Red Corvette
Encore 3:
Act of God
What Have You Done for Me Lately (Janet Jackson cover)
Theme From "Which Way Is Up" (Stargard cover)
Partyman
3 ENCORES!!! It's like he didn't want to leave the stage.
Bottom line, while the man may have moved on to the next life, he left a wealth of music behind, which I will always enjoy playing.
Whenever a musician passes away, I pay tribute to them by listening to their music on the same say I found out the news. Ever since I've been home from work, I've been playing Prince songs. I also came across this article… Star Tribune reporter watched Prince perform at Paisley Park days before his death you should read it. MTV was also playing Purple Rain and I caught the live Purple Rain performance in the movie. It hit me hard. Needless to say, it's been an emotional night. I leave you with these lyrics…
Let's Go Crazy – Prince
Dearly beloved
We are gathered here today
To get through this thing called life
Electric word life
It means forever and that's a mighty long time
But I'm here to tell you
There's something else
The after world
A world of never ending happiness
You can always see the sun, day or night
So when you call up that shrink in Beverly Hills
You know the one, Dr. Everything'll Be Alright
Instead of asking him how much of your time is left
Ask him how much of your mind, baby
'Cause in this life
Things are much harder than in the after world
In this life
You're on your own
And if the elevator tries to bring you down
Go crazy, punch a higher floor
If you don't like the world you're living in
Take a look around you
At least you got friends
You see I called my old lady
For a friendly word
She picked up the phone
Dropped it on the floor
(Ah, ah) is all I heard
Are we gonna let the elevator
Bring us down
Oh, no let's go!
Let's go crazy
Let's get nuts
Let's look for the purple banana
'Til they put us in the truck, let's go!
We're all excited
But we don't know why
Maybe it's 'cause
We're all gonna die
And when we do (When we do)
What's it all for (What's it all for)
You better live now
Before the grim reaper come knocking on your door
Tell me, are we gonna let the elevator bring us down
Oh, no let's go!
Let's go crazy
Let's get nuts
Look for the purple banana
'Til they put us in the truck, let's go!
C'mon baby
Let's get nuts
Yeah
Crazy
Let's go crazy
Are we gonna let the elevator bring us down
Oh, no let's go!
Go crazy
I said let's go crazy (Go crazy)
Let's go, let's go
Go
Let's go
Dr. Everything'll be alright
Will make everything go wrong
Pills and thrills and daffodils will kill
Hang tough children
He's coming
He's coming
Coming
Take me away!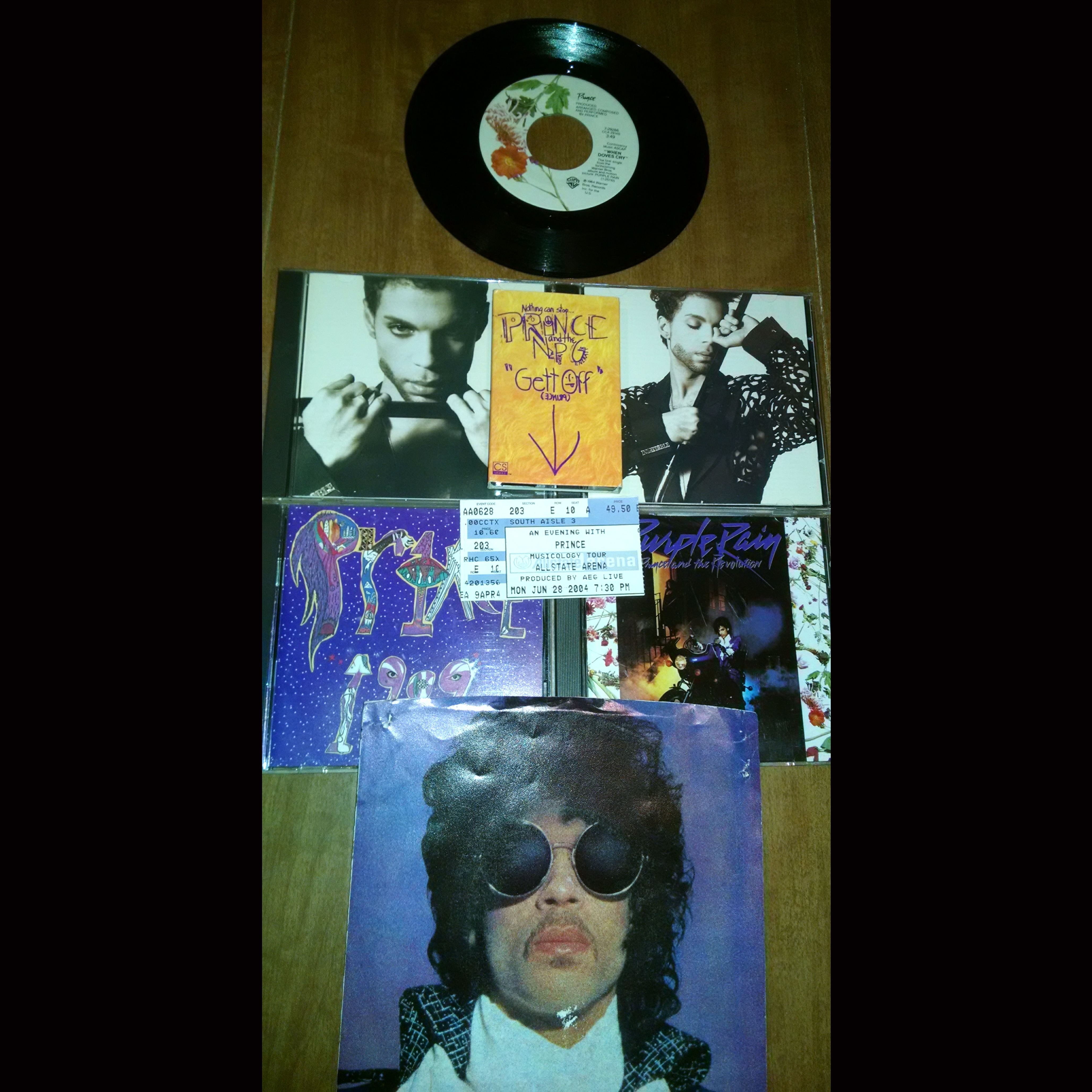 Pictured above: a few of my Prince CDs, a cassette single for Get Off,
a 7″ record for When Doves Cry and my concert ticket from 2004