September 12, 2002
Black Label Society with Brand New Sin, Slick
Synergy – West Chicago, IL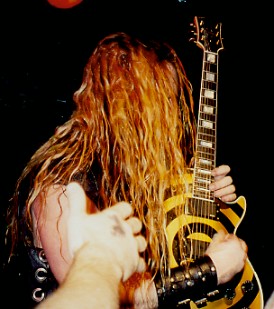 Let me start this off by saying… Back in 1999 I heard Black Label Society for the first time on an internet radio station and I didn't really care for it. Well, the DJ also played songs by Zakk Wylde from his Book of Shadows CD. Well, after hearing BLS and then hearing this album I COULD NOT believe it was the same person. Talk about such a drastic change. I immediately bought Book of Shadows and played it over and over and over again. I recently saw BLS at Ozzfest and I totally liked all his songs a lot better LIVE! So much so that I went to see BLS at a small club about an hour from me.
My friends and I headed for the venue and they realized they forgot their ear plugs. We stopped at a Walgreens and my friend's car ended up in a fender bender. Some guy backed right into her! Luckily only her license plate was dented. We continued on our merry way and couldn't find the venue. Up and down the street we drove. After the last pass we finally found it. The power had gone out and because the venue sign wasn't lit up, we never saw it!
Some band was setting up when we walked in and we found a spot up close on the left side of the stage. Slick was pretty good. The next band, Brand New Sin, were also pretty good. Although with 6 guys on a small stage it didn't leave them much room to move around. They more than made up for it with head banging and attitude.
At 11:30 BLS took the stage. There were skull heads on stands, the mic stand had a bunch of skull heads at the base and there were also skeletons hanging from the ceiling. Red lights started flashing and sirens started wailing. The crowd started getting tighter and a little rowdy. I was now 3 people back from the stage and I had the extreme pleasure of a "Tom Keifer"** standing behind me during the first couple of songs.
**Definition of a Tom Keifer: Back in 1998 I went to see Cinderella with some friends. A guy standing behind my Aunt kept constantly yelling Tom Keifer's name and raising his arms up and slamming them into my Aunt's head. He acted like he was the only one in the crowd. And trust me, people who do this appear to not even realize they do this. I'm sure you've been to concerts and seen these "Tom Keifer's" of the world. If you are a Tom Keifer, well…
The crowd on the left side was calmer for most of the night, except when Zakk would come over. THEN everyone HAD to reach for him. I'm sorry people but if you are 5 rows back, the odds are he isn't going to reach ya! I was squished a couple of times but over all, it wasn't the worst I've been in!
Robert Trujillo (bass) was an insane madman on stage and I was right in front of him. Between head banging and just totally getting into his playing, I found myself watching him a lot of the time over the rest of the band. He also crouched down really low while playing, made faces, and touched hands of people in the crowd.
Nick Catanese (guitar) was way over on the right side of the stage and the only time I could see him was if he was mid-stage. He sounded good though. Their drummer did a great job playing! Although he seemed very serious throughout the whole night. I don't remember ever seeing him smile.
And last but not least…Zakk Wylde. What can I say. Seeing this man play live, up close, was the best! I didn't recognize one song, but they were all great! My only complaint…Zakk played ALL of his solos, EVERY ONE OF THEM, facing the right. So instead of being able to witness his playing, I got to watch his hair! haha
Many times he thanked everyone for coming and told us we were the Chicago Chapter of the BLS Society. A few times he told people to go berserk with a mosh pit and people obliged. During one song he said "Limp Bizkit sucks c&ck" and then something like "F&%K You Iraq". They played for an hour or so then left the stage. All night Zakk would take drinks from beer bottles, hand the bottle to someone in the crowd, then either swallow the beer or spit it up into the air. At one point during the night he played a slower song alone on the stage and then later on played a guitar solo which include the Star Spangled Banner. Set list.
After another 15 minutes they were finished. We headed for the bus in the parking lot to hopefully be able to meet Zakk and the other guys. Personally, I really wanted to meet Robert too. We turned the corner and there were quite a few people waiting. We were standing around when I noticed Nick. We talked to him for a little while and I took a picture. He was VERY nice.
Security told us to line up away from the venue exit and then told other people to stand 6 feet away from the bus. Their drummer came out but he wasn't out long before he was gone for the night. After 1am Zakk came out with crew/security around him. Someone yelled to the crowd that Zakk would be back out in 5 minutes. Good deal! We walked over to stand near the crowd by the bus when Kim and I both spotted Robert. I shook his hand and he did it like it was some secret handshake (haha). I told him what a great bass player I thought he was and asked for a picture. He was nice as well.
After about 10-15 minutes Zakk emerged from the bus. Kim spoke to him first. She made a comment about him needing more female friendly shirts because he did have a female fan base. His comment as he pointed to us was, "What, three of you?" We all laughed. She told him that his music helped her stress level after a hard day. Then he told her this… (I couldn't believe it after I heard it and to this day I still can't believe it, but she told me to go ahead and put it in this story.). He said she needed to get her old man to put her on the kitchen table and then she should clap her hands (which he did twice) and tell him to "get down to Chinatown." OMG!! I thought my eyes were gonna bug out of my head! She took a picture with him and then it was Monique's turn. She asked him if he was a Ted Nugent fan and he said not really. I wasn't really paying attention to what he was saying because I was concentrating on what I was going to say to him. He told us a story about his Mom and Randy Rhodes. Something about a picture of Randy being on his fridge. He also commented that his Mom had passed away.
Right before it was my turn I noticed there were two poles with a chain in between them. Zakk was on one side and the fans on the other. A crew member was holding a flashlight and urged me to interrupt Zakk and Kim who were talking about something. Finally Zakk looked at me. He gave me a sideways hug and kissed me on the cheek. I told him I first heard a BLS song in '99 and then I heard "this album" and I handed him the CD insert from Book of Shadows. I told him how much I loved the album and that it was one of my favorites. He seemed very appreciative. He signed the CD sleeve and I asked him about the slower song he played earlier in the night. He asked if I was referring to the ballad. Yes. When I asked if it was from his other solo album he told me it was on a BLS album. I took a picture with him, thanked him again, told him good luck and we left. Kim talked to him some more and he brought the Chinatown thing up. He even clapped again! Too funny!
*All photos are old scans from film. Click to view photo.