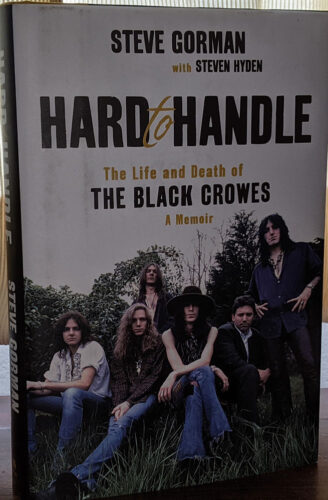 Last night, I finished a book I had purposely been putting off since its release in 2019.
Hard to Handle
The Life and Death of The Black Crowes
A Memoir
by Steve Gorman and Steven Hyden
It was most likely the announcement of the 30th anniversary box set for Shake Your Money Maker earlier this month that nudged me because I started the book 4 days later (Jan 12). I didn't speed read, just read a little bit each night and sometimes I skipped nights.
Originally I put off reading the book due to the drama that went down a few years ago when Rich and Steve officially quit the band over demands from Chris; which meant The Crowes were over. Since I didn't know what details I would read in the book, I wasn't ready to deal with it and shelved it. To some degree, I am still pissed at how all that went down, but that's another story.
Overall, I thoroughly enjoyed reading the book, but I knew that I would before I even started. I don't remember the specific dates, but prior to Dec 2010, Steve Gorman had a blog and his writings were so much fun to read. The guy could write. When I met him after one of the Fillmore shows in Dec 2010, I told him, "You need to write a book." He asked about what and I said, "I don't know, but you need to write a book." I'm glad he eventually released something.
As for the content of the book, I'm not here to argue "he said, she said." I know this is one man's story. Steve mentions at the end of the book, if anyone else wrote about this time frame, they would have a different recollection since it would be what that person remembered.
I liked reading the origins of the band and how they went from Mr. Crowes Garden to The Black Crowes. I got excited when I read about specific tours or cities where I saw the band. It was also nice to get some of that "fly on the wall" info on how, where and why the studio albums were recorded.
The book also reminded me of details of some official releases that I had forgotten about, specifically that Live At The Greek was originally released through musicmaker(dot)com AND you had the option to pick and choose your own songs and the track order. This sparked my own memory of sitting at my computer deciding which option to choose.
After some internet digging today, I confirmed that I originally chose the standard 18-song 2-CD version. I also discovered the release that came out a few months later included less songs. I'm glad I jumped on the original because that whole CD SMOKES! After reading the book, I also found out the 6/29/2000 Milwaukee stop I saw with Jimmy Page and The Black Crowes was not only a fly-in/fly-out one-off, but shortly after that, the rest of the tour was canceled. That Milwaukee show had such a vibe and it's def up there as one of my all time fave Crowes shows. Luckily, I have audio of the show to relive whenever I want.
As for the emotional aspect of the book in regards to band members, there is a lot to take in. I've heard it time and time again, being in a band is like being married. SHO NUFF. Man, there is a lot to unpack in this book. It was also very emotional reading the segment surrounding 9/11.
After reading the final page, I couldn't help but think about the roller coaster ride this band has been on. There were so many ups and downs throughout their career and I feel like I got that "peek behind the curtain" into what was going on in their life. Sure, I knew some of the stories, but the more intimate stuff that I would never have known, I was glad to have read about.
*Side note: During all these years, it never crossed my mind to keep track of how many members were actually in and out of the band from the start to the end (80's bands, sure, but TBC?). I was shocked as Steve recalled it in the book and the number was high. Funny enough, I saw almost every line up over the years.
My final take away is this. Despite all of the turmoil, yes, I know there were good times as well, but the bad times seemed to always hit the highest ceiling. Despite all of the turmoil, The Black Crowes created some of my most favorite music on the planet. Whether it was always in them or partially fueled by the environment they were all living in, I am forever grateful for their music.
If music got to free your mind
Just let it go baby, let it go
'Cause you never know, you never know
Say if your rhythm ever falls out of time
You can bring it to me
And I promise I will make it right, yes I will
If your heart is beating free
For the very first time it'll be alright
Yes it will, yes it will
If your soul is let go oh baby you never know
No you never know, you never know
If your rhythm ever falls out of time
You can bring it to me
And I will yes I will make it alright
Excerpt from My Morning Song