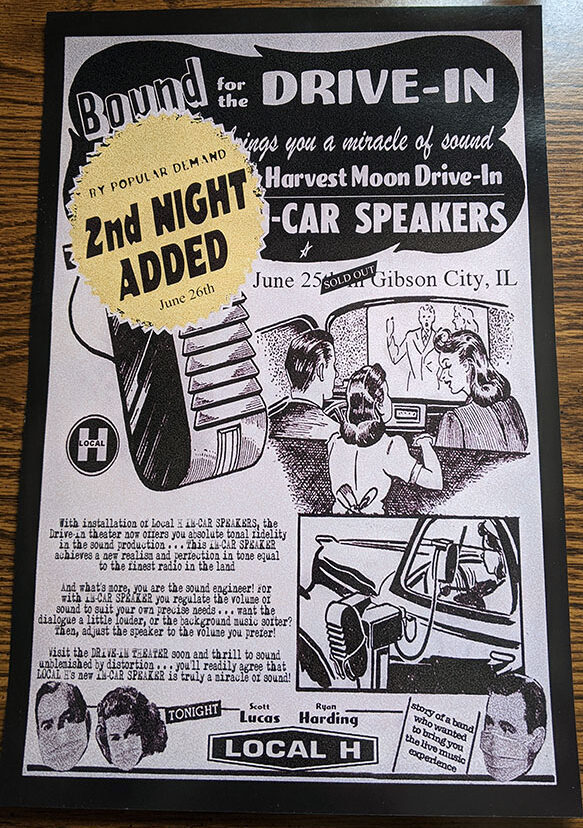 If you're wondering why "Local H" and "drive-in" are being used together, the band announced they were going to perform LIVE at Harvest Moon Twin Drive-in Theatre in Gibson City, IL. Do you know where that is? Yeah, I had never heard of it either.
While I passed on night one (it ended up being a good decision for a totally different reason), when a second night was added, I decided that I really wanted to attend a socially distanced (meaning, stay in or next to your car during the performance) concert. Call me crazy. I also bought VIP so we could park as close as possible.
Due to the pandemic, all the concerts I had planned from March forward were either cancelled or moved to 2021. With this show, it was only my third concert in 2020; the other two were February 11 & 15. The last time I went 4 months without seeing a live show was between Nov 1997 and Mar 1998! (Updated Note: As of June 26, 2020, who knew it would be a minimum of one year, and still counting, until my next show.)
Day of the show, I was excited but nervous. I had one goal; try and get in line as soon as possible to hopefully get a decent front row parking spot. Hubby and I left at 1pm. The drive-in posted no one could line up before 5pm. We arrived in Gibson City at 3:33pm and drove past the drive-in to scope out the place. We turned around and wasted time driving around the area and got something to drink. The plan was to eat once inside the drive-in.
We got in line a little before 5pm and there were two lines with several cars in front of us. We waited for 6pm gate time and they opened 10 minutes early. Based on ticket type, cars were directed where to go and we were parked just before 6pm. We were front row, two left of center. Perfect.
Now the wait. Around 6:30pm, you could hear pre-show music over the PA system. Eventually it was announced the show would start earlier, at 8:30pm, due to storms that would show up later in the evening. Cool by me. At 8pm, we set up chairs in front of the car and I bought some food at concessions and grabbed a show specific poster from the merch table.
Click on all photos to view larger size
As I sat in my chair, waiting for the show to start, it felt weird. Not because we were at a drive-in, because I grew up going to see movies in that environment and even took my son a time or two when he was younger. The fact that I was seeing a band live at a drive-in was actually kind of cool. I also liked that I was celebrating my 40th Local H show (since Dec 1996) by seeing them in a unique location. I also got the chance to hear brand new songs from the LIFERS album in person, instead of via a live stream. (I am forever thankful the band played live streams!)
It was weird because I was sitting in a bag chair, far, far, away from the stage, along with everyone else. It was weird because I sat the entire show. Sure, I could have stood like others around me, but I decided to watch this way. Bottom line, it was weird because it was just over 3 months since the country started going to hell.
However, any concerns I had over everything going on in the world disappeared once the show started. Local H opened with Sunday Best, a new and slower song from LIFERS. Given the somber tone of the song, I thought it was an interesting choice to start the night. However, it is one of my faves from the new album so it was great to hear it in person in a live setting. They quickly kicked into overdrive with All-Right (Oh Yeah) and continued to give attendees an almost 30-song set that ended around 11:15pm. Yes, we got approx. 2 hours and 45 minutes of Local H. New songs, old songs, covers, and a surprise new instrumental, 8:46. At the time, I didn't understand the digital clock, displayed on the larger than life movie screen, as it counted up to 8:46. I honestly thought it was a massive jam session. I found out the next day, the song was related to the incident with George Floyd. Talk about giving the meaning of a song even more power.
Getting Scott-Rock in a set is always a treat, but the band's cover of George Harrison's Isn't It A Pity hit me differently this time around. It's crazy that a song released in 1970 would be relatable in 2020, but here we are.
Isn't it a pity, now isn't it a shame?
How we break each other's hearts
And cause each other pain
How we take each other's love
Without thinking anymore
Forgetting to give back
Isn't it a pity?
By the 10th song of the night, I had a huge smile on my face. You see, Local H were playing my fave song from LIFERS, Hold That Thought. Even though I heard it during their album release live stream, I loved it even more in person! THERE IS SO MUCH ENERGY IN THAT SONG!
The other bonus of the night, were the various movie segments playing on the huge screen behind the band. Some of them I was aware of and others I was not, although hubby tended to know some of the wacky ones! At some point, I got up and walked to the other side of the parking lot, just past concessions. From what I saw, the video screen on that side only showed the band. At the time, I hoped they would switch it up and show the band on my screen, but now that it's over, I am glad it played out the way it did. Oh and if you follow Scott Lucas on social media, you will know by his posts he is a huge movie buff, which makes this type of performance even cooler.
The 5-song acoustic set (two songs with Scott solo, the other three with Ryan on acoustic) in the middle of the electric show was gladly welcomed. It's always cool when a normally aggressive band gives you stripped-down versions of their songs or in this case covers as well.
In 2019, I had the pleasure of hearing two songs that would make it onto the LIFERS album; Beyond The Valley Of Snakes and Patrick Bateman (aka PB&J ;). I was glad to see both were still well received, myself included. The last two songs of the night were brand new Defy and Surrender (Local H have really taken to creating some long songs) which had a flawless segue from the previous song, 8:46. Of course, they closed with "everyone's favorite," HI5INMF. I'm not spelling it out, because you know what I'm talking about. Always a song fans get crazy to, for me it was cool because the band also played a snippet version of The Beatles' Helter Skelter. Not the first time I've heard them do it, but because Local H tends to throw in random covers during this song, you never know what you'll get.
That was it. Show was over. WOW. Scott thanked the crowd and sang one line from the jingle, "Let's all go to the lobby to get ourselves a snack."
By 11:25pm we were off the property and headed home. We initially got caught in a downpour but that eventually let up and we had a fantastic, and at times, wicked looking lightning show.
WHAT A NIGHT. Somehow, everything aligned and my 40th show couldn't have turned out better.
I didn't take a lot of video, but below is a 3-song video mix that includes the end of Hold That Thought, all of What Would You Have Me Do? acoustic (1:20) and the back half of High-Fiving MF with their cover of Helter Skelter (7:37) mixed in.
"Bound For The Drive In" Night 2 Set List
Sunday Best
All-Right (Oh, Yeah)
All The Kids Are Right
Gig Bag Road
Beyond The Valley Of Snakes
Winter Western
Scott-Rock
The Misanthrope
Isn't It A Pity
Hold That Thought
California Songs
acoustic
When Doves Cry
What Would You Have Me Do?
Eddie Vedder
Lucky Time
Hey, Rita
(Baby Wants To) Tame Me
Hands On The Bible
Bound For The Floor
P.J. Soles
How's The Weather Down There?
Cooler Heads
Turn The Bow
Fritz's Corner
Encore
Patrick Bateman
President Forever
8:46
Defy And Surrender
High-Fiving MF
Listen to the show for free here
More info on Local H