February 3, 2007
Rock Star Supernova w/ The Panic Channel, Dilana & Magni, Juke Cartel
Rosemont Theater – Rosemont IL
My two friends and I bought tickets for this show late summer 2006 and we thought the day would NEVER get here! We had row P, center section. Not the greatest seats, but hey, what can you do. Another friend bought a ticket a few days before the show and ended up Center Section, Row E. (Due to the orchestra pit plus an aisle in front of her she was still not all that close, but for sure closer than I was.) Either way, before The Panic Channel took the stage I had a GRAND idea! I gave her my camera to take pics during TPC and Rock Star Supernova. Thanks again Julie!!
The night started off around 8pm with Toby's band, Juke Cartel, opening the show. There was a great crowd response for them and their 20-minute set had a lot of energy. They played originals (including the famous one from the show that had everyone singing along to the chorus) and some covers. Of course the only cover I remember was Rebel Yell. Toby joked about how cold it was for them (being from Australia and all). At one point during their set, someone gave him a poster that read something like, "Juke Cartel rocks." He had it on stage and his guitar or bass player said, "What's on the other side?" It read, "Toby, can I have a kiss?" At the end of their set, he gave the poster back and gave the girl a kiss.
Not 5 minutes later, Dilana, Magni and a bass player came out, sat on stools and played some acoustic originals (one being her original from the show) and some covers. Again, I only remember Every Breath You Take and I Zombie. The set was really good. While Dilana started the set sitting, she finished it standing. At one point, a guy walked up to the empty drum kit and Dilana introduced Tommy's drum tech Steve-O (he played the second half of their set). He was filling in for her drummer who couldn't be there. Magni wore sunglasses for most of the set and they both joked back and forth and gave props to each other. They also played about 20-25 minutes. Then there was a 15-minute break.
The Panic Channel came out around 9pm while TRACK 13 was playing (the live counting up to 13 at the end of their album, (ONe)!) I looked at my friend Kim (she was at the Chicago Double Door show with me, where it was recorded) and we got excited!
TPC rocked the entire time they were on stage. ROCKED! They were on FIRE!!! It was SO AWESOME! I cannot remember the set list to save my life. But they did close with AC/DC's Highway to Hell with Dilana singing on vocals, which was cool and unexpected. ALSO. Kim and I noticed right away that Chris Cheney was NOT playing bass. WTH? Since the show, I now know why. Oh well. New guy was pretty good. Their 30-minute set really seemed to fly by too. Before I knew it, it was over, they were thanking us and they left the stage.



Now the wait for Rock Star Supernova. I grabbed my friend Julie and ran out to merch to see what was available and bought a Supernova button pack. (each of their faces on a button, even Jason, but not Johnny Colt.) I then checked out the pics Julie took of TPC. She got some good ones. Kim and Jess eventually came out and I spotted Kim's friend. We all talked. I also found out that one of my FAVE songs had been cut from the set list. There would be no Dead Parade for me that night. Boo.
I'd just like to add, there was a VERY diverse crowd at this show. I don't know about the other dates on the tour but there were QUITE a few older ladies. You know the kind, with short poofy hair that looks like it was done at a beauty parlor, and wearing long fur coats. There were also parents with kids in the 8-12 year old range. Then of course you could spot the "rockers" in the crowd. Obviously a lot of fans from the TV show vs fans of the band members and their musical history.
Rock Star Supernova (Gilby Clarke, Tommy Lee, Lukas Rossi, Johnny Colt filling in for Jason Newsted who injured his shoulder) walked on stage around 10pm and played until 11pm. I thought they were really good. In my opinion, Lukas sounds a lot better live than he does on the CD. They had an AWESOME lighting set up too. Lots of colors and this wide LED screen behind them and a huge LED ball off to the right. At the start of the night, since the lights were not so bright for the opening acts, I thought it was a huge disco ball. Once RS Supernova started, it reminded me more of the Death Star.
The band played both original RS Supernova songs and cover songs. The ones I remember: Be Yourself, Leave the Lights On, HeadSpin, Underdog, Make No Mistake. Covers I remember: Suffragette City, You Spin Me, Summer of '69, Bittersweet Symphony. Even live, I still don't like Lukas' original. I tried.
They invited Dave Navarro out and he played during one song and Tommy also played keyboards for a couple songs. Between songs Tommy would yell out "YEAH BABY," "DA BEARS" or other random things like that. He seemed like he was having a ball up there. Lukas was wild on stage, kind of extreme with some of his moves, but I guess nothing different than how he was on the show. He was also dressed in all black with a white jacket. Tommy had on long shorts and a pink tie. Johnny was a lot taller than I remembered and Gilby seemed to be reserved all night.
For the last two songs of the night, there was a 4-piece string section. Way cool. I guess they were local performers. During the very last song, two confetti canons released massive amounts of silver and white confetti. It looked awesome! At the end of the set, the band gathered at the front of the stage, thanked us, took a bow and were gone.




















After the show, we went to wait near the backstage entrance for Kim's friend. (she was working with RS Supernova) After about 10 minutes she came out to get us and then had us stand in this one spot while she ran to do something. Well, there was also a guy standing near us and when he turned around I immediately recognized Steve (he was totally bundled up too, except for his face). I held my hand out to shake and said, "Steve!" He shook my hand and I commented on what a great show it was and about how my friend and I loved Track 13 tonight. He started to tell me it was recorded in Chicago and I said, "I know! My friend and I were there! That is why we like it so much!" He commented on the other two cities they had tried to record it in but that Chicago came out so much better. I replied with, "That's because Chicago rocks!"
My "rock star memory loss" started setting in because I don't remember specifically everything I said to him but I did comment on the Double Door show, the album, and their performance that night. I mentioned that their 30-minute set just wasn't enough and that I couldn't wait for the show on Tuesday. He asked where that was and told him it was in Milwaukee. I believe he asked Kim if she was going too and she said she was unsure due to her work schedule but she was going to try. I then said something like, "Dude, I just want you to know I am totally not bull-shitting you with everything I've been saying. I totally love the album and the band." Kim agreed. He was very gracious of our comments.
Steve mentioned something about playing the biggest places he's ever played and I remember him commenting on how excited he was that he had just played Radio City Music Hall. I also remember him just being really excited in general with the tour. He was almost like a kid on Christmas morning that had just opened the best Christmas present ever!
I asked to take a picture and he said sure. I handed Jess my camera and he said something like, "Hey, I have the same camera. Is it a 400?" I replied with, "No, it's an 800." He reply was something like, "Ooo, yours is better" or something like that. haha [Note: This was a point and shoot camera that used film]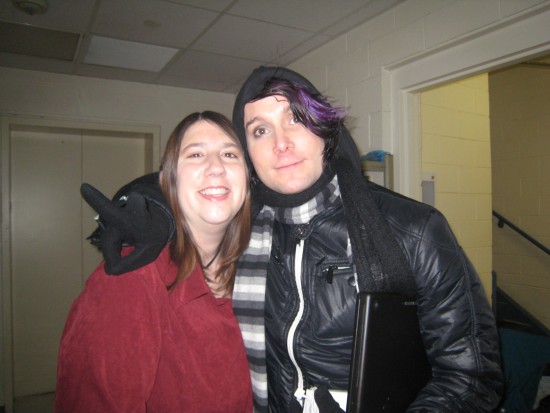 He also took a pic with Kim and my other friend Jess. It was funny, Steve commented on Kim's hair smelling good and that he liked the color of Jess'. (talk about some attention to detail). Jess pointed out that he too had colored hair (purple-ish) and that it looked good too. (He had some strands poking out from under his hood) He must have talked with us for about 5 minutes. It was awesome and he was totally sweet.
Kim's friend eventually came back and we were standing there talking again. Eventually we moved into this bigger room. We spotted Lukas (who was still wearing sunglasses) and Johnny. At some point Tommy walked by pretty fast. After some more talking and catching up Kim's friend had to get to work. We said our goodbye's and she walked us back into the venue.
All in all, what a great night!!
Read my review of the February 6 The Panic Channel Milwaukee show.