January 23, 2007
Buckcherry
Austin's Fuel Room – Libertyville IL
*WARNING: This will be long
I left work at 4:30pm and headed for home. At 4:40pm I had the radio on 95.1 (local rock station) and the DJ asked for people to call in with requests for the 5-6pm timeframe. What the hell, I called. DJ answered and the conversation went something like this:
DJ: 95.1
Me: I'd like to request "Next To You" by Buckcherry in honor of the show tonight.
DJ: You going?
Me: Yep!
DJ: You know it's sold out right?
Me: Yes!
DJ: Who are you going with?
Me: Some friends.
DJ: Women?
Me: (haha) Some.
DJ: Single?
(I didn't understand him so he asked me again)
Me: Uhh, yes, 2 of them, no wait (I laughed), three of them.
DJ made some comment about single woman or something or other being funny and me laughing.
Me: No, no, I was just thinking about my friends. Three single, one married and one divorced.
DJ: Are you going to get on someone's shoulders during Crazy Bitch?
Me: Nope!
DJ: Why not?
Me: I'm going to leave that for the crazy bitches! (we both laughed)
Call was over.
Around 5:10pm the DJ came back from a commercial and what did I hear? I heard myself on the radio!! The DJ played our ENTIRE conversation and then played my request "NEXT TO YOU"! OMFG! I couldn't believe it. I tried calling my friend Kim but she didn't answer, so I left a message. I called my Aunt (who might have been listening) and I could hear "Next To You" thru her phone. I asked if she heard the caller before the song played and she said no, she had just gotten in the car. DAMN! haha I told her about the conversation and she thought it was cool! I called my friend Matt who would also be at the show that night. He didn't have the radio on but thought it was way cool as well.
Ok, so fast forward to the show. I got there close to 8pm, quickly ran up to coat check and met my friend Julie inside. There was one spot left on the rail (in front of Keith). I asked a guy if the spot was taken and he said no.
While waiting for the show to start, I remembered some people from the Buckcherry board were supposed to be at the show, and a couple of them claimed "in front of Keith" as their spot. I asked the guy next to me if he was Gup from the board and he said no, he was SyntheticDarknes but that (he pointed to another guy) was Gup. I mentioned who I was on the board and we all talked for a bit about various shows, etc.
Eventually, more friends showed up. I think there were 10 of us in total. 3-4 of them were about to get their "Cherry" popped too! HEHE
The time on the tickets stated show time was 10pm but that was wrong. The Exies took the stage around 8:30pm. They were not bad. They played for about 45 mins or so and the crowd seemed to be into them.
Now… the wait for Buckcherry! WOOHOO! I couldn't WAIT!!! I LOVE Buckcherry live and I was getting nervous waiting. Unless you've seen a show, you won't know what Im talking about. If you have seen them live, you know EXACTLY what I'm talking about. The energy that comes off that stage is INSANE and VERY addictive! I can never get enough of the live Buckcherry show.
FYI about my pics: For the most part I got some decent ones. Others, the smoke machine got in the way. Most of the ones of Josh, well, he doesn't stand still for very long, but I posted them anyway.
BC took the stage around 9:45pm and played until about 11pm. Did I already mention how much I LOVE Buckcherry live?!?!?! This band has SOO much energy on stage you can't help but become engulfed in their performance.
Play by play on the setlist:
*So Far – This is a GREAT opening song. VERY HIGH ENERGY! It also doesn't hurt that it's one of my faves on the new CD! I also love the comment Josh made before he started singing, "Are we fucking doing this shit? (crowd cheers loudly) It's time to go to work!"
*Broken Glass – They went straight into this one. Another fast, upbeat song. I believe Josh mentioned at a different show, this song is about war. Man, the band just KILLED on this song.
*Porno Star – Okay, as cheesy as this may sound, I LOVE this song. Josh also told us about how he learned about sex from "the greats" cause you know, "You can't learn this shit, on like, animal planet or anything!"
*Fall – Again, another fave of mine. I always wonder if they will play it, and usually, they never let me down! I had to laugh when Josh said,"You ever been so in love with somebody that you made the foolish decision by letting them have your soul?" That's one way to word it. Either way, it's a song about revenge.
*Out of Line – The song where Keith uses his talk box 😀 The crowd was totally singing along with this one too. Heck, most of the night you could hear people singing along. AWESOME!! Also, at the time I didn't know it, but this was another of the 9 out of 11 tracks on "15" that they were playing for us. WE GOT NINE NEW TUNES!! The only two they didn't play were Sunshine and Brooklyn. Man, I would DIE to hear Sunshine live. LOVE that song! (*My wish came true when I saw them 6-15-07.) Oh and as you can see in the pics below, Keith did have his knee brace on but that didn't stop his intensity.
*Sorry – As Josh stated, a song we were going to be hearing a lot more of it this year. Possibly the next single? He also told us it was a love song. Again, another fave of mine from the new album. (Honestly, there isn't a bad song on the 15 album.)
*Crazy Bitch – X started with a drum beat, Jimmy came in on bass and then Keith started his funky guitar playing. Josh asked us if we were feeling sexy tonight. He then told us our only job was to pro-create (haha). And how did we do that? Well, I'm sure you get the picture… Josh continued with his normal speech about the crazy bitch…and then the band, Josh and the crowd slammed into singing, "YOU'RE CRAZY BUT I LIKE THE WAY YOU FUCK ME!" The crowd went insane!!! For anyone who has seen Crazy Bitch live, mid-song they went into "Stroke Me" and then Josh did some talkin' and they went into "Fire" which always makes for a good time. The visual during both these songs was a riot. Talk about an entertaining front man! 😉 Due to the graphic nature (HAHA), I won't go into specifics, but Josh told us the difference between a regular chic and a Crazy Bitch. They ended the song on a high note and once again, the crowd went crazy signing along, etc.
*Next To You – Keith played a little teaser music and then they went into this song. I looked at Matt and he said, "This one's for you!" HEHE I LOVE THIS SONG!! It always makes me want to move. Really, I can't tell you how much I love this song. The music…guitars, drums, bass, TOTALLY AWESOME!!
*Ridin' – Another great song from Time Bomb. You can't help but move to it. Man this set list was shaping up quite nicely!! The crowd also started singing one of the choruses a little early 🙂 It was great!
*Onset – If I remember correctly, I don't think I heard this song during the two shows I saw in 2006. NICE! Josh mentioned life being a beautiful thing and that this song was about the "Up Above"…Onset = the beginning. Again, another fave from the new album and it was totally rockin'. X was killin' it on the drums! Heck, the whole band was totally into their playing. Again, more crowd singing. Obviously there were some serious Buckcherry fans in attendance that night!
*Everything – Josh mentioned this was their new single. (CALL YOUR RADIO STATIONS PEOPLE!) I was SO hoping they would play this song too. YEAH! Again, it's another fave of mine from the album. Once again, lots of crowd singing during the chorus. You know, I always wondered how the band felt to hear the crowd sing along to their songs. Especially newer songs. Oh and Keith's guitar parts on this song never sounded sweeter.
*Carousel – Before this song, Josh asked us how we lived in the F'N cold. He wasn't down with it. Sitting inside all day he said he felt like a little hamster! haha He introduced this one as a goodtime song. This was FOR SURE the first time I had heard this new song and it sounded awesome. Again, crowd singing along during the chorus.
*Slammin' – Before the song, Josh thanked us for coming out and said it had been F'N amazing. He joked that they were busy watching the State of the Union address and thought they would come out here and shake their asses. "Kidding," he said and laughed. Of course, the song about BIG T's & a F F'N A. Again, another great tune, a lot of fun, and Josh is a riot to watch while he's singing…grabbing his ass and pretending like he was grabbing boobs on his own body!
You know, do Buckcherry purposely write songs that make you want to move and groove? Why, I do believe so. 😀
Now, while there was no encore, they did close the night with a song that had the crowd going absolutely insane.
*Lit Up – Keith played a teaser bluesy piece while Josh asked the crowd what we wanted for the last song. "Dim All The Lights, Donna Summer?" "Staying Alive?" "What you say we go uptown and get lit up like a F'N light bulb."
*and the crowd goes wild*
About halfway thru the song, Josh told us that Lit Up was about his first experience with cocaine. Had it not been for that, the song wouldn't exist.
Towards the end of the song…the build up of the music and Josh and the crowd singing the ending chorus was a rush (no pun intended). Again, remember that energy thing I've been talking about this whole time? It was for sure very much present at the end of the set as it was at the beginning.
Josh told us we were F'N awesome and thanked us for coming out. Some other comments, "Do you see the light?" "GO F'N BEARS!" and "Lord have mercy on your souls."
The band cranked out the final notes of the songs with great intensity while Josh made more comments:
"Somebody F'N stop me."
"Fuck the man!"
"Live with F'N passion."
"We love you guys, good night. Good luck in the Superbowl. Go Bears! Stay in touch, see ya around, we love you guys."
Keith was totally into his playing in the 2nd to last shot below…He was moving so fast his necklaces were flyin' too! After the last song, Josh was shaking hands and someone in the crowd must have had a pretty strong grip because I thought he was going in!
As Keith walked off, he laid his guitar down on the stage while it was still ringing with a tone.
*sigh* the show was now over.
Hey Buckcherry…where was Dead Again and Crushed?! 😀 Sorry, I'm spoiled from hearing those songs the last two times I saw them live. But really, I'm not complaining. Talk about an awesome set. And really, the last three shows I've seen, the set lists have been varied in some way or another.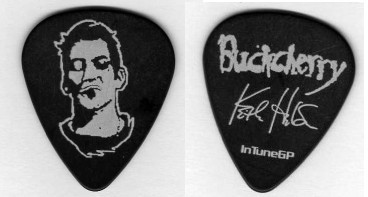 Unlike Kim, who had a pick thrown to her by Keith, I lucked out and got one from the tech who was throwing them out into the crowd 🙂 I also noticed Gup had gotten the set list. I asked if I could take a picture of it. He said that it had been signed by Kieth. I told him, "That's ok, I just want it to remember the set list." Very cool that Keith had signed that for him.
SET LIST
So Far
Broken Glass
Porno Star
Fall
Out of Line
Sorry
Crazy Bitch
Next To You
Ridin
Onset
Everything
Carousel
Slamin
Lit Up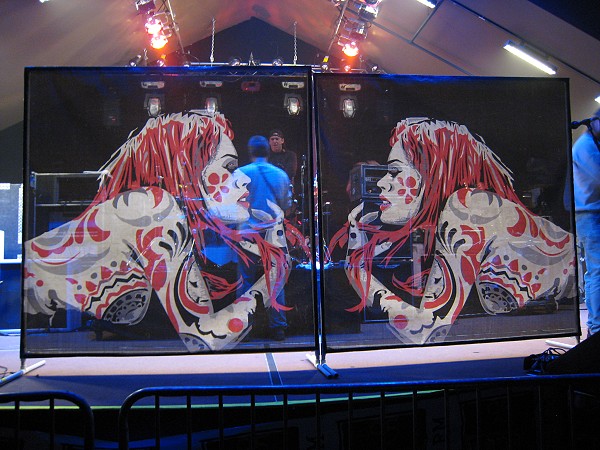 Show's over, time to go home. But wait..
After the show, Kim and I were hanging out in the venue, looking at merch, talking and wondering if the band would come inside since it was SO freakin' cold. The group of people we were with that night had either left or were in other parts of the bar. I wondered where my Aunt had gone and when I started to call her, I saw I had a voicemail. It was my friend Julie telling me she had just left and saw the band outside by their bus meeting fans. She said she had been trying to call me but I wasn't answering.
*panic mode sets in*
OMG! First thought: What time did she leave that message? haha I called her back and asked when she left. She said maybe 5-10 minutes ago. I grabbed Kim and said, "WE GOTTA GO! They're outside!" Her reply, "I was afraid of that." (only because it was FREAKIN' COLD outside.)
Wow, how awesome that the band was standing outside, in the cold, to meet with the fans that were also brave enough to be out there.
We started to talk to X first but he was engrossed in conversation so we headed over to Josh. I told him I was at the November Chicago show, that it was a great show tonight, etc. I asked to take a picture and told him I bought the re-release of the self-titled CD and could he please sign it. Kim also spoke to him and had a picture taken.
We spoke to X next. He was nothing but smiles and hugs when he saw us. We asked how he had been since the last Chicago show, etc. He seemed kind of tired, but was more than happy to take pics with us. It's funny, Kim started to take a picture of the three of us but then a guy offered to take one of us. For some reason, when I look at the group pic of us, I think BC Mafia. Don't ask me why…haha
I didn't see Jimmy anywhere, but I did spot Stevie. I commented on the show and that I noticed he didn't come over to our side of the stage much. He replied with something like, "That's Keith's World." We told him that shouldn't stop him. 🙂
Kim and I were talking with X again and I asked him if Keith was going to be coming off the bus. He said he should be shortly. Cool. Kim and I were standing there waiting and talking, but my back was sort of facing the bus door. Not too much later, Kim thought I had spotted Keith but I hadn't.
*excitement sets in*
We walked over near the bus and I waited while he spoke to someone else.
When it was my turn he said to me something like, "Miss Down In Front." I just smiled. Due to Rockstar Memory Loss, I don't remember the order or everything that was said (I guess I should follow up with Kim on this since she's my memory at times like this) but I told him tonight was a great show. I mentioned that I was at the Chicago show and I had met him then, but now I had a new camera and needed a new picture. He said he understood. hehe I had him sign the self-titled re-release and then told him something that I didn't quite plan on saying.
As he was signing I told him that I loved him. After I said it, I realized that didn't come out the way I had intended it to. So then I followed it up with the first thing that came to my mind, "But not like groupie love. I love you as a musician and for your playing ability." (*rolls eyes* at myself..not like groupie love?! haha)
His reply was THE BEST, "What, you only love me for my mind?"
I laughed and said, "You're kinda cute too."
At this point, I don't remember anything else I might have said to him. (maybe a follow-up to come once I talk to Kim …) He then started talking to other people and we moved on.
Kim and I were talking to X again when I remembered something I forgot to tell Keith. I also wanted to show him a picture I took of him that night. He was talking to someone when I walked over to him. I waited for a time to cut in. He looked at me and I said, "Two things I forgot to tell you. One, I wanted to show you this picture I took." He said he normally wasn't a fan of pics from that angle but that it was a good one.
At that very moment I also remembered I had a picture in my camera of one of the walls in my computer room. I showed him that picture too and told him, "See, I've been a fan for a long time now." His reply was something like, "Oh wow, old school."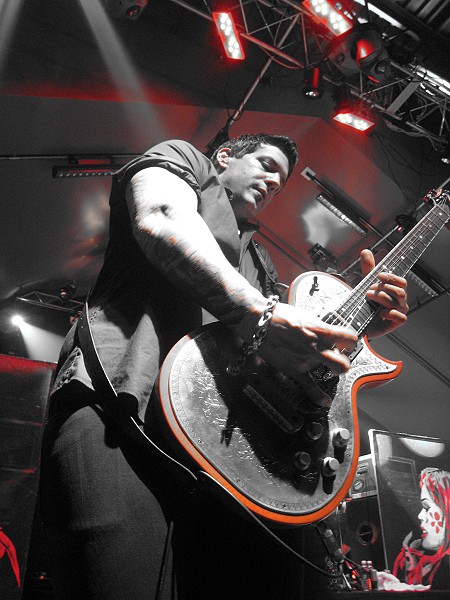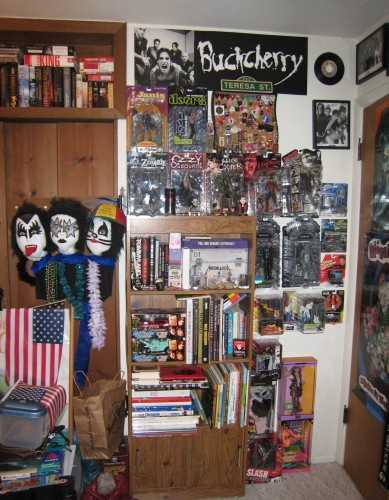 So now, onto the second thing I had to tell him. I started, "I have a friend who lives in Amsterdam who REALLY likes you guys and he's sick of me telling him every time I go and see you. He told me, if I had a chance to talk to the band tonight, to tell them to come to Amsterdam." To my surprise, Keith told me that they had just talked with their management and they were going to be heading over there. I replied with, "Are you kidding?" He said no. I told him my friend was going to be SO excited. (Boy was he too when I told him what Keith said!)
At this point, Gup was also standing nearby. I spoke with Keith and Gup for a little bit longer and then I shook Keith's hand and said thanks and he gave me a little hug. awww.
I walked back over to X and Kim and then shortly after that we said goodbye and he gave us hugs as well.
All in all, what a great night!
Thanks again to Keith, Josh, X, Jimmy and Stevie D. for an amazing, totally rockin' show and for taking the time to meet with the fans in the freezing cold.
Also big time thanks to MarkE for the bootleg. Without that, the quotes, among other things in this review would not have been possible. YOU ROCK MAN!!
Until the next show…