October 19, 2000
Starfuckers
Cat Club – Los Angeles, CA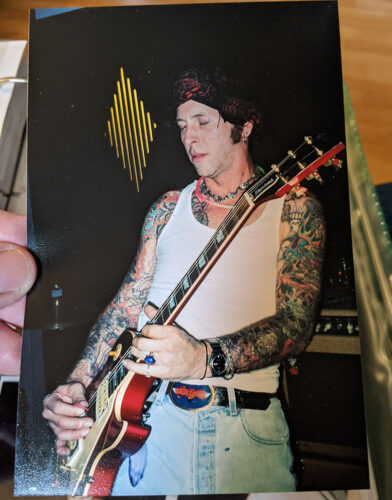 Starfuckers: Gilby Clarke, Tracii Guns, Slim Jim Phantom and Stefan Adika
Kim and I took a trip out to Los Angeles for the haunted mazes at Universal Studios Halloween Horror Nights. It just so happened, Starfuckers were playing at Cat Club the night we were getting into town. Plans were made, and despite a few delays, we raced from the rental car place and arrived at Cat Club around 12:40am. (My body was feeling the CST time of 2:40am)
The Cat Club was SMALL and narrow. There was cool leopard print carpeting on the floor, framed pictures of rock stars on the walls, a very small, one-step-up stage big enough to hold barely 4 people and their instruments, one bar in the back, an upstairs area and that's about it. The band was not playing so I thought we had missed them. We headed to the back to find the bathroom and get a drink. While we were waiting I spotted Tracii from the back. He's not hard to recognize.
He was walking towards me and I put both of my hands on his shoulders, turned him toward me and I said, "Hey." He replied with, "Hey" and then he realized who I was and said, "HEY! What are you doing here?!" I told him we were in town for Rob Zombie's maze at Universal but stopped in to see him play. I gave him a hug/hello message from Charlene and asked if they were playing anymore. Luckily we didn't miss the second set.
The band started playing and we found our way back through the crowd to stand in front of Tracii. Meanwhile, I was looking for Diana (a frequent poster to the L.A. Guns website message board.) I saw someone who might have been her, asked and she told me no, but the person with red hair "over there" was. I walked over to Diana, tapped her on the shoulder and said, "Diana?" and she replied with, "TERESA!" and hugged me.
I didn't realize Starfuckers were a cover band but they played some really great covers! At one point Tracii and Gilby did this dueling guitar solo thing. Way cool! After about 45 minutes the show was over. While I didn't get to see both sets, one set was better than none.
Afterwards I wanted to talk to Tracii again. Of course, a ton of guys wanted to talk to him too. Finally it was my turn. He said "hey" again, gave me a hug, then asked, "Why are you here [in CA] again?" I told him and also said I just had to come see him play. I introduced him to my friend Kim and then he had to start clearing out his stuff. I still can't believe I didn't even take a picture with him!
Click on a photo below