My Metallica Moment
Alright, it's longer than a moment, but I think it's worth the read.
The Day: Saturday, July 22, 2000
The Event: Hard Rock Rockfest
The Place: Chicago Motor Speedway ~ Cicero, IL
The Bands: METALLICA and 11 other bands
The Weather: Party Cloudy, High 75
The People: Over 100,000
We arrived at the Speedway parking lot ($20 to park!) at 9:30am. Walked forever to the entrance. Walked around the corner and I started to freak. There it was, just like at Woodstock. Line up in the gates, empty your pockets, open your bags and be scanned by a hand held metal detector. Now for some this was not a problem. But for me who was sneaking in a camera AND 4 rolls of film, this was a problem. LUCKILY I got into a line where they were NOT using the metal detectors. PHEW! How lucky did I just get?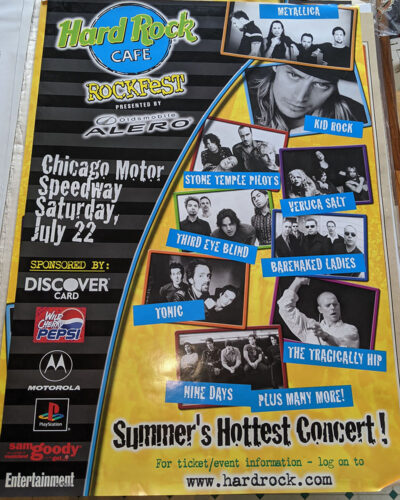 First tent was a Pepsi sponsor. Free Dixie cups of Pepsi and a free Rockfest poster. I took two. It had pictures of most of the bands, the event name, date, etc. It would go nicely with my collection of posters. Second stop, people handing out the band itinerary on a card attached to a neck strap. On the back an Oldsmobile Alero (main sponsor) "chance to win". (We ended up winning a key chain and a t-shirt.)
As we walked onto the infield I had one mission to accomplish…… FIND THE METALLICA CLUB BOOTH!!! I left hubby at the Playstation 2 semi truck and was off and running. (not literally) I walked and walked and walked and walked and walked looking for the booth. (the infield was HUGE) I found a couple staff personnel who didn't have a clue. (What a surprise)
While looking for more staff, I kept looking at everyone's shirts for either Chapter Inc 2000 or the current Metallica Club shirts. Let me tell you, there were tons of people wearing Metallica shirts. YEAH BABY! I asked a couple of people if they knew where the Club booth was, they did not. I found another staff person with a headset on. He called someone and was told it was on the right side of the stage. I told him I had been there and NOTHING was there. He also had an itinerary card but his had times on it. I asked him if I could have it and he gave it to me. It was the "staff" itinerary and kind of neat to have.
I walked back to the main building and asked if someone could please help me. It was now almost 10:30. He directed me to someone who "would have the answer". He too had a headset and talked to someone. I was told it was by the Titanic slide. (Now, how sick is this. It is a HUGE inflatable slide but the ship is in the sinking position. So basically you are pretending you are sliding down the boat to your death.)
I passed the radio station tent, the water balloon fight stands and there it was….THE METALLICA CLUB BOOTH!!! I walked up and said "Do you know how hard it was to find you guys, etc, etc, etc." I got my ticket and was told to be back at 4:00. I also bought 2 raffle tickets as a backup even though I have never won any Metallica raffles. Dan O'Toole was behind the table and so was Zangfam (I didn't catch his name). I told them both "nice shirts." CHAPTER INC SHIRTS OF COURSE! Dan told me Eric Turnrose was there too. Maybe I would see him at 4:00. I think we were the only four with The Chapter shirts on. But four was better than none. I said goodbye and started walking back to find hubby. I guess Playstation 2 was cool, but it was in another language, so it was hard to understand. It will be out in October.
We then headed for the vendors. There were tons! What to buy? What to buy? I ended up with a henna tattoo. I don't want a real one so this was just fine for me. Some guy standing behind me commented on my Chapter shirt. I was deciding which tattoo design I wanted and I hear him say "Look at her shirt." His friend said that it was cool and wild looking. I just stood there smiling. While waiting to have my tattoo done, a GIRL was getting the Metallica Star on her back. It looked pretty good.
Spent a good two hours in the vendor area. You may ask, what about the other bands? Well, I didn't care to see any of them except Metallica, Stone Temple Pilots and Kid Rock. I maybe wanted to see Veruca Salt and Third Eye Blind.
We bought some food and watched two songs by Veruca Salt. I couldn't stand listening anymore and we headed for the air conditioned building to sit for awhile. We ended up talking to a couple sitting next to us for over an hour. At 3:00 it was time to start walking back to the Club Booth. Hubby went with the couple to the vendor area and I went to the Booth. I had to wait another 15 minutes when I got there. All this waiting was going to KILL ME!
4:00 came and they started yelling the numbers. My number was 749. They had called around 10-15 numbers and then came 750. Loudly I said "FUCK!" Some guys next to me laughed. Then they called 748. Loudly again I said "FUCK ON THE OTHER END". The same guys laughed again. I was DYING!!! How the hell do both numbers on either side of my number get called!? Unreal. Then after a couple more numbers they called 749. Excitedly I said, "THAT'S ME! THAT'S ME!" and proceeded to make my way through the huge crowd saying "Excuse me, excuse me, excuse me, excuse me, that's me they called, excuse me, excuse me." You would think these people would move out of the way…but NO! Maybe secretly they were all hating me! Ha ha Some guy with an accent asked me if I wanted to trade. I turned my head and said, "no." The dude already had his own pass anyway.
I THOUGHT I MIGHT DIE! HOLY SHIT, MY NUMBER HAD BEEN CALLED! OMG!! I WAS GOING TO MEET SOMEONE IN METALLICA!!! OMG!!!! OH MY FREAKIN GOD!!!
I finally got through the crowd and one of the Club guys (at that time I didn't know his name was Eric) said, "A quite winner." I said, "You should have heard me back there." Hands shaking, I showed my club card and ID and the pre-show pass was placed on my shirt. Eric said, "Come back at 6:30. If you don't have this pass, you don't get backstage." I gave a thumbs up to Dan (I think… damn, I don't remember things like I used to! Ha ha) and asked if the guy standing on the other side of the tent (wearing a Chapter shirt) was Eric. He said yes, but I never saw Eric again. I should have yelled "hi" to him. Oh well.
Hubby told me a guy said to him, "She doesn't seem very excited." He replied, "Oh yes she is. She's been waiting for this her whole life." Okay, not my whole life, but you know what he means. Besides, not everyone shows their excitement the same way. Like the guy with the accent who ran around part of the crowd, arms in the air, yelling. Believe me, I may not have been jumping up and down or yelling, but inside things were freaking insane!!!!!
I fought my way back through the crowd, "excuse me, excuse me" over and over, and found my hubby. I beat on his chest saying, "OMG I got a pass!! I've got to call Aunt Pat!" He told me we were going to play the lottery! ha ha
**I must comment on something. I have been a Club member since 1998. I know, I should have joined sooner but we don't always do the right thing at the right time, now do we? Anyway, my first attempt at a pass was my first year and due to the venue screwing me up, I was not at the right gate when the doors opened. Needless to say, I was not one of the first 10 to receive a pass. And being a first year member…I had NO seniority. I have been to quite a few shows since that first year but was never able to get there "early" enough and I never won a raffle. Either way, this show was my second attempt at a back stage pass. How lucky did I just get… again! Do you think my Chapter shirt was my lucky charm? hee hee
All the way back to the building I kept my hand over that pass. I was worried someone would try and grab it off my shirt (too paranoid?) or that it would fall off. As we were walking into the building Third Eye Blind was playing "10 Days Late" (I don't like that song). So much for seeing that band. I made the phone call to my Aunt but she wasn't home. DAMN. I left a VERY EXCITED sounding message and we sat for a while. I thought I was going to explode from excitement. We had two hours to kill.
We then headed to the Sam Goody tent. I found some promo cards and stickers for Rob Zombie's new movie House of 1,000 Corpses. Then I saw a promo poster for Metallica hanging on the tent wall. I had to have that poster. It had a picture of every Metallica album on it. I asked, but they wouldn't give it to me. Said it was up to the label. WHAT?? DAMN. Hubby bought my birthday present early…the S&M DVD! WOOHOO. Again I asked, even though I bought a $30 Metallica item I can't have a poster? No. I talked to someone else and said PLEASE! He said he couldn't give it to me. I said, there are 4 there, can't you just take one down? He said if I do for you, etc, etc, etc. He tried to give me a S&M poster I already had. I said no thanks and walked away.
**Update July 31, 2000 – I know a manager at a Sam Goody near me who gives me her extra promo stuff. When I went in there today, guess what she had set aside for me? The Metallica poster I was trying to get at the Sam Goody tent. WOO HOO! She Rocks!
We walked back through the vendor area again. I asked hubby what time it was and he said 3 minutes til 6:00. Immediately I had butterflies. We headed over to the Motorola tent to see if we had "won" anything. We didn't. They also had a "send your picture over the web" station. I took a picture of me wearing my pass and sent it to my Aunt.
We then headed to another tent where you could Make Your Own Video. You picked the clothes and the song then lip synced it. They provided some trippy background for you. Two girls were singing the famous "Ice Ice Baby" song. Man, could that song be ANY longer? Then two guys who were dressed very oddly sang Pretty Fly (For A White Guy). Very funny. They also had a pool table, air hockey table and inflatable furniture in there.
At 6:15 we headed for the Club booth. I spoke to Eric again (this time finding out his name). I told him I recognized him from the VH1 Fan Club show and I asked him all kinds of questions about the meet and greet. It was going to take at least 2 hours. Hubby and I decided on a time and place to meet and he was gone. I asked and Eric told me they handed out tickets for 120 members. I did not yet know how lucky I was to be one of the "chosen 30." Eric was very nice.
While I was waiting, I was missing Stone Temple Pilots. I could barely hear Interstate Love Song (my fave song). I had really wanted to see them too since 1996 had been the last time. The funny thing? Before I even knew I was getting a pass I told myself, "If I get a pass, I bet I will miss STP." Well, I would be missing Kid Rock too. Ugh.
We had to wait until 7:00 before we started our trek to the other side of the field. We walked along the track, starting midway of one curve and walked to almost the other end of the straightaway (This was a 1/3 mile track). I briefly saw Scott Weiland on one of the screens. I made friends with one of the girls, Kim. There were maybe 10 girls, all the rest were guys. What's up with THAT ratio?
Anyway, we got to a grassy area and were told to line up. Kim and I were towards the end of the line but then they made us face the other way and that put us about 10 people from the front of the line.
Then came the rules. Eric spoke. Do not move from your spot in line. Do not rush the guys when they come out. They will come to each of you. Do not pull out your entire Metallica collection for them to sign. They will sign 2-3 things. If you are taking pictures, turn off your flash for Jason. If you cannot turn off your flash, put your finger over it. I think those were all the rules. Now came the wait. It was now 7:25. The same guy with the accent was next to us in line. He had transferred schools from Poland about a month ago and he said the first thing he did when he got here was joined the Metallica Club. Another lucky member. The guy on the other side of me was wasted. He bumped into me once and kind of fell on my leg the second time! Then he was trying to touch my album. AAHHH!
Around 7:40 I heard people clapping and who did I see?? KIRK! OMG it was KIRK. From what I had read or heard, Kirk didn't really do meet and greets. And from that VH1 Fan Club show I knew he wasn't much of a people person.
I offered to take pictures of Kim with who ever came out (she was in front of me in line). When I turned around to get my "One" picture album and turned back to meet Kirk, the wasted guy next to me was talking to him and Kirk was moving down the line. I thought to myself, "Oh no, I'm being skipped!" I reached out and with my index finger touched Kirk's arm. He turned his head kind of fast and I said nicely, "You skipped me." He came back and because I was flustered, I don't really remember what I said to him. I asked him to sign my album (he signed KH) and would he take a picture. As he pulled away I said, "I love you guys." Kirk moved down the line very fast. Everything happened so fast I could not remember if I even shook Kirk's hand. Kim told me I had not. The wasted guy is in the background of my picture holding up his hand with the devil sign. In the background of Kim's picture with Kirk he is sticking out his tongue. Some people, I tell ya!
Kirk left and we waited. No one told us to leave yet so we knew someone else must be coming out. I happened to turn my head and who did I see come around the corner…..JAYMZ HETFIELD!!!! I grabbed Kim's arm and semi-quietly in a high pitched voice while doing a little jumping dance thing I said to her, "OMG ITS JAYMZ! OMG ITS JAYMZ!!!" I held up my hand and it was shaking. Pretty badly too. I put my fingers on my neck and my heart rate had sped up too. I was not like this when Kirk came out.
The guy from Poland had this huge smile on his face and kept looking at me like I was crazy! I WAS CRAZY! I WAS GOING TO GET TO MEET JAYMZ HETFIELD. I told him, "You don't understand. Jaymz is my favorite member. He is the one I wanted to meet out of all of them." He replied, "My girlfriend thinks Kirk is the cutest." I said, "It's not about being cute, it's about the ATTITUDE!!" Jaymz walked past us and started at the end of the line. Okay, I had time to think of what I was going to say. Oh man, I kept freakin out. The guy from Poland was still smiling and I'm sure thinking I was totally crazy! I said to him, "I'm sure you are going to go back to your friends and tell them about the crazy girl in line." He laughed. My hands were still shaking. Another thing, after I saw Jaymz come out it was like I was the only person there in line. I mean, I would look around and see other people, but it was as if I was the only one there.
As we were waiting for Jaymz, here came Jason. OMG! We've got 3 out of 4 members of Metallica!!! WOO HOO!! He started at the front of the line. Niclas, walked over to me and asked if my flash was off. Yes. When Jason got to me I must have had this really excited crazy smile on my face because he said to me, "What's going on here?" I replied, "I'm so excited to meet you guys. I've never met any of you and you guys are my favorite band. Can you sign my album?" (he signed Jason with a blue sharpie) I asked, "Can you take a picture?" After the picture he reached out and signed my pass. I was like OK! I said thanks and he was on to the next person. Like I said, it all happened so fast it's hard to remember it all!
Now the wait to meet "The Man." I kept stepping out of the line to look down the line to see if Jaymz was getting closer. Nope, not yet. Kid Rock was playing now but I couldn't really hear him. Because we were behind the stage it was muffled. I swear I heard a Chuck Berry song. Who knows though. I stepped out again and "He" was within 10 people of me. OMG!! I overheard Jaymz answer a question, "it was my fault." I would have to assume he was referring to his accident, but who knows.
My brain was a mess. What was I going to say? Don't forget to shake his hand!! What was I going to say?
Then Jaymz was 2 people away from me.
Then he was talking to the wasted guy. I said to Kim, "He's right there! I could touch him!" (I didn't) The guy kind of slurred his question at Jaymz asking if they were going to play a full set. He replied, "Three songs." I love it! His sarcasm is one of the things I love!!
Then it was my turn! OMG! This was the day I had been waiting for. My chance to meet THE Jamyz Hetfield! OH MY FREAKIN GOD!!!
He walked over to me and I shook his hand and began talking excitedly. "I just wanted to let you know you are my favorite member." He replied, "I have never heard that before." (inside I'm thinking YES! I got sarcasm from Jaymz) "You guys are my favorite band and I can die now." (Why did I just say, "I can die now?" I had NO intention of saying that!!! haha) I don't know if he said anything or not, I can't remember. I do remember looking him in the eye the whole time thinking, HOLY SHIT I'M TALKING TO JAYMZ HETFIELD!!!! The man's eyes are very blue. Excitedly I told him, "One is my favorite song. Can you sign my album?" (he signed Jaymz) Then I asked if he would take a picture. After that I turned around and said to him, "I'm sure you meet a lot of freaky fans." He made a face and replied, "Freaky" in tone that kind of reminds me of the line from The Mask. The way Jim Carey says, "somebody stop me." I can still hear him say that word FREAKY in my head. hee hee
Now that it is over, there is so much more I wish I would of said to him. But like I said, it all happened so fast. And my brain was going crazy! Damn. Oh well, maybe next time. Oh man I might die again if there is a next time. I took a picture of Jaymz with Kim and he continued down the line.
Niclas walked over to where I was and I was still freaking out. I said to him, "I'm sure you've seen people worse than me." He just smiled. I said, "You are Niclas, right? I met you briefly in '98." After Jaymz left, we waited. Would Lars come out? I overheard someone say the name Toby. I then realized that was who the "other" guy was. I said to him, "So you are Toby?" He said yes. I continued, "I had always heard of your name but I never knew who you were."
Kim kept hoping that Lars would come out. I did too, but I was happy, I had met Jaymz!!!
Even though I missed two of the three bands I wanted to see, IT WAS WORTH IT!!
I would not have traded it for anything!!
Eric told us that it was time to leave. We only had to walk half way back before we were lead back onto the infield. Kid Rock's set had just ended. We were near a video screen when he came back out for an encore. Joe C is a trip!
Kim and I said our goodbyes and I went to find hubby. He was having a good ole time where he was and didn't want to go back to the video screen. I did not want to stand where he was because I could not see anything!! The stage was very far away and even if I tried to get closer (which I wouldn't have been able to) there were tooooo many people. Now some of you might say I should have fought my way up closer. No thanks. Seeing the guys (except for Lars) as close as I did was just fine for me!!
The one bonus to watching them on the video screen…I would see all the close ups. And we all know Jaymz is a trip to watch! Hubby and I decided to meet by the exit after it was over. (later on this decision would be a big mistake) I planted myself in front of the video screen by the huge Oldsmobile pole and sat for about 15 minutes before Metallica started. Everyone around me was pretty much tired and very laid back. No crowd of people knocking into me. It was nice to sit. I had only sat for maybe one and a half hours the whole day. I decided to take pictures of the video screens. Some pictures were better than no pictures.
I don't remember exactly what time Metallica went on, but it was no earlier than 9:30. I could see the stage WAY off in the distance and then I saw the blue lights and I knew it was going to start. I stood up and the music started and the video screen showed a guy in a HUGE cemetery. I thought, this must be from the movie. It was. I have to tell you, being outdoors and seeing film footage on the screen totally took away from the intensity of being at an indoor venue and seeing nothing but blackness and those blue lights. The song ended and they started with Creeping Death.
I wanted King Nothing. I wanted I Disappear, I wanted the Die Die medley at the end. I got none of it. I didn't even get Jason singing Whiplash!! But I did get some of my faves….Seek, Sad, No Leaf Clover, ONE with pyro, Fuel with flames and, Fade to Black (I LOVE THIS SONG), Seek, Mastertarium and Nothing Else Matters.
Jaymz made the comment, "We have some pretty heavy shit. And this is one of my favorites." They played SAD BUT TRUE.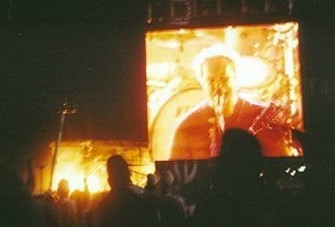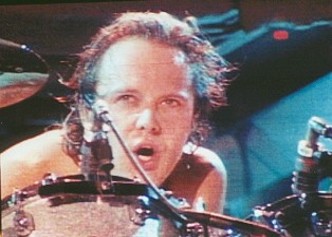 Jaymz is Gold, I mean God!                             Lars
After an hour they left the stage. I was like, it's only been an hour! The people behind me started chanting ONE ONE ONE ONE!
They came back out and played Nothing Else Matters and then ONE (MY FAVE SONG!) and they left the stage again. People started leaving. I said to myself, it's going to be another double encore just like at Woodstock. I was NOT leaving.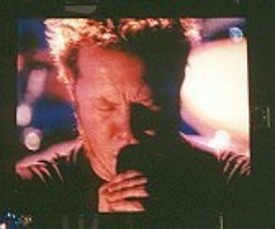 Doesn't he look like Wolverine?
Some guys near me commented about not hearing Enter Sandman yet. Some chic said they played it. The guy said no, they didn't. She said yes, they did. To myself I said NO THEY DIDN'T. The guy said I didn't hear the prayer. The girl said I didn't hear that either, but they played the song. UGH! SOME PEOPLE, I tell ya.
They came back out again.
Kirk started playing something I didn't recognize at first. I was like what is this song?? Then I realized it was Turn the Page. Jaymz started singing. Kid Rock came out and sang the song too. After it was over he went behind the drum kit and hugged Lars. They talked and hugged at the same time. Some guy next to me made a kissing noise. Ha ha
Kid left the stage and they closed with Enter Sandman. The small crowd around me went nuts!
Then began the throwing of picks, wristbands and sticks. Jaymz did a lot of the fist pounding on his chest and then his fist pointed towards the crowd.
Those guys have ALWAYS put on an awesome show. Talk about a rock 'n roll high.
Lars threw his sticks (4) and ran back to the mic. Kirk said Thanks and Lars said see you next year with a new album and tour.
WOO HOO
They left the stage. I still was NOT leaving.
I had commented in the LML that hopefully Metallica would go out with a bang because this was their last show (not including make up shows).
Well, they did. We had fireworks. There were some pretty cool ones and lots of LOUD ones. VERY COOL!
The show was now over. *sigh*
Talk about a day. But it wasn't over. I had to meet my hubby by the exit. BIG MISTAKE! I ran across the front of a huge crowd of moving people. (I was having Woodstock flashbacks!) I thought I was going to get killed. One cool thing about this crowd was the sound of all the plastic cups/bottles being kicked across the pavement. It's something you would have to hear to understand. I had to make my way through the crowd in the opposite direction they were trying to go. I made my way far enough across in the crowd that I could finally move forward. Man, people give off some SERIOUS body heat. I saw a tent trying to be knocked down. I found out later that hubby had been trying to keep it from being knocked down by 3 guys because there were people under it. He also said some guys were trying to light it on fire WHILE there were people under it. All the people got out without being hurt. Some girls commented on him being strong enough to hold it up against 3 guys. hee hee By the time I found him, it was on the ground.
I guess hubby was also in a mosh pit. He NEVER does that! I must tell you he is 6'4″ 300 pounds. The dude is huge. Some girls told him he should go into the pit, so he did! I guess he was in there and this one guy yelled, "I don't care!" and headed for him. Hubby turned sideways and the dude bounced off him and hit the ground hard. OUCH. The guy did this 2 or 3 times. CRAZY PEOPLE. Every time I have gone to a concert with him and we are separated he always has these crazy stories to tell me.
Anyway, I spotted him in the crowd and said, "Excuse me, there's my lost husband. I need to get through." We then headed out the back way. There was garbage everywhere. I would hate to be the person to clean that mess up.
While walking to the car some guy yells, "Women are evil!"
Immediately I thought of the song "Am I Evil" and I yelled back, "Yes we are!"
We finally got back to the car and I thought I was going to collapse. My legs, back, neck, my whole freakin body, was killing me. Even my toes hurt.
I ate my chips and drank my warm Dr Pepper and kept saying over and over, "I met Jaymz Hetfield!" Hubby just kept laughing and smiling at me. "I met Jaymz Hetfield! I met Jaymz Hetfield!"
Now that my experience is over, I still don't believe it happened. It's like I dreamed it all. Even though I have a signed album, it still feels like it was all a dream. When I look at the pictures THEN I know it really happened.
Thank God for the pictures!!
If you made it to the end of this review, congrats. This is probably one of the longest I've ever written. Oh wait, maybe my Woodstock review was longer! I don't remember! ha ha I hope I caught all the typos too! If not, oh well.
Metallica forever and ever amen.