Myles Kennedy – The Ides Of March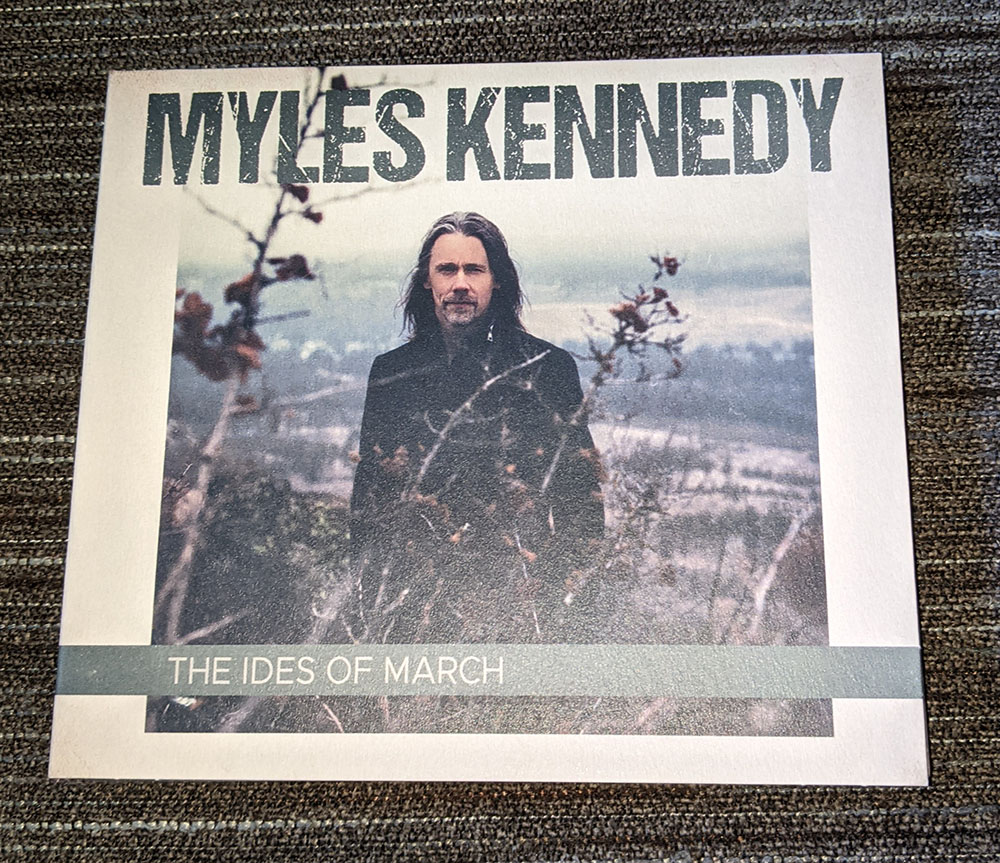 I debated posting a shortened social media version of my thoughts on The Ides Of March by Myles Kennedy, but the more I listened to the album, the more I kept writing about it.
It's no secret that Myles Kennedy is one of my favorite musicians (no matter what project he is singing for) and I feel he is one of the best singers of this modern time. Regardless of that, he knocked it out of the park!
I lucked out and received my pre-order a day early but didn't listen to it until late at night. Prior to getting the CD, I only let myself listen to three of the songs (In Stride, Get Along and the title track). After I originally heard In Stride, I hoped for more songs played with a Resonator because I really love that style. I was not disappointed.
With his first solo album, Year Of The Tiger, all the focus was on the story of his father. On The Ides Of March, Myles touches on various topics stemming from the pandemic. (I read after the fact that a majority of the songs were written during quarantine.)
I didn't read any articles or listen to any other song releases prior to release day. I wanted there to be some surprise! When I listened for the first time, my imagination ran wild as I started to formulate possible topic themes. After the last song ended, I thought, if there were to be an official album written about 2020, The Ides of March would be that album. Each song conjured so many emotions, and not just lyrically but musically too. There are many, many layers within these songs. (Myles Kennedy plays: guitar, lap steel, keys and mandolin, Zia Uddin plays drums and percussion and Tim Tournier plays bass.)
Out of all the songs on the album, my super fave is Worried Mind. One. I LOVE the music! Two. This song had the biggest impact on me (had to grab a Kleenix because it hit me out of nowhere) and Three. That feeling of hope heard in the lyrics in combination with the real life fact that we might be on the verge of getting back to normal. Well, whatever "normal" means in 2021. "Things will get better, Just give it time." This album is full of lyrics that had some sort of impact on me.
From A Thousand Words:
Well they say that a pictures worth a thousand words
In the ache of an image I have seen the worst
Like a million screams for mercy that can't be unheard
Cause in times like these
We must live and learn
From Worried Mind:
We'll overcome
We will survive
If we stick together
We will be alright
Love can save you
Let it ease your worried mind
From Moonshot:
Over and over again
We took so much for granted
But still I refuse to give in
To the fate we've been handed
And though it's a moonshot
We can't stop
Until we get back to the start
From Sifting Through The Fire:
If one day, we look back and find from all of this, we redefined our cause
I hope it brought us unity, an undivided call to all
Tell It Like It Is is easily my second favorite song on this album, musically it's a lot of fun, but can we talk about the title track, The Ides Of March? One word: EPIC. It's hard to put into words what I feel when I listen to this song, but there is definitely an ethereal quality about it. It's larger than life but ever so delicate. Myles' whispering vocals immediately grab your attention at the start of the song and it doesn't loosen its grasp until you hear the softness again at the very end; along with a feeling of being set free. I also read a lot of comments from fans that this song should be in a James Bond movie. I would agree.
While you may have a different reaction to the songs on The Ides Of March than I did or compared to someone else, give this a listen. One of the best things about music is when it makes you feel something and The Ides Of March might just be what you need to hear right now.
Worried Mind
Don't be scared
Do not cry
Things will get better
Just give it time
Let me hold you
Let me ease your worried mind
Let your fears
Drift and die
If for a moment
If for the night
Let me show you
Let me ease your worried mind
A little give and take
Could light the way
And bring this back to life
Either way
Baby I'm here to stay
You can run
You can hide
But please remember
If you give it time
Love might find you
Let it ease your worried mind
Some give and take
Could light the way
And bring this back to life
Either way
Baby I'm here to stay
I know you're scared
I know you're tired
This can't last forever
We will get by
Let me show you
Let me ease your worried mind
We'll overcome
We will survive
If we stick together
We will be alright
Love can save you
Let it ease your worried mind
Let it ease your worried mind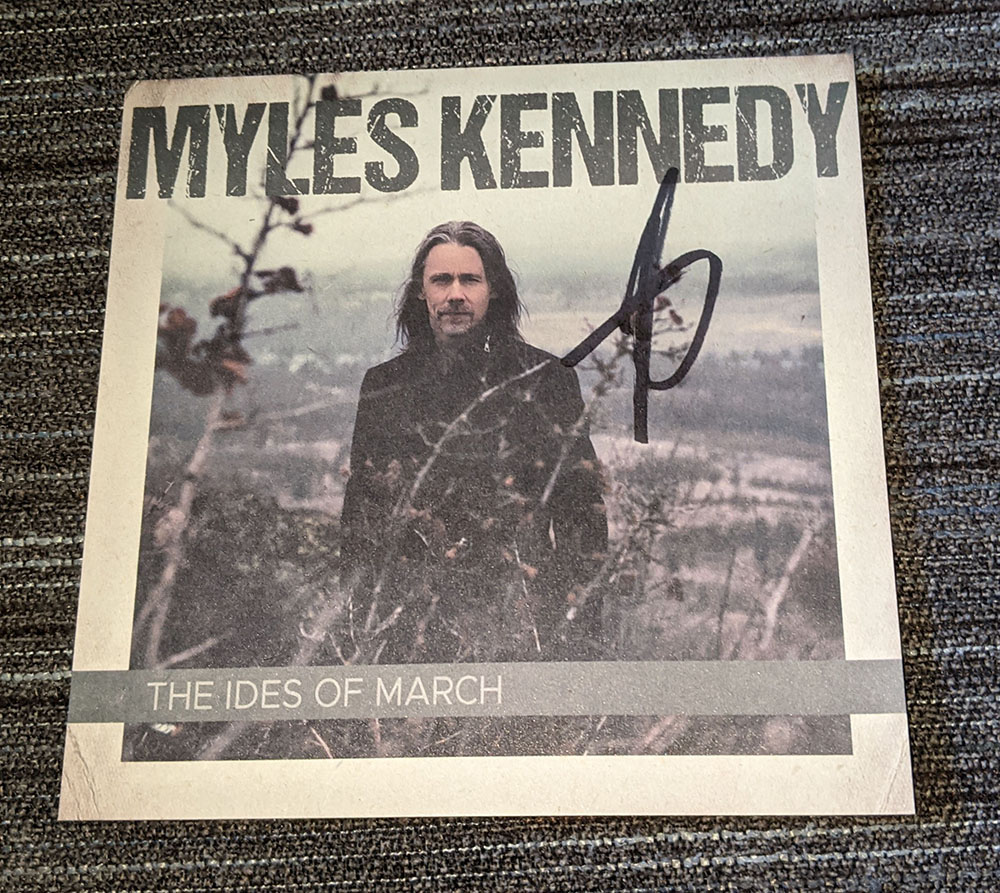 Myles Kennedy signed art card