March 21, 2003
Jackyl
Brat Stop – Kenosha WI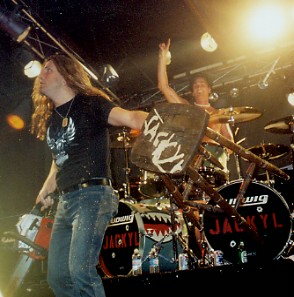 Kim and I pulled into the Brat Stop around 9:45pm and HOLY COW were there a ton of cars! We parked in the way back and then walked into the VERY crowded bar. While we were waiting to get in, I noticed a band flyer on the door had DO NOT REMOVE written on it. I laughed and said to Kim, "that is for people like me."
The opening band Holy Moses had already started. We found a spot on the first landing near the main floor. They played some originals but then did a Deep Purple Cover – Highway Star. I don't think I've ever heard a band cover Deep Purple! I was hoping the crowd would disperse when the band stopped but the crowd was not moving too quickly. We started for the main floor when all of a sudden Kim pointed behind me. A whole group of people were leaving which left a NICE open spot at the front for us. WOOHOO! Now that was just a little bit too easy! The Brat Stop had caution tape about a foot out and all along the front of the stage for security to stand behind. Oh well, better than them standing IN the crowd at the front like they have in the past.
Closer to show time people started crowding in. The band took the stage around 11pm and man did they come out rockin' and rollin'! The band played with such intensity the WHOLE night. I've seen Jackyl quite a few times but never this close. It was TOTALLY awesome!!!
At the first moment when the lights hit Chris, drummer, the first thought that immediately came to mind was, "OMG! IT'S NIKKI SIXX!" After a minute of being wrapped up in what I was seeing I looked to Kim and she had thought the VERY SAME THING!!!! Off and on during the show I kept commenting to her. I still couldn't believe it!!!
We were standing on Roman's side, bass player, and he was totally rockin' out at the front of the stage. Kim kept getting a sweat shower from him off and on all night. She had to keep wiping it off her face!! eewww. She also kept holding up her hand in a fist like she was holding an umbrella. It was cracking me up!
Jeff, guitar player, moved around the stage quite a bit. He seemed to really be feeding off the crowd too. Every once in a while he would come over to our side. At one point he was on our side totally rockin' out when he accidently backed up over the monitor and fell. Did that stop him? Hell no! He kept right on playing!
The whole night, the band seemed to be having a good time up there. Chris was pounding the crap out of the drums, making faces, sticking out and wiggling his tongue to people in the crowd, etc ALL NIGHT! I swear he sang practically EVERY word to every song too! He was very entertaining to watch. A couple songs into the show he took his tank top off. Then before I knew it, he was down to his underwear! I was like WHOA! haha
Of all the band members, Jesse seemed to be the least aggressive player. Maybe that is the way he is, maybe he was having an off night or maybe because he's singing he cant stand there and headbang! I've never seen him up close so I can't really comment. All in all though, he did a great job.
I remember seeing one of the speakers/amps had the words BOMBS AWAY spray painted on it.
They played one or two songs from the new album and I really liked them. Of course they also played all the faves. Two songs into the encore Jesse brought out the chain saw and a wooden bar stool. He carved the band name into the top, cut part of the leg then bashed the whole thing into the stage. Jesse announced a meet and greet after the show and they all left the stage.
Kim and I were standing in line when I had a thought. I told her I'd be right back and headed for the door. I asked an employee if I could have the sign on the door now that the show was over. She said yes. The packing tape wasn't being very cooperative. I got back to the line, got the tape untangled, found out there were two flyers and gave one to Kim.
Jeff was first in line. I shook his hand and told him what a great job he did on stage and he seemed very appreciative of my comments. I had him sign the flyer. I shook Roman's hand, said basically the same thing that I had said to Jeff, cause it was also true, and he kissed my hand. Awww. I had him sign the flyer too.
Next was Chris. Before I spoke to him, I leaned back in line and asked Kim if she had "told him". She said no, so I did. I asked, "Has anyone ever told you that you look like Nikki Fucking Sixx?" He thought about it a second and told me no one had ever told him that before. I had him sign the flyer and Kim took a picture for me. Because I was so caught up in taking a picture with Chris I accidentally pushed myself thru the line too fast and didn't really get to talk with Jesse. Right before I took a pic with him, I had him sign the flyer and the front of the Choice Cuts CD.
*Side note. Even though I have been a fan of Jackyl since basically the beginning, they are not a band that I "keep tabs on". Had I known that Jeff and Chris have been with Jackyl all along, I would have had them sign the Choice Cuts CD too. OH WELL! Live and learn, right??
My mind was racing so I made a lame comment about liking the cover of "I am the Walrus". That's not what I wanted to tell him at all either!! haha I hate it when I do that!
I wanted to tell him I had been a fan forever, that of all the shows I had been to, this probably was the best, and he had a great group of band members up there on stage. I wanted to comment on the band energy on stage, to tell him good luck with touring and to come back soon.
And, even though I got back in line later on to take a picture with Jeff and Roman, I still didn't talk with Jesse. I think the "Nikki look a like" really got into my head! hahaha *kicks self* Oh well, next time. I stood around for a little longer trying to get a decent group table shot. In the one picture the look on Jeff's face says, "I got busted trying to sneak a picture."
All in all, it was a great night for good ole rock 'n roll. Long live the LIVE show!!
**A week after this show, my hubby called me at work to tell me a story his mother had just told him. His Uncle and Aunt were on their way back home from visiting a day or two after this show. When they returned the rental car, a group of guys helped them load their luggage onto the shuttle. They talked on the shuttle and then the same guys helped them carry their luggage into the airport to check in. Come to find out…..JACKYL had helped out his relatives. His Uncle said they were all very nice. NOW HOW WEIRD IS THAT??