March 20, 2003
Hookah Brown w/ The Steepwater Band
Double Door – Chicago, IL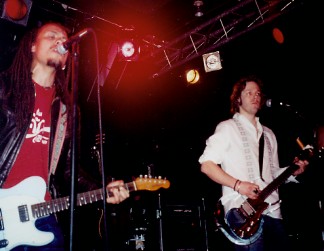 Hubby and I arrived at the Double Door around 8:15pm. I was in the doorway showing my ID while Al was still looking in his wallet for his. Good thing too cause while I was waiting, someone who looked to be a Tour Manager, walked up and told one of the employees at the door that cameras were ok.
WOOHOO!! Bonus for me because I ALWAYS bring mine with. Although, I didn't bring any extra film with me so I had to be sparing with the 17 pictures I had left in my camera. Al paid and when I asked for a ticket stub from the person taking money he said there weren't any and he gave Al two Jack Daniels playing cards!
I checked out the merch, only two shirts. I asked about a CD and was told not until September but that there were a couple songs on the MP3 website. (I only knew of the one from the official site.)
When the opening band, Steepwater, came on at 9pm I headed for front row center left. A friend of mine told me they were really good and you know what? They really were. The guitar player did a lot of the singing. What seemed to be their lead singer at first, mostly did a lot of harmonica playing. Their guitar player was SO GREAT!!! His hands were moving so fast during some of the songs it was amazing. I found out later that night hubby bought their CD. After about 40 mins their set was over and now the wait for Hookah Brown.
They didn't take the stage until 10:30pm but they played until midnight! They opened with Black Cloud (the one song available to download from their site) and just kept on rolling. John, (I saw him play with Moke before), was really great vocally. Fionn, bass player, was totally into his playing too. Granted the songs were far from sounding like "hard music" but he was playing his bass like it was hard rock. Bill, drummer, was pretty intense too. I swear by the second song he was pouring sweat! And Rich of course was well…the same as with the Crowes. He stared off into space, hardly ever smiled, and just did his part.
He did a lot of back up vocals but not a lot of smiling. He really should do more of that because when he did, it totally changed his appearance. After a few songs someone yelled out a question from the crowd. Rich answered it. Someone else yelled out another question, asking when was the CD going to be available. Rich answered, "September" and then he said, "Ok, now it's question and answer time. Anyone else?" Someone in the front said something. Rich said, "That was more of a comment." haha
Considering I had only heard the one song from the site, I really had no clue what to expect. By the end of the night, I was HOOKAH'd. 😉 They played some covers by Manassas, Crosby Stills and Nash and Faces. They also did some instrument switching. John played bass while Fionn played the keyboard then John played the keyboard while Rich sang. At one point John even played the guitar.
I didn't really know what I was expecting from this show but the one thing I did expect didn't really happen. I thought for sure there would be a lot of long drawn out jam songs but there really weren't. Of all the songs they played, there was only one I didn't care for. After their set, they left the stage for about 10 mins then came back out for 4 more songs. Those 4 songs lasted about 20-30 mins. At the start of the 4th song the crowd on Rich's side of the stage started going crazy. I didn't recognize the beginning intro but as Rich kept playing I SURE DID!!!
THEY WERE GOING TO PLAY WISER TIME!!!!
OMG! I couldn't believe it! When I saw Chris' band they didn't play one Crowes song! John did an amazing job vocally and I swear at one point he pretty much sounded like Chris. They said thanks and left the stage. I REALLY wanted a set list but the one closest to me had been snagged. So I got the next best thing…the one that was on TOP of the keyboard : ) haha
I found Al and we waited. Well, I waited for the band and Al waited for me! Steepwater's guitar player was standing around talking so I spoke to him for a little bit. If they ever play again, I'll be sure to try and check them out.
Eventually part of the band came out and Al spotted John first so we walked over to meet him. Ok, well I wanted to meet him! Al just followed with the camera. heehee I waited my turn then said to him, "I saw you open for the Crowes when you were in Moke. So when I found out you were the lead singer for this band, I knew what to expect and I was really excited." He seemed appreciative of my comments then told me how this band came to be…
…on that tour, he and Rich were sitting in a dark smoke filled room and they had talked about doing something together. But then the Jimmy Page thing happened and then Moke recorded another album. But now the timing was right.
I say, good thing too! I asked him to sign the set list and then asked if he would take a picture. He looked at Al and said to me, "Is this your man?" I laughed and said yes. Next was Fionn (What kind of name is that anyway? I forgot to ask.) I talked with him for a little bit on his playing and what other bands he was in. I think he said he had just done an album for a band called Scarlet Fever. I also had him sign my set list.
Al asked, "Can we go now?" I said, "No" with a smile. I told him we had to wait to see if Bill and Rich were going to come out. He waited for a little bit then went to the bathroom. I was close to giving up hope on meeting Rich. I turned around to see if Al was back yet and when I turned back around I saw a dark image in the doorway…IT WAS RICH!!!!!!!!! OMG! I WAS GOING TO MEET RICH!
There were a few people in front of me, but I waited. Bill was closer to me so I spoke with him first, had him sign my set list and took a picture. The people in front of me finished talking to Rich then it was my turn. I shook his hand and spoke into his ear due to the noise going on around us. I said, "I've been a Crowes fan since the beginning and I was upset when the band broke up. But, I love Chris' band and I love your band. I'm just really glad you guys are still keeping the music alive." He replied with a modest, "Thanks." I asked him to sign my set list and take a picture. I thanked him again and told him I couldn't wait for September. I walked over to Al and said with a big ol' smile on my face, "Now we can go." What a great night!!!