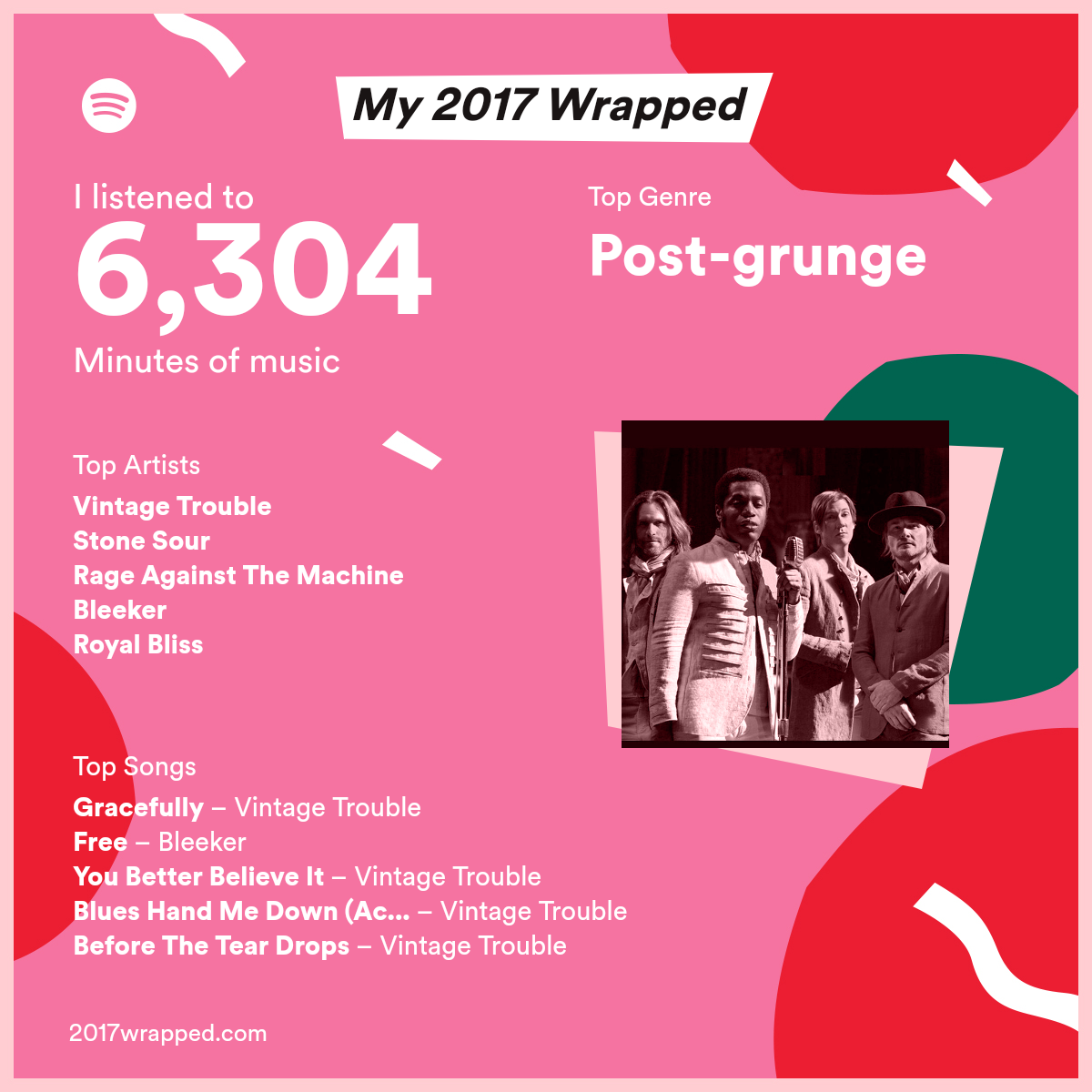 I LOVE STATS!
Spotify has this thing right now where it will pull stats based on your listening during 2017. In general, it's not the only way I listen to music, but when I do listen to Spotify, it's usually during the day. But still, these stats have me a little surprised. Although, I DO tend to listen to albums on repeat so I guess that explains a lot. Plus, prior to my October show earlier this year, I hadn't seen Vintage Trouble for TWO years!
Out of 6,304 minutes of listening, I heard 1,182 different songs by 369 different artists and I explored 14 genres. No surprise as I do tend to like a lot of different bands and check out music I might not be familiar with, but, is it me or is that a lot of different songs?!
There was an "age is just a number" bit. According to Spotify, apparently I love Modern Rock (they noted, average listener age is 28) and Blues-rock (again, they noted, average listener age 39). I listen to what I like, no matter the genre, but the age thing is also interesting.
Top genre: Post-grunge
Top Artists:
Vintage Trouble
Stone Sour
Rage Against The Machine
Bleeker
Royal Bliss
Top songs:
Gracefully – Vintage Trouble
Free – Bleeker
You Better Believe – Vintage Trouble
Blues Hand Me Down (acoustic) – Vintage Trouble
Before The Tear Drops – Vintage Trouble
Spotify also created a playlist of my Top Songs in 2017 which includes my Top 5 Artists and other bands like Middle Class Rut, Mondo Cozmo, Tom Petty, Walking Papers, Aeges, The Glorious Sons, Crobot, Whores, The Picturebooks, Badflower, Goodbye June, Rose Hill Drive, Highly Suspect, The Marcus King Band, Metallica, Rival Sons, Cage The Elephant, Prophets of Rage, JD McPherson, Reignwolf, Robert Randolph and The Family Band, Local H, Greta Van Fleet, Dinosaur Pile-Up, The Magpie Salute, Beware of Darkness and Josh Todd and The Conflict.
So…What does your listening look like?