Countdown to my 17th and final Motley Crue show ends today. At the end of 2015, MC are calling it quits. Kind of bittersweet. I leave you with my show list and some random comments. It was a good run!
My first Crue show should have been the Feelgood album tour at Poplar Creek in IL but I couldn't find anyone to go with me, so my first Motley Crue show was…
*6/14/97 Riviera – Chicago, IL – My first MC show. Generation Swine album tour. Vince was back in the band. I didn't have many GA shows under my belt and I GOT KILLED! I think I was somewhere between 10-20 people back from the stage, in the middle. I told hubby to not let go of me. It was BRUTAL, but I was having fun pushing people off of me! I paid for standing in that spot for a couple days. Thank you Advil. I also still have my bottle of Motley Brue drink.
*10/15/97 Rosemont Horizon – Rosemont, IL – Cheap Trick opened. This was the tour where they allowed people to video their shows. And yes, I brought my video camera (OLD SCHOOL YO!) to the show.
*10/17/97 The Arena – Milwaukee, WI – Cheap Trick opened. I had so much fun at the 10/15 show, I bought tickets the very next day to go again! By this point, I hadnt even been to 10 general admission shows. I was doing pretty well watching for crowd surfers all night. 2nd to last song of the night a guy came out of nowhere and landed on me. I heard a pop in my neck, but I was okay. I mentioned it to hubby after the show and said I should have someone at the venue look at it. As soon as I said "neck" I was strapped to a board and taken to the hospital. They kept asking me if I was crowd surfing, had I been drinking, etc. No, No and No. They clearly didnt want to believe me because they kept asking me. Luckily X-rays showed nothing and I was fine. I also have a VHS bootleg of this show filmed by a friend from down front on Nikki's side.
*11/17/98 Riverside Theatre – Milwaukee, WI. After seeing them GA, it was weird to be in seats again.
*3/4/99 Assembly Hall – Champaign, IL – Why yes, my friends and I did drive 3 hours each way on a work night. Going to work the next day SUCKED! Haha
*3/6/99 Star Plaza – Merrillville, IN – Tried to stalk the band at the hotel near the venue. No luck. But I did score a cool poster from the venue after the show. Also, hubby was asked if he would go on tour as personal security for Nikki. He would have to leave right then. He didnt want to leave his family, so he didnt. I wonder what life would have been like had he done it?
*7/17/99 New World Music Theatre – Tinley Park, IL – Scorpions opened. Ended up at Excalibur for a Scorpions after party with other friends. Ran into Fred Coury from Cinderella and met Randy Castillo for the first time. Went to a couple other places after that with Randy where I was able to talk with him for a little bit and he even showed me a photo of what his next tattoo was going to be. (Later on I found a photo of him in a magazine with that tattoo.) At this same final stop of the night I also met Billy Corgan somewhere between 2-3am in front of the venue on the sidewalk while he was waiting for his car.
*7/18/99 Alpine Valley – East Troy, WI – Scorpions opened. We thought our seats were going to be great. They were way off to the side. Some of us snuck up to closer rows and managed to stay there for their set.
*8/20/00 New World Music Theater – Tinley Park, IL – Megadeth opened. New Tattoo album. Samatha Maloney was drumming for them.
*3/10/05 Allstate Arena – Rosemont, IL – Tommy Lee was back in the band. Circus theme for the show and Tommy had a cool new drum solo HIGH above the crowd! It was an AWESOME comeback tour!
*8/10/05 Marcus Amphitheater – Milwaukee, WI – Crue Fest with: Sum 41 and Silvertide. Met all of Silvertide at this show 🙂
*7/19/08 Marcus Amphitheater – Milwaukee, WI – Crue Fest with: Buckcherry, Papa Roach, SIXX: A.M., Trapt. First time seeing Nikki's side project, SIXX:A.M. and also ran into DJ Ashba on accident since he was walking through the crowd. Got a photo and his signature on a CD. (always go to shows prepared because you never know who you are going to run into.__
*5/17/09 Crew Stadium – Columbus, OH – Rock on the Range. Their set was awesome!
*6/25/11 Bradley Center – Milwaukee, WI – Poison, NY Dolls opened. 30th anniversary tour. 30 years!?
*9/8/12 Alpine Valley – East Troy, WI – MC opened for KISS. Two big productions, one event. It was pretty awesome.
*8/8/14 FMBA – Tinley Park, IL – Alice Cooper opened. FINAL TOUR. INSANE Tommy Lee drum coaster, the Crucifly. I thought this was my last show and I was okay with it.
*8/7/15 BMO Harris Bradley Center – Milwaukee, WI – Alice Cooper opener. FINAL TOUR. My last Motley Crue show ever. Although, I guess never say never, because there are 4 months between now and their last show in Los Angeles 12/31/15. haha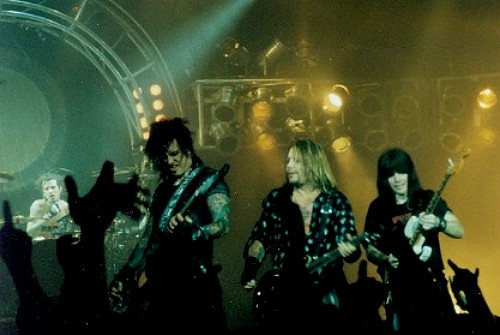 Photo ©Teresa Burke