November 23, 2005
Shinedown
Brat Stop – Kenosha, WI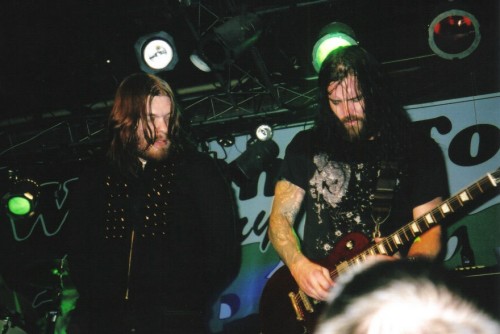 My friend Kim and I got to The Brat Stop around 8:30pm. We watched the last of Empty Pockets standing near the merch table and then made our way down front. Luckily we were able to stand second row from the stage on the right (Jasin's side). We were watching the second opening band, Five Nickel High, when a mosh pit broke out in the middle of the floor. WTH? I was REALLY glad we were off to the right. Overall the band was pretty good. AWESOME guitar player! (After their set my friend Kim told me Dave Uhrich was a popular guitar player from the late 80's.)
They finished around 10:30pm and we waited. I was getting excited. I kept wondering if Shinedown were going to play my fave songs from the new album. I mentally crossed my fingers! I also wondered how many from the first album we would get.
Around 11pm a recording that I couldn't quite understand started playing. One by one the band came out and they started to play. OMG! I COULDN'T BELIEVE IT…they were opening with my second fave song on the album….HEROES!!! I was SO HAPPY!!!! Talk about an explosive opening song. It was ROCKIN' and just awesome!!!!
They then went into Left Out. Again, the band was totally rockin' and into their playing. Brent looked like a madman on stage. It was blowing my mind since he was totally opposite from the Q101 acoustic show I was at! As he was singing, I could really tell he was totally into the songs.
A couple of times during the night Brent talked about energy and how whatever we gave them, they would take and give it right back to us. He also talked a lot about jumping up and down. The crowd was more than happy to participate.
Fly From The Inside was up next. One of my all time faves from the first album. Awesome, just awesome.
Brent started talking to us again about how he found inspiration in others, etc. (I so hoped he was talking about I Dare You) When I heard those first opening notes I knew I was right!! They were playing MY FAVE song from the new album! YES!! It sounded amazing electric! (the first time I heard it live was at the Q101 acoustic show).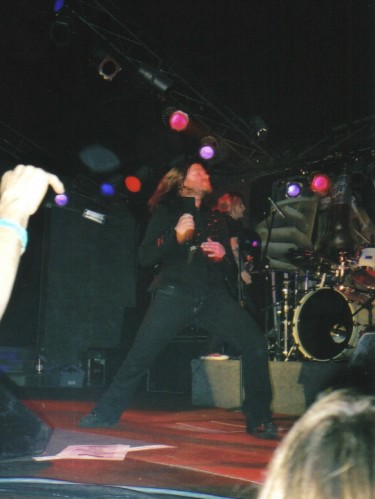 (Zach Myers on the drum riser)
Later on in the set, someone brought out a chair for Jasin and now he and Brent were the only two on stage. I figured it was time for some slower songs. People were yelling out .45!! (come on people, do you really think they wouldn't play that song? Oh, and at one point I heard a guy yelling out for Beyond the Sun.)
Brent began talking about the next song and how it was special to him (well, all the songs were special) and then he told the story of how the next song was his Dad's fave. YES! Shed Some Light! Another fave of mine from the new album! Let me just say, this song was really good at the Q101 acoustic show but it took on a whole new feeling hearing it electric. Again, another amazing song.
At one point, Brent talked about how "beautiful" we all looked and how happy he was to be playing for all of us.
Again, people were yelling out song titles. This time, SIMPLE MAN. Brent started laughing saying, "ssshhhh." He then said something like,"You're going to ruin it for when it's time to play it."
Brent got pretty serious and then started talking about a very dear friend who was taken from them and in a pretty horrible way. (At this point I knew they were talking about Dimebag Darrell.) He commented about the first time they met him. Brent went on to talk about how well Dimebag treated them. He said they used to dedicate this song to him every night but that they hadn't in a while. (Brent was getting pretty choked up.) (My two cents: Dime's death was such a horrible, sad thing! I still can't believe he is gone. RIP.) Brent dedicated Simple Man to Dimebag. The crowd was singing along and it was a very cool moment during the night.
After Simple man, the whole band came back out and I could not believe they played Yer Majesty!! It sounded awesome live!
In between some of the heavier songs I noticed Barry would be standing up but leaning over his drums while swaying back and forth. The look on his face was almost that of a caged animal. The guy was AWESOME on drums! Kim made the comment to me that the bass player was not "the" bass player. I agreed and thought maybe with the holiday he couldn't make it.
Atmosphere was next on the set list! OMG! YES!! Another fave of mine from the new album! If I remember correctly Brent started talking about the energy again and wanted us to stomp.
I forget exactly how Brent worded this but before the next song he asked something along the lines of had anyone in our life ever told us they loved us and would always be there for us but in the end they screwed us over? They played Begin Again. Jasin was going crazy head banging and just totally getting into his playing.
At one point toward the end of the night Brent asked if there were any die hard Shinedown fans in the crowd and extended his arm into a fist in the air. Lots of people yelled out. He said, "You may have noticed a brother is missing tonight." (Kim and I looked at each other and shook our heads.) He then went on to say that Brad and his wife were expecting a baby. He said they wanted him to be able to stay home and they didn't want to cancel any shows so they had Zach (Myers) out with them. People cheered and Zach and Jasin bumped fists. He did a great job all night.
Last song before they left the stage…Brent dedicated Burning Bright to all the dreamers. Yes! My fave song from their first album! It sounded amazing! They thanked us and then left the stage.
So far the only song I still needed to hear from the new album was Save Me. It had to be in the encore!!
After a five minute break they came back out.
Brent started talking about how the next song had been interpreted in different ways. Of course they played .45. Very powerful. A couple of different times during the song Brent told us to sing the chorus. He could hear us all loud and clear.
OK, last chance, I HAD to hear Save Me ELECTRIC! Well, it was the song they closed with. Once again, they did not disappoint. WOW.
At the end of the night they said their good-bye's, threw picks and sticks and were gone.
Again, WOW! What an amazing show! So, so, so very good!
Luckily I was able to snag the set list and one of Jasin's picks. (Thanks to my Uncle for that!) Many thanks go out to Kim and Kim for the night too!! hehe
I really hope I get another opportunity to see the band live again. Amazing.
(Below are scanned photos from my film point and shoot camera at the time. Click photo to view full size.)