July 11, 2018
Sevendust
RocHaus – West Dundee, IL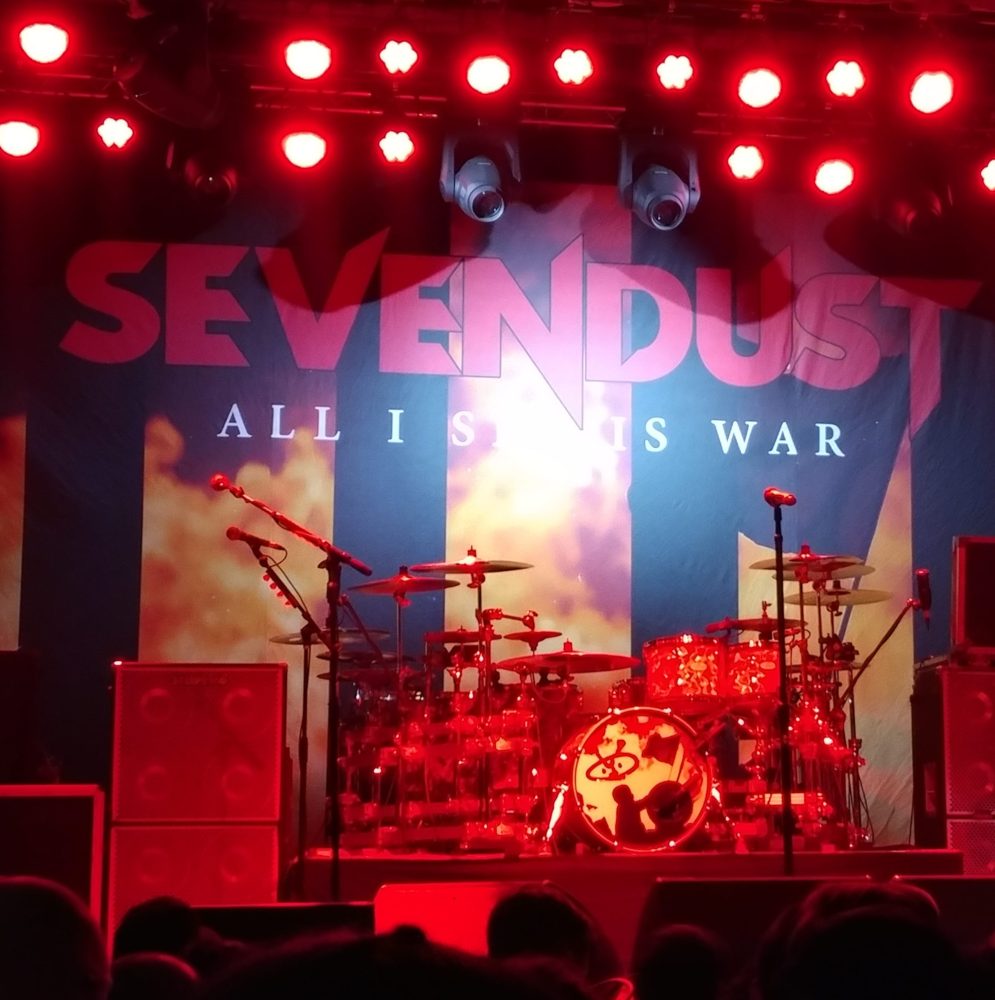 I just saw Sevendust in a small club and it was pretty damn awesome. It was also my 998th show overall since 1986. Yes, I'm weird for keeping track of the shows I go too.
Quick back story: This show was not my first time seeing them, in fact, it was my 15th. The first was at Ozzfest in 1998, then Woodstock '99, then Y2K NYE with Metallica in Michigan and again Jan 4, 2000 in IL on the same Metallica tour. Overall, 15 is not a lot of shows, but aside from the gap between 2000 and 2008 where for some reason I never saw them, spread out over the years, it's a decent amount. I continued to see them off and on at festivals and their own shows from 2008-2018.
Well, during this recent show, I saw Lajon repeat something someone said to him from the crowd, "You've been with us since 1998?" I was like, wait a minute. HOLY CRAP! I saw them for the first time in 1998.
THAT WAS TWENTY YEARS AGO?!?!?! (I still can't wrap my head around the fact that the 90's were NOT 10 years ago!)
Either way, when I got home, I looked at my list. The Sevendust show I just saw, July 11, 2018, was almost 20 years to the date of the very first time I saw 7D, which was at Ozzfest at Alpine Valley in WI on July 19, 1998. So cool!

They played 2 new songs from All I See Is War and they sounded great live. See photo below for the set list. Not mine, but like I say, a photo of the set list is better than no set list. The entire set was the perfect mix! Plus, the guys really seemed to be having fun on stage. Especially Vince who was really interacting with the fans and would catch Morgan's drum sticks and toss them into the crowd. Morgan, Morgan, Morgan. The guy is a madman up there and last night was no exception. Between playing and singing, the guy is always entertaining to watch. Of course, both Clint and John played at breakneck speed and they killed it. I noticed Lajon was still wearing the leather wrist bands, that if I remember correctly, were given to him by a fan. What I don't remember is if I heard the story at a previous show, or if I was at the show where he rec'd them. Either way, I have seen him wear them often and it's super cool that he continues to wear them.
The night slowed down a bit prior to Angel's Son and due to where I was standing and people talking around me, I didn't initially hear everything Lajon was saying. He mentioned something about someone being laid to rest. (I later realized he was talking about a fan who had recently passed away.) Now, knowing the history of this song, from out of nowhere (Hey, one never knows when the music is going to affect you!) I got emotional as Lajon would sing a line and the crowd would sing the next. This happened for a couple of lines and I don't know if it was the topic of the song, seeing his reaction to the fans singing, something subconscious in my own head or what, but my eyes started to well up. Oh the power of music. The song was beautiful, as always, and it was a cool moment in the night.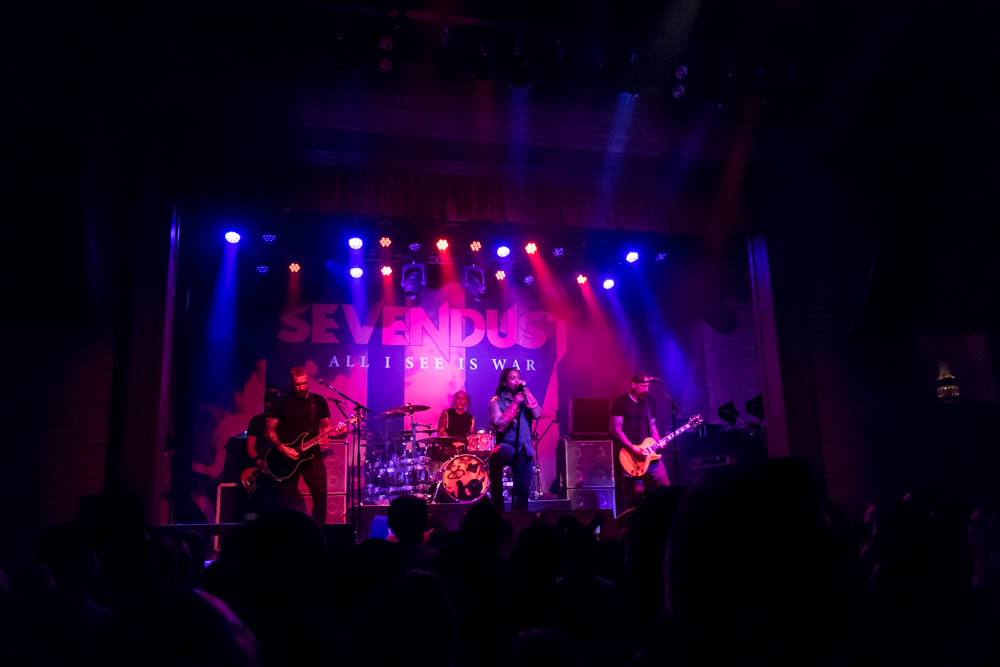 When the band left the stage, we all wondered if they were going to come back out. After what felt like 5 minutes, they played the encore. They started with Bitch. Now, some around me still wanted to hear Black. I however wanted a different song.
See, driving to the venue, I was channel flipping and came across a station playing Face To Face. I couldn't remember when it was released, so I looked it up. 2003. SUCH A GREAT SONG! Well, I decided I would really like to hear this one. Now, I hadn't looked at any set lists on this tour, so I got a nice surprise when they closed with it! It. Was. Awesome.
I love that the guys in Sevendust are still out there kicking ass and taking names….AND releasing new music. I waited until the show to buy the new CD so I could put my money more directly into the hands of the band and they only had shirts. Ugh. So now I need to go find that. Oh and the band posted a video of their day/night. Check it out and GO SEE A SHOW!