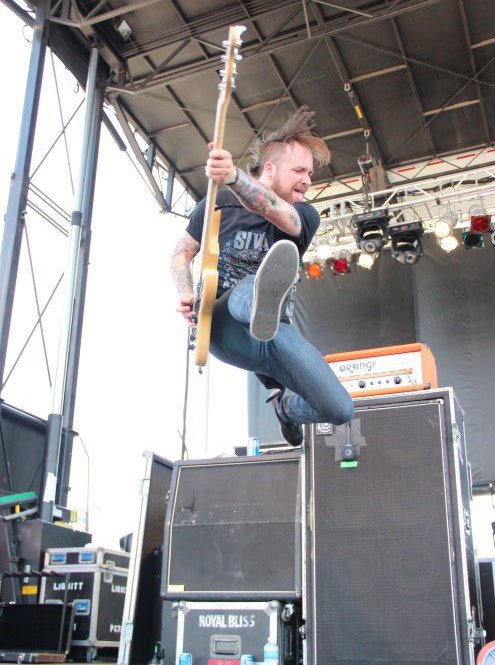 I WON A CONTEST!
Not just any contest, but a contest judged by Soundgarden.
Take a moment to let that register, as daily I still have a hard time believing it.
One more time. I won a contest, judged by Soundgarden!
Earlier this year a friend of mine brought to my attention that Soundgarden were holding a contest that would allow multiple photographers the chance to win a fantastic prize. Seemed simple enough. All you had to do was enter your best live shot.
The prize? An exclusive photo pass to one date of the 2013 North American tour and the photos would also be featured in a gallery on the Soundgarden Facebook page.
To be honest, I debated entering. I figured hundreds of people would enter and that my chances were super slim. Well, two days before the deadline, I decided I would go for it. I knew exactly which photo I would use but had to scramble to read the rules so that I wouldn't jeopardize my entry. I triple checked everything then submitted.
*ding*
I received my confirmation email. Now all I had to do was wait. Voting started the very next day and would last for a week. Voting was another part of the contest. The photos with the highest number of votes (from friends, family, strangers, etc.) would be taken into consideration when picking the final winners, but ultimately, it was Soundgarden's decision, and not exclusively on the number of votes.
I'm not going to lie, for about three days straight, I pimped the heck out of the link to vote for my photo and asked my friends to do the same. Slowly but surely I started racking up votes. Cool! This was fun. After a couple days, I was in the Top 50. After about the third or fourth day I had slipped out of the Top 50. By the time the contest ended, I was no where near the Top 50 but I had just over 100 votes. I couldn't have asked for anything more.
The winners were supposed to be notified on January 21, but that didn't happen. January 22 came and went and there was still no update. I was getting anxious. Nothing like a little torture to add to your nervousness, right? The morning of January 23 I checked again and still nothing. For the majority of the day, I wouldn't have access to the internet. That is what I found ironic. At some point that afternoon, my friend texted me. I didn't get the message right away, but once I did, I was in shock. Immediately my hands started shaking as I tried to access email via my phone. Guess what? Email was down. GAH! After a couple hours, I eventually left my current location and kept trying to check email. Still no luck. I kept driving and once I arrived at my next location I checked again. HALLELUJAH! Email was back up!
There it was.
"Congratulations, you have been selected as Runner Up for the Soundgarden Creative Invite on Talenthouse. As a Runner Up, you will receive:
An exclusive photography pass for one date of the Soundgarden tour. Each winner will also have their photographs from the live performance featured in a gallery on the band's Facebook page."
WHAT?! (pause) WHAT?!?! (pause) WHAAAT?!?!?!
MY PHOTO had been selected, BY SOUNDGARDEN, from the hundreds of entries?
WHAT?!
UNREAL. UN-FREAKIN-REAL!
Needless to say, my excitement level was through the roof! I could not stop smiling. I was on Cloud 9.
As if to stay calm, I tried to shrug it off casually like, "Oh hey, by the way, I just won a contest to shoot Soundgarden. No big deal…they're only the biggest band I will have ever shot. NO. BIG. DEAL."
I quickly notified a couple people and then carried on with my evening. I had no choice but to wait to let the rest of the world know I had won. Once I had that chance though, boy did I let everyone know!
Hey, you'd be excited too!