February 4, 2005
Alter Bridge, Silvertide, Submersed
The Rave – Milwaukee, WI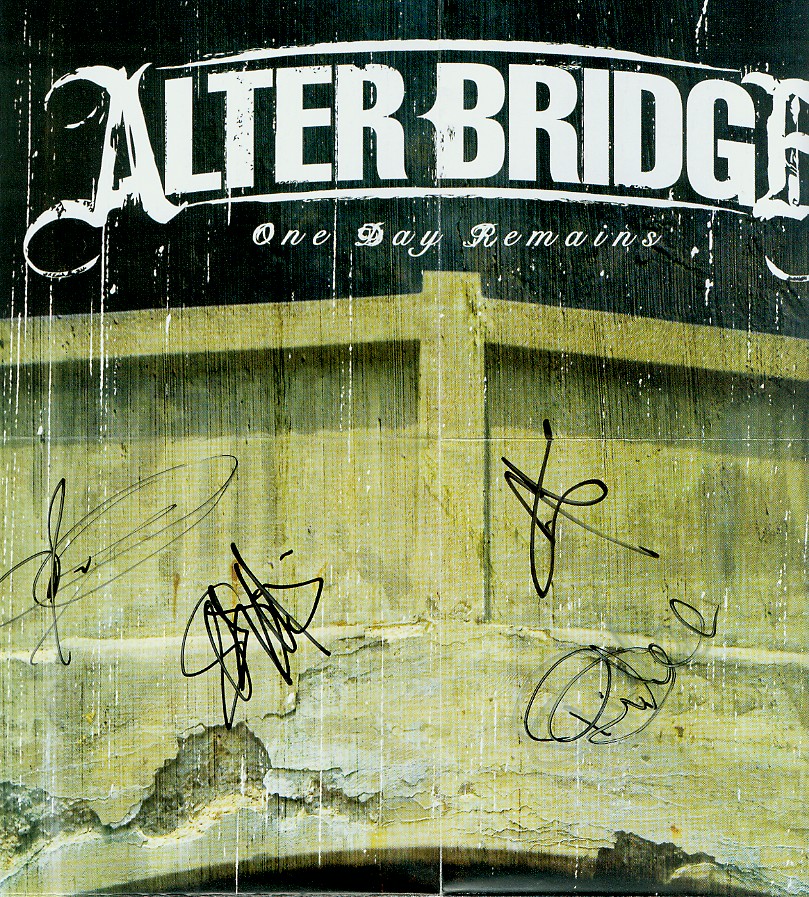 So, I got to The Rave about 6:45pm on Friday. By the time I parked and walked in it was closer to 7pm. I ran to the bathroom in the Rave bar and came back out to people being let in thru the Rave bar doors. I immediately circled around to the FAR left (there were a ton of people on the right and in the center) and there was a NICE BIG OPEN SPACE on the rail! WOOHOO! HEHE!! I love the left side. It comes thru almost every time. I was practically in front of the mic. More and more people started to show up and I felt older and older. ACK! The first time I saw them there was a better mix of people. This time? Mostly all YOUNG kids (18-mid 20's).
There was an unscheduled band that played first. (The guitar player was actually a special guest the last time I saw Alter Bridge. He and another guy came out and played with the band last year). This band was not that good. Musically, ok, but the singer…ACK!
Next was Submersed. I don't know why, but I guess I forgot that I saw them before. I heard some people talking around me that said they opened for Alter Bridge the last time. OOPS! haha Oh, another funny thing, in between bands there were three guys talking and they were naming off some concerts they had been to (over the past 2-3 years) and I was thinking to myself…Umm, I was at that one, and that one, and that one. haha) Ok, I have a feeling Submersed played a MUCH better set this time around because OMG! I think I want their CD now! Very good!
Next was Silvertide. Kim and I saw the last 15 mins of their set when we saw Velvet Revolver at the Riv last year in Chicago. Not bad. This time, being so close it was a much different experience. One of their guitar players was a MANIAC!!! I couldn't stop watching him! They were good.
Alter Bridge came on at 10:15pm. They played a great set but I still think my first show was a little bit more amazing! HEHE At one point they played the intro to AC/DC's "For Those About To Rock, We Salute You" (I was tempted to salute Myles! haha) Before the singing part started they went into Led Zep's "Rock and Roll" (At least I think that is what it was. I need to look for a set list on-line) OMG! The funny part….everyone was rocking out, hands in the air most of the night. When they got to the Led Zep song they all acted like they didn't know which song Alter Bridge was covering! I was singing away while those youngin's around me didn't! HAHA
Later on in the night they played Sweet Emotion. At first I thought it was just a tease but then they played the whole song. I called my Aunt. She emailed me the next day asking what show was I at because she heard Sweet Emotion but thought, "That couldn't be right." I told her she was right…but it was Alter Bridge! They did a great job!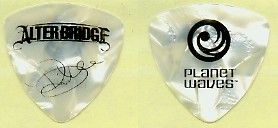 They ended around 11:45pm. Oh, at the end they were throwing picks. Brian (bass player) threw a handful out and one landed just on the other side of the rail where I was standing. I quickly tapped security on the arm and asked for it. After the 2nd time asking, he gave it to me. It's a gray pearl bass pick with his name on it 😀
After the show I checked out the merch and then headed outside. I took a picture of the venue sign and then waited around with other fans. IT WAS SOOO FREAKIN COLD but I really wanted to meet Myles since he never came out the last time. (I only had on a long sleeve sweatshirt and a thin black jacket. I had left my gloves in the car! MAN WAS IT COLD!) Well, like a fool (hahahaha) I kept waiting along with everyone else. There were probably at least 30 people out there. I kept telling myself, "Well, I'm not going to be the first one to bail!" After 45 mins I was like, "Ok, this is taking forever!" But then I thought, "Ok, I've waited this long, knowing my luck I'd leave and then I would find out later that they had come out 5-10 mins after I left." Well, after 15 mins of thinking this, the last people from the M&G came out. It didn't sound too hopeful that the band would be coming out soon. Well, not 10 mins after that, here came Myles and Mark!!!!! WOOHOO!!!!!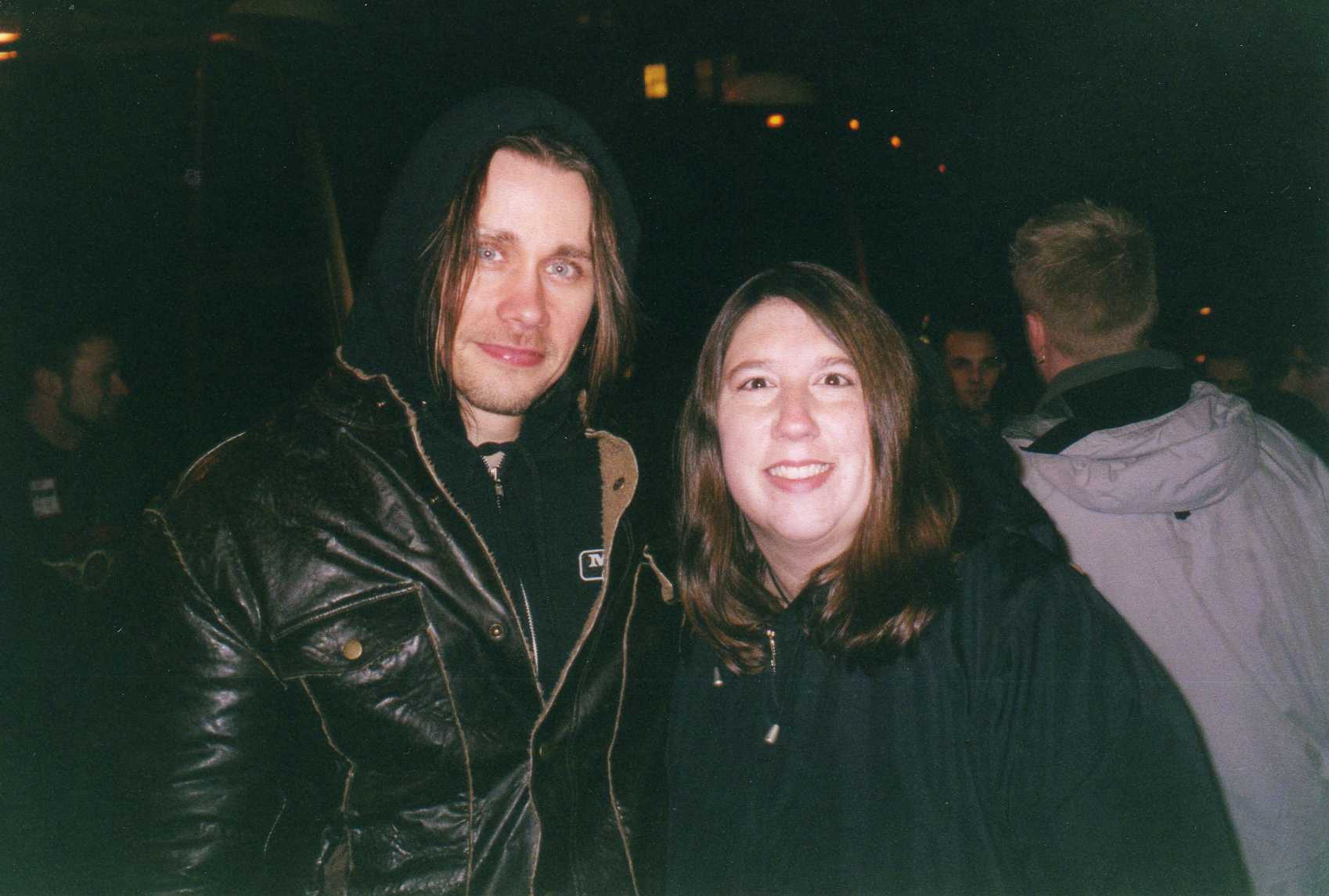 I knew most of the people would be going to Mark first so I headed for Myles since he is the one I really wanted to meet. I shook his hand, told him I was at the last show and what I thought of it, that I didn't get a chance to meet him before because he didn't come out due to being sick and how his singing on "In Loving Memory" affected me at the first show. I asked him to sign my CD and asked if he would take a picture. He was SOOO nice and sincere. I forgot to tell him I thought he had a beautiful smile. 🙂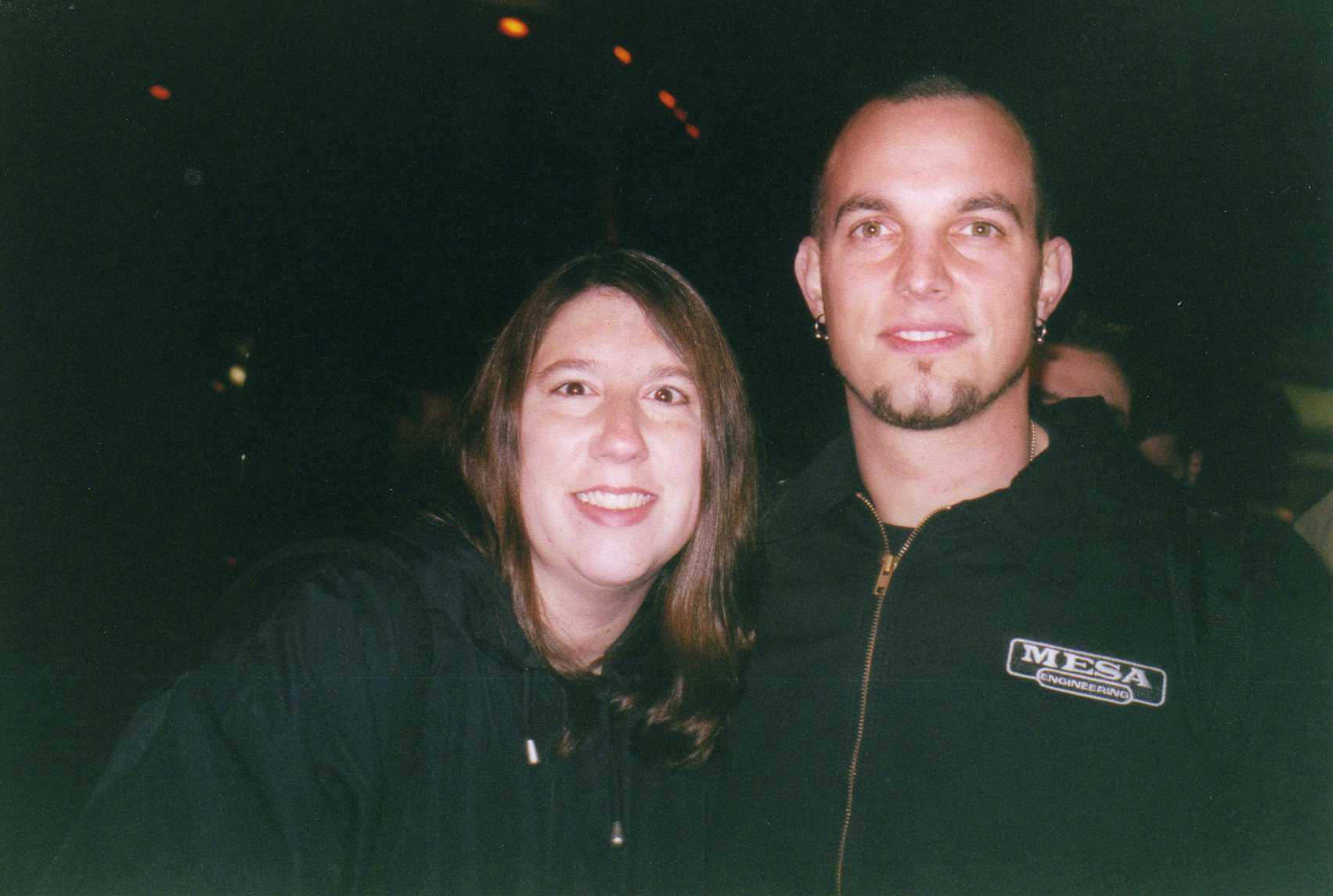 My picture with Mark from 2004 was blurry so I snuck in on the side of the group waiting to meet him. I quickly told him I was at the last show and I think I told him "great show tonight." I told him I had met him before but the picture came out blurry and could I take another one? He said sure. I made the mistake of giving my camera to a younger girl. She asked if there was a display window and I said no. Well, I don't even think she held the camera up to her eye. So who knows, I still may not have a good picture with Mark!*
So YEAH! I met Myles! WOOHOO!
*In 2005 I was using a P&S camera that used film.